Chris Borich made it two wins in a row in the 2011 Can-Am Grand National Cross Series by taking the checkered flag in Maxxis General GNCC in Washington, Georgia.
This win was a nail biter with 4 racers running nose to tail for most of the two hour race. Warnert Racing Can-Am's Chris Bithel took the lead on the first lap and held it much of the race, followed closely by Rockstar Makita Suzuki's Chris Borich,  Precision, Lonestar, RG Motorsports' Adam McGill and FRE/Baldwin's Brian Wolf.
On the final lap Bithell and Borich broke away from the pack in a heated battle for the finish.  Borich made his move with half a lap remaining undercutting Bithell on a sweeping turn on one of the fast stretches of track.  In the end, Borich edged out Bithel by 3 seconds for his second win on the GNCC tour.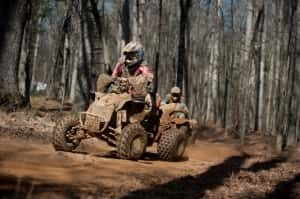 "That last lap I knew it was going to be pretty much a free for all," Borich said of his battle with Bithell. "I pulled up alongside him a couple of times but he had a wheel on me so I let him go. Then when we got to the motocross track I went under him in one of the turns and took the lead."
Last year Bithel was in great position to win but ran out of gas.  While not being the winner Bithel did earn some important points for the GNCC championship.
"It was a good race," said Bithell. "We fought back and forth all day, trying different lines, and he got the better of me. But I'll be back to win one for sure."
Steele Creek in Morganton, North Carolina is the next GNCC race and is scheduled for March 31-April 1.
XC1 Results:
Chris Borich (Suz)
Chris Bithell (CAN)
Adam McGill (CAN)
Taylor Kiser (Yam)
Jarrod McClure (Hon)
Johnny Gallagher (Yam)
Kevin Yoho (Yam)
Bryan Cook (KTM)
Donnie Ockerman (Hon)
Craig Bowman (Hon)
XC1 Standings:
Chris Borich (60 points/2 wins)
Chris Bithell (46)
Taylor Kiser (43)
Adam McGill (39)
Jarrod McClure (31)
Bryan Cook (29)
Johnny Gallagher (28)
Kevin Yoho (26)
Donnie Ockerman (26)
Jeffrey Pickens (20)
XC2 Results:
Walker Fowler (Yam)
Parker Jones (Hon)
Aarol Bright (KTM)
Richie Brown (KTM)
Dustin Canipe (Hon)
Matt Hanna (Yam)
Patrick McGuire (Yam)
Eric Hoyland (Hon)
Spencer Dickerson (Hon)
Nathan Wallpe (Hon)
XC2 Standings:
Walker Fowler (60 points/2 wins)
Aarol Bright (39)
Eric Hoyland (34)
Dustin Canipe (32)
Gabe Phillips (30)
Patrick McGuire (27)
Richie Brown (27)
Nathan Wallpe (25)
Parker Jones (25)
Matt Hanna (20)
Motosport.com $250 XC1 holeshot – Bryan Cook
Motosport.com $100 XC2 holeshot – Parker Jones
What's Your Reaction?
[reactions id="30855"]