Purchase a new Leica APO Televid spotting scope now through September 30, 2012, and receive a free matched Ever Ready spotting scope case (a $260 value).
The free-with-purchase Ever Ready Case fits both the Televid 65 (65 mm lens diameter) and 82 (82 mm lens diameter) scopes. Both models set performance standards in the spotting scope market with their impressive brilliance and color fidelity.
The practical, robust, Codura Ever Ready spotting scope case with carrying strap not only protects the Leica Televid, but keeps it handy for use at any time. The quick, wrap-around design and clever locking system allow the case to be quickly attached or removed without taking the scope off of the tripod. With openings for the front (objective) lens, eyepiece, focusing mechanism and tripod mount, the Televid can easily remain in the case during use as well.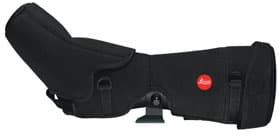 Both the 65 and 82 models feature a true apochromatically-corrected lens system using four Fluorite crystal (FL) lens components to deliver brilliant edge-to-edge color fidelity and clarity, plus more light transmission for the finest detail resolution and brightness possible. The 25-50x WW ASPH variable wide angle eyepiece — a revolutionary design of its own — provides a wide field of view of more than 60 degrees across the entire zoom range for extreme eye comfort over long periods of viewing.
Constructed with rubber armor-coated magnesium, APO-Televids are ruggedly lightweight and easy to carry. Eyepiece and scope bodies are nitrogen-filled and waterproof to a depth of 17 feet. Plus, all exterior lens surfaces are protected by Leica's AquaDura™ lens coating, which effortlessly sheds water and dirt, even in the harshest environments.
After purchasing your Televid, simply mail in a copy of your original sales receipt and warranty registration, along with a completed rebate form to Leica Camera, Inc. to obtain your free Ever Ready case.
Additional promotional details and links to rebate forms can be found atwww.leica-sportoptics.com, as well as www.facebook.com/leicahunting andwww.facebook.com/leicabirding.
For more information, check out www.leica-sportoptics.com.
photos: Mallory Communications
What's Your Reaction?
[reactions id="56764"]