Anglers across the ice belt have enjoyed the different rods and reels that Dave Genz has pioneered with Clam over the years. This year Genz raised the bar even further with as close to a custom rod and reel as a commercially produced combo can get. The improved, lightweight wire guides with a fly tip bring the Legacy series a step above True Blue. The spring bobber version brings a Nitinol-orange, nickel and titanium super, durable tip. Five plus one ball bearing reels boasts a one-touch button-folding handle for comfort and ease along with infinite anti-reverse.  Five models to choose from 24" ultra-light action to 28" medium action.
"The increased rod sensitivity provides more precise lure action," shared Genz. "This is a very nice, very lightweight set up."
"Dave's years of trial and error and his experience on the ice bring the best advice in product development you could ask for," shared Nick Chiodo of Clam Outdoors. "When he designs something that picks up the fish that bite more subtly that benefits all of us. These are super durable, super high-end rod and reel combos that will feel close to custom-made without breaking the bank."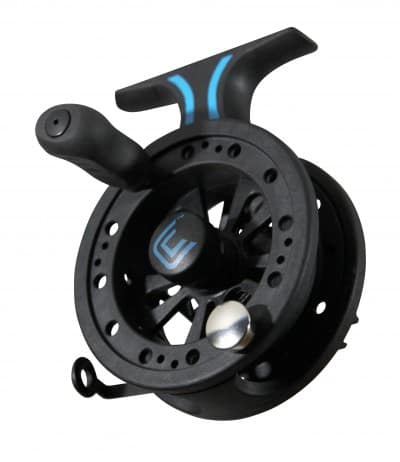 The Ice Spooler ice fishing fly reel launched last year was off the charts. A sold-out product early in the season, this hot product allowed Clam™ to go in an just tweak a few small things to make it even better. For example, a new line guide keeps the line straight on the reel during drop and retrieve. The reel sports a longer reel foot and larger arbor and the handle adjusts for both left and right handed anglers.
"The increased distance gives an anglers more ways to hold it," shared Chiodo. "It feels more natural in your hand." The idea of ice fishing with a fly reel has matured and has become widely popular across the ice belt.
"The new spool size means it winds up faster for a faster line retrieve," shared Genz. "With the larger arbor, Clam strives to make the ice fishing experience more comfortable with the best tools in the market."
For more information on Clam Outdoors go to http://clamoutdoors.com.
Images courtesy Clam Outdoors
What's Your Reaction?
[reactions id="337693"]