The Bushkill Valley Motorcycle Club's historic hill at Freemansburg, PA was host to round six of the AMA Pro Hillclimb Series, sponsored by Wiseco and PsychMXGrafix. Vinny Nuzzolilli, the reigning Unlimited Class, clinched the class win and moved into first in the series points chase with just one blisteringly fast and amazingly smooth ride. Veteran rider, Alex Benner, cleaned up in the Xtreme Class in only his second appearance on the circuit this year. Pro Sport points leader, Nick Bleau, took his third win of the year.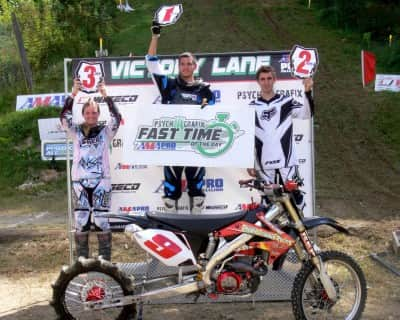 Pro Sport riders hit the hill first, while it was still covered with grass, with Bleau leading the charge. An early draw seemed an advantage as Bleau and number two rider, Nick Drummer, posted the only E.T.s in the first half. Bleau crossed the finish line in 17.614 seconds, with Drummer just a tenth slower. Newlywed, Derek Eckert (literally- he and his bride, Dara, tied the knot at the base of the hill an hour before the race began!), made it to 400 feet. Riding last in the order, Molly Carbon moved into third with a 440 foot climb.
Pro Sport standings didn't change in the second half, so the podium featured Bleau on top, followed by Drummer and Carbon- her first Pro Sport podium finish. In the series, Bleau leads with 132 points, followed by Devin Sweitzer at 115 and Carbon with 109.
In the Xtreme Class, Jay Sallstrom set the pace early with a 12.81-second ride. Points leader, John Koester, crested in 13.476 seconds. Benner rode late in the order but set fast time with an 11.732-second E.T. At the half it was Benner, Sallstrom and Koester, 1, 2, 3, in order.
Benner opted to sit out the Xtreme Class second half to see if he'd need to defend his position. Sallstrom shaved nearly a second of his own first run, but missed Benner's time by a tenth. Riding last in the order, Phil Libhart laid down a sizzling ride at 11.25 seconds, moving him to first. Benner responded, hanging it all out and posting a 10.672 E.T. for the win. On the podium it was Benner on top followed by Libhart in second and Sallstrom on the third step. Koester retains the series points lead at 136, with Sallstrom in second at 126 and Libhart in third at 113.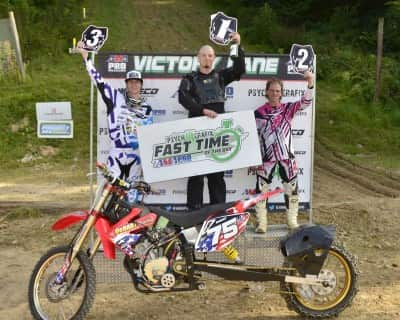 The Unlimited Class followed with three riders, Robby DeBusk, Scott Campbell and Bryan Rusnak posting times in the high-fourteens. Greg Dunbar crested more than a second faster at 13.234. Then Nuzzolilli stunned riders and fans alike by chopping nearly four seconds off the lead time, posting an unbeatable 9.404-second E.T. Nuzzolilli posted the only sub-ten-second time of the day. Benner and Libhart moved into second and third, respectively, just before halftime with E.T.s in the eleven-second range.
After the break, Dunbar edged out Benner by a tenth for second. Then Sallstrom, riding last, knocked Dunbar and Benner back a spot each with a 10.148-second ride to clinch second. Nuzzolilli topped the podium with Sallstrom on the second step and Dunbar in third. Nuzzolilli took over the series points lead with 130, just three points over Sallstrom, with Koester holding third at 119.
The day's program also featured side-by-side uphill racing on 450s, commonly called: "hill-cross." Drummer and DeBusk each won their heats against Libhart and Bryan Rusnak, respectively. DeBusk trailed Drummer early in the final but pulled ahead for the win. Rusnak prevailed over Libhart for third in the consolation run.
Images courtesy American Motorcyclist Association
What's Your Reaction?
[reactions id="340980"]