Early fog and mid-morning cloud cover lingered over Lake Conroe for start of day two this morning. The tides sure turned for many anglers today, some for the good and other for not so good. After a tough first day, Brandon Palaniuk had started the second morning just outside the take-off area. After about five minutes, he boated a solid keeper. John Murray who exhibited solid effort on Friday was one of the few anglers spending some time finesse fishing with a spinning rod. The anglers knew the competition would heat up today and this being the second day of competition makes it no easier.
Many anglers switched things up today but Keith Combs did not stray. He stuck with his game plan and started the day offshore. After fishing a moving bait the majority of the day on Friday, Combs slowed things down this morning. Rotating through numerous offshore spots Comb's hit a midday flurry where he boated three small keepers. He caught 4 pounders of back-to-back stops at 2:00pm and then closed out his day with a 7 pounder in the final hour."I didn't make any more casts after I caught my big one," he explained. "I really had to work hard all day. For the longest time I was just worried about putting five keepers in the boat." Will this be a repeat of his 2011 victory? Combs believes that although he has a 7+ pound lead, he'll need at least 17 pounds on the final day to take home the title.
Jacob Powroznik had a successful day on Conroe climbing to 2nd place. With a limit of 22 lbs 4 oz, he remains within striking distance on Sunday. After an exciting start boating a 5 pounder, Powroznik methodically filled out his limit by noon. "I think the boat traffic pushes the bass out to deeper water in the afternoon," explained Powroznik. "I had to check-in at 4:50 today, and I pulled up to my best deep water area and caught an 8 lb 4 oz fish at 4:35." Looking to the final day of competition, Powroznik is undaunted by the challenge ahead. "We are fishing in Texas, and everyone knows that everything is bigger in Texas. On Lake Conroe, there's no telling what could happen tomorrow."
This is the life of a bass fishermen, some days the fish seem to be jumping in your boat, others not a single bite. As described perfectly by John Buchan, "the charm of fishing is that it is the pursuit of what is elusive but attainable, a perpetual series of occasions for hope". This tournament could go to any of the Tundra Top 10 tomorrow nothing is for certain. Then again if fishing had certainties it wouldn't be called fishing, it would be called catching.
LEE BRICE & THE BAND PERRY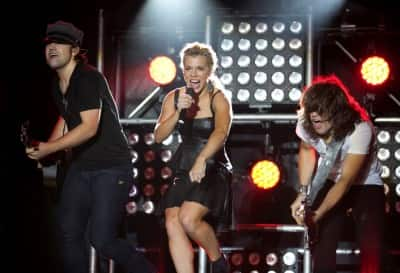 The crowds poured into the Lonestar Convention Center this evening for the weigh-in and country music concert. Opening the star-studded evening was Four-time ACM nominee Lee Brice. The Band Perry gave an outstanding performance for their Texas Fans.
"Toyota Texas Bass Classic has become so much more than a fishing tournament over the past six years," said Tournament Director Lenny Francoeur. "The talent, entertainment and activities at this year's festival give Conroe a lot to look forward to and we are proud to continue to support the Texas Parks and Wildlife Department."
Taking the stage for tomorrow's talent, back to back ACM Vocal Duo of the Year Thompson Square and ACM's Breakthrough Artist of the Year Gloriana beginning immediately following the weigh-in at the Lonestar Convention Center.
For more tournament information visit www.toyotatexasbassclassic.com
Facebook.com/ToyotaTexasBassClassic
Twitter @TxBassClassic
Image courtesy Jason Miczek/ Toyota Texas Bass Classic
What's Your Reaction?
[reactions id="345340"]