Big thanks to all of you that came out on Friday for our Call of the Wild event!
It was a really fun evening that brought together a community of Oregonians who value our wildlands, wildlife, and waters. It was truly an evening of great food, great music, and great friends. With everyone's generous support, we raised over $26,000 for our work to keep Oregon wild!
We also unveiled the winners of Oregon Wild's 9th Annual Outdoor Photo Contest. Big thanks to Art Heads Custom Framing who did such a wonderful job framing all the finalists' images. Without further ado, here are the winners: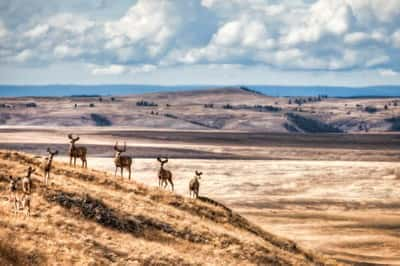 Wildlands – Brad Goldpaint of Bend, for his extraordinary evening-into-night time lapse photo of stars above a lake in the Eagle Cap Wilderness.
Wildlife – Kelly Morgan of Beaverton, for his dramatic depth of field-rich photo of mule deer along Harsin Butte on the Zumwalt Prairie.
Endangered Places – Alan Hirschmugl of Gresham, for his beautifully composed photo of Waterdog Meadow in the primeval old-growth forest of Crabtree Valley.
Waters – Pete Springer of Portland, for the impeccable composition he brought together on an early morning at Waldo Lake.
Congratulations to all our winners and runner-ups, as well as everyone that submitted  photos. This year's images were better than ever. Thank you for continuing to capture such evocative images of the Oregon that we all love! We also want to send another big thanks to all of our sponsors for the event including:
And special thanks to Kelli Pennington who photographed the event beautifully and to Terracord Landscapes, whose natural accent pieces really tied the room together.
Images courtesy Oregon Wild
What's Your Reaction?
[reactions id="348222"]