Team ITP ATV and side-by-side racers competed in both the AVE Racing Pure off-road racing series and the AMSOIL Grand National Cross Country finale this past weekend. Murray Racing / Yoshimura / ITP driver Logan Gastel won the SxS Pro Production 1000 class at the Pure 400 race in California to win the 2013 class championship. At the Ironman GNCC in Indiana, ITP-backed races won six classes, as well as capturing both the morning ATV and UTV session overalls.
"To take the top two finishing spots in the Pure series SxS Pro Production 1000 class is wonderful because it proves our tires are tough to beat in extreme terrain," said Pat McGuire, Public Relations / Race Support. "We also concluded a great season of GNCC racing with overall wins by proven racers Dave Simmons and Tim Farr. We won numerous titles as well, led the XC1 ATV Pro class for a bit at Ironman and won the XC2 ATV Pro-Am class, so our riders deserve a lot of praise."
Pure 400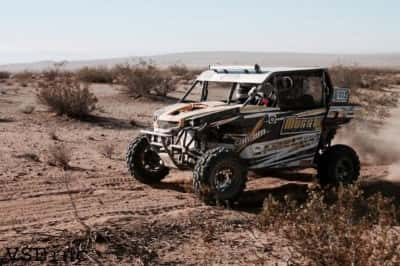 The Pure 400 event served as the Pure series (AVE Racing) finale and consisted of two, 200-mile races. Murray Racing's Gastel and Aaron Juarez represented Team ITP. Both racers were gunning for the season championship, having posted podium finishes at early racing rounds. Juarez finished second in the SxS Pro Prodcution 1000 class in the first session and finished second, behind Gastel, in session two. Gastel, who took third place in the class in the first 200 miles, rallied to win the final session, completing four laps in less than five hours. He tallied 193 points to Juarez's 190 points for both the Pure 400 SxS Pro Production 1000 class win and the 2013 class championship. Juarez ended up second, as ITP racers went 1-2 on the season.
GNCC – Ironman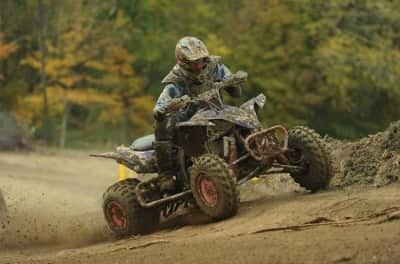 The AMSOIL Ironman GNCC, in Crawfordsville, Ind., is one of the most popular rounds in the series and usually serves as the season finale. Although some championships were already decided prior to the 13th-and-final round, others would be determined in the woods, creeks, hills and farm fields that define the Ironman course. ITP racers had a great showing at the GNCC finale, coming away with the morning overall, SxS overall, a XC2 Pro-Am ATV class win and several other positive finishes.
With his Master (50+) class title already wrapped up, Kenny Rich Sr., decided to join the Super Senior (45+) class to take on 2013 champion Dave Simmons. Rich posted a very respectable second-place finish to Simmons, but couldn't match his overall speed. Simmons ended up winning the 10 a.m. session overall – for the third time in 2013 – beating Rich and 380-some other racers to the finish line.
Tim Farr (JB Racing / ITP), with co-pilot Julie Farr, also notched a session overall, taking the top spot on the UTV podium. Farr, competing in the XC1 Modified class, led every lap of the six-lap UTV race. It was the first class win for Farr, who ended the year sixth in the XC1 Modified class standings. Finish one spot behind Farr was Jacks Excavating / DragonFire / ITP racer Mouse Pratt. His second-place finish secured third overall for the season, just 15 points shy of the class champion. Mouse's brother Marcus Pratt convincingly capped his 2013 UTV XC2 Limited class GNCC championship, earning his fifth class win in six rounds of racing this year.
XC1 ATV Pro class racer Adam McGill (Lonestar / Precision / Axis / Baldwin / ITP) led two of the five laps at Ironman, but ended up sixth overall due to a mechanical issue with a ball joint. He ended the year third overall in the Pro class. Although he came up short in his pursuit of the XC2 ATV Pro-Am title, Hilltop Motorsports / ITP racer Chad Jones ended the year on a high note, winning the XC2 class at Ironman. Finishing a season-best fourth in class was teammate Nathan Wallpe. The racers finished the season in seventh and ninth place, respectively.

Jordan Digby needed to win the final to become the second ITP-backed youth ATV racer to win a GNCC title (Carter Kerens; 125 Sr. 12-15). Digby had the most wins in the 90 Limited (8-12) class but trailed by three points and needed another victory to ensure him of the championship. The young racer quickly went to work, grabbing the lead on lap one. He continued to expand his lead and went on to win the class by almost two minutes. Digby actually tied another racer in overall points, but owned the tiebreaker with seven wins, which included five of the last six rounds.
Other ITP-supported racers to win GNCC titles were Mark Batson (35+ C), Brian Schmid (Senior A/B 40+) and Kristen Deloach (Women Amateur 15+). With fifth-place finish in the College B (16-21) class at the finale, ITP racer Brigham Patterson ended up third overall in his class. Teammate Justin Paul was eighth in Indiana and grabbed sixth overall. Sam Williams (JB Racing / ITP) finished second in his class at Ironman and second overall in the 4×4 Open class. Kenny Rich Jr., also took second overall on the season in the 24+ C class for Team ITP.
Images courtesy Fernando Castro/ ITP
What's Your Reaction?
[reactions id="348731"]