Behold the Wildcat Trail. At 50 inches across, this narrower Wildcat widens your riding horizons. Any competitors? NOPE. The RZR tries and fails – in power and in suspension travel. Plus it's nowhere near as fun to ride.
Powered by a brand-new engine, the Arctic Cat designed inline twin pounds out 60-plus horsepower, beating the RZR's claimed power-to-weight ratio by more than 10 percent (watch them race). What's more, thanks to something the RZR doesn't have – premium FOX nitrogen gas-charge shocks and sway bars front and rear – the tightest curves are straightened out with confidence.
Learn more about the Wildcat Trail.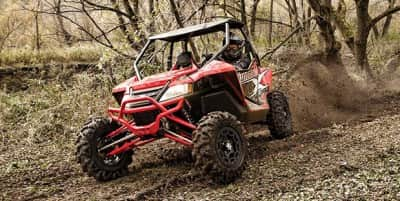 Two new Wildcats! The Wildcat X Limited and the Wildcat 4X Limited.
Both models come standard with a race-tuned 90+ horsepower engine, Elka Stage 5 shocks and ITP Blackwater Evolution tires with aluminum beadlock wheels. Add in color-matched seats, front and rear aluminum painted bumpers, full aluminum doors, molded roof and special-edition graphics. You'll soon realize there is nothing standard with these new Wildcats.
Learn more about the Wildcat X Limited
Image courtesy Arctic Cat
What's Your Reaction?
[reactions id="353133"]