When detecting tournament winning bites suddenly becomes as tricky as fishing with bare phalanges in a blizzard, you'd best be gripping one finely-tuned angling instrument. At the 2013 North American Ice Fishing Championship (NAIFC), seventy-five top teams arrived just in time for a good old-fashioned northcountry cold front. The result, as predicted, were sunfish, crappies and yellow perch in no mood to budge or bite.
Amid Sunday's snow were competitive ice anglers Tony Boshold and Mike Hoffman, brandishing specialized ice tools, rodtips literally quivering with nervous energy. Below specially chosen holes incised in deep snow and ice, tiny jigs danced before sets of indifferent eyeballs. By day's end each angler was clutching a brace of gold prizes—NAIFC Championship Rings on one hand and hallowed St. Croix Legend Gold Ice Rods in the other.
The two-day event, held on Minnesota's Mille Lacs Lake, December 21 and 22, allowed each team to weigh 8 crappies and 8 sunfish on Saturday, and 8 crappies and 8 perch on Sunday. Bites were so scarce and slight, however, that no one weighed the full complement of 16 panfish either day. Among the notables were 2012 Championship contenders Kevin Fassbind and Nick Smyers, who iced enough weight to take second place.
But following a strong second day capped by a big crappie, it was clearly Boshold and Hoffman's event to win. A Chicago native and 2005 ice fishing champ, Boshold was singing the praises of his St. Croix ice rods at the weigh-in to anyone who'd listen. "Had to break out the super secret-agent stuff for this win," stated the affable, often quotable ice pro. "The strike indicators on my St. Croixs act like little divining rods. This lake's big crappies have the agonizing ability to sip and spit a bait without so much as twitching the line. If it weren't for the gold springs (strike indicators) on these Legend rods, it would have been impossible to detect bites."
Developed by world champion ice angler Greg "The Prowler" Wilczynski, St. Croix's patented strike indicator system features a high-tension 24-K gold plated "super finesse" spring that signals the faintest bites. Four power-designated springs match different species and situations.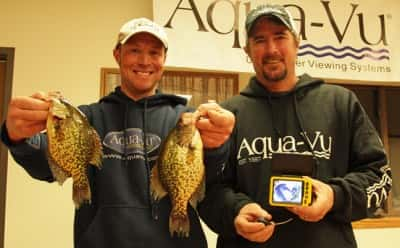 Boshold noted that takes from crappies were so subtle that instead of dipping and bending down to indicate a crappie or sunfish bite, the springs at the end of their rods slowly straightened and rose mere millimeters in response. "Almost any spring will signal obvious bites, but the St. Croix indicators expose the slightest 'up' takes. That's key. You can't believe how many subtle bites you'll miss from big crappies and sunfish if you're not using the right rod and indicator."
Boshold added: "Yesterday, Mike had the hot hole, and he fished like a Jedi. But it still took an arsenal of St. Croix Legend rods to match the rhythms of each species—30-inch mediums for perch, 24-inch medium-lights for the crappies and a sweet little 17-inch sight-stick for the 'gills.
The team's winning catch included a 1.05-pound crappie (big fish of the event) for a total winning weight of 9.65-pounds of panfish. To provide perspective on the toughness of the bite, at last year's championship on the same dates and venue, over a dozen pound-plus crappies hit the scales; it took 25-pounds to win. Thankfully, the competitive anglers have another crack at the big panfish factory, as the NAIFC returns for a qualifying event in March 2014.
"Can't wait to see what happens when this lake turns on," Boshold quipped. "It could be off the charts."
Images courtesy St. Croix Rod
What's Your Reaction?
[reactions id="356639"]