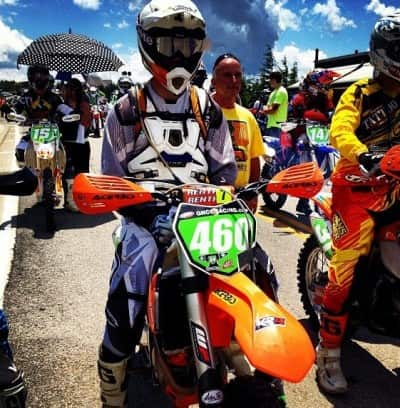 KR4 Performance, a leading professional and amateur team on the GNCC Circuit, is pleased to announce our participation in the 2014 National Enduro Series! A few weeks ago, we issued a press release to gauge potential interest in joining the NEPG series, and the response we received was tremendous! We are excited to bring our years of experience, professional appearance, and groundbreaking Arrive-n-Ride program to the National Enduro Championship.
KR4 Performance would like to welcome the first two riders to our KR4 Arrive-n-Ride National Enduro Team.
Ian Blythe of Sedalia, Colorado, will be piloting a KTM 350XCF in the Pro Championship. This will be Blythe's second year contesting the full NEPG circuit. In his rookie season, he managed to finish the year 8th in points and will be sporting number 8 on his 350 this season. Upon signing with KR4 Performance for the 2014 National Enduro season, Blythe commented, "I am very excited to be under the KR4 Tent for 2014. Last year was my first full season on the East Coast, and it was challenging going to the races solo. With KR4 backing me for the new season, I know I will have the support that I need to be successful. Look for good things from me this season!"

Hailing from Bellevue, Idaho, Jubal Brown will tackle the Open A division aboard Honda equipment. A jack of all trades, Brown has traveled the country attending a wide variety of events, but 2014 will be his first full National Enduro season. Brown explains, "Joining the KR4 Arrive-n-Ride team has made my dream of competing in the National Enduro Series a reality. Living in Idaho, I had never been able to find a way to get to all the NEPG events until KR4 came around. I will have my work cut out for me to learn how to navigate the super tights woods back East, but with KR4 taking care of the logistics, getting my bike from race to race, and their guidance and advice, I look forward to a promising year!"
Both riders will be contesting the entire 10 round season.
We would like to add more riders to our Arrive-n-Ride National Enduro team this season! The KR4 Arrive-n-Ride Program gives you or your racer a true "factory ride!" We handle the logistics and take all of the hassle out of getting to the races; your bike is expertly prepped, your gear is clean and waiting, and our skilled trackside crew is ready to give you the support you need to perform at your best. All you need to do is fly in and race!
The cost breakdown is as follows:
One-off race: $1200 per event*
Full-season: $950 per event*††
* This price does not include bike shipment to or from the KR4 Performance facility.
†† Full Season cost can be broken into 3 payments.
To learn more and sign up for your Arrive-n-Ride Experience, please visit: http://www.kr4performance.com/Sub-Sections/Arrive_n_Ride or email jbrown@kr4performance.com
Image courtesy KR4 Performance
What's Your Reaction?
[reactions id="359250"]