For 141 years, blue jeans have been comfortable, durable favorites for men, starting with miners and cowboys, and now outdoorsmen, workers and more. Honoring that heritage, Bear & Son Cutlery is introducing a 10-knife Blue JeanSeries for 2014.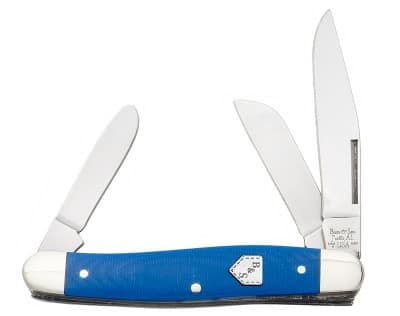 Reflecting this American tradition, these knives are comfortable to carry in your pocket and durable for long-life reliability. To visually fit their name, all ten have rugged blue G10 handles, with an embedded back pocket shield etched with B&S. There also is a Bear & Son tang stamp, for assurance these knives are made in America.
The highly polished blades are made of high carbon stainless steel. All are folders, five of them with lockback safety.
Three of the Blue Jeans are traditional favorites. Two Trappers – one 3-1/2", with 2-3/4" blade; the other, a larger 4-1/8" with 3-1/2" blade. The third is a 3-7/8" Stockman, with clip, sheepsfoot and spey blades.
There are two Farmhand models; one a rugged 4-5/8" with a 3-5/8" blade; the other, a more compact 3-5/8" handle with a 3-1/2" blade.


The five locking models are the 3-7/8" Cowhand with a 2-7/8" blade and a pocket clip; the 4-1/8" Bear Rancher with a 3-1/2" blade and a pocket clip; a full 5" Lockback with a 3-3/4"clip blade comes with a leather sheath; a compact 3-3/4" Lockback with a 2-5/8" blade; and a new variation of Bear's popular Sideliners, with a 3-1/2" blade in a redesigned  4-1/8" body, including a handy pocket clip.
Prices range from $44 to $118. All ten of the new Bear & Son knives are made in the USA, and are backed by Bear's Lifetime Warranty. For more about their full line of quality knives, visit www.bearandsoncutlery.com
Images courtesy Bear & Son Cutlery
What's Your Reaction?
[reactions id="360112"]