The Purvines/Beta race team started out their 2014 season with impressive finishes at round one of the AMA National Hare and Hound series with Justin Morrow, Nick Burson, and Axel Pearson finishing 2nd, 3rd, and 4th respectively.
The conditions were dusty in the Johnson Valley hills as riders found the loops to be more demanding than expected. Justin Morrow explains, "I stayed behind Ivan for the first 15 miles and was riding all right through the rocks; the first loop was a lot gnarlier than I had anticipated.  It was filled with tight and twisty up hills and down hills, I held onto 2nd and was dropping into the last little valley to the finish and teammate Nick Burson went flying by me and I just about pooped a purple twinky. I was thinking there is no way I am about to get passed right in front of the finish.  My adrenaline kicked in and the race was on, we went back and forth both of us on the gas but I was able to pull it off and finish 2nd!"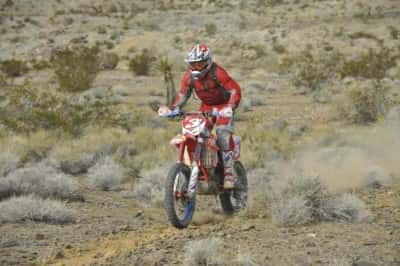 Nick Burson battled to the finish with his teammate eventually settling for third place in the rocky race.
"With about 10 miles left I started to get whiffs of dust and then I finally got eyes on Justin who was in 2nd. As we crested the last hill and made our way into the final valley I was right behind him. I made a pass on him at the top of the valley, which now I know was a mistake. I should have waited and passed him more towards the finish so he wouldn't of been able to put an attack back on me. As we drag raced towards the finish pretty much side by side there was a road crossing and a large jump approaching. Both of us didn't let off and came sliding into the finish. Justin just merely edged me out. It was a great race and a great show for everyone watching. I was bummed I didn't make the pass stick but happy with the way I rode towards the end of the race. Starting the year off with a 3rd overall works for me and I am going to work harder to be at the top step of the podium this year." Burson explains.
Rounding out the top four places was Axel Pearson aboard his Collin Woolsey prepped Beta 450 RR. Pearson's performance shows that he has picked up where he left off from last year's final event finishing fourth in the Pro class.
Images courtesy Kato/ American Beta
What's Your Reaction?
[reactions id="361289"]