GASTON J. GLOCK style LP, purveyors of fine quality hunting and shooting sports apparel and accessories, is pleased to announce that the newest addition to their hunting apparel line, the Nap Loden Hunting Jacket, available for both men and women, is now available for purchase. The high quality hunting jacket is made from Nap Loden, a virgin wool fabric that has the outer surface roughened with steel brushes and fuller's teasels to make all the fibers lay in one direction. When the woolen fibers are left to lie in this roof-tile formation, the fabric becomes water repellant. A further impregnation is added to the cloth to aid water repellence. This pile raising process and the special finish give Nap Loden a very beautiful luster and soft feel, creating a noble and elegant appearance.
The inner padding is made of virgin sheep's wool and provides a high degree of comfort through the jacket's extreme breathability and heat regulation. The varied pocket combinations, including two zippered pockets, two patch pockets with flaps and additional side openings and two inside pockets (one with a zipper), provide ample storage space for all necessities while on the hunt.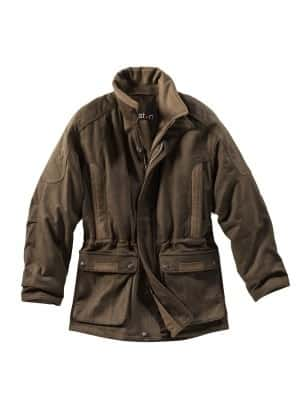 A two-way zipper allows the jacket to open and close easily, while the overlying concealed button placket protects the zipper. A game pouch with pleat in the back allows for easy transport of small prey. To protect one's extremities during particularly windy hunts, the cuffs are knitted to create a wind guard, providing greater comfort for the individual's hands. There is also a drawstring cord at the waist to keep body heat in and water, dirt and wind out.
The Nap Loden Hunting Jacket, available for men and women in olive green and mottled black, can be purchased on the website for $548.00 and comes in sizes S – 2XL for men and S – 2XL for women.
Images courtesy GASTON J. GLOCK style LP
What's Your Reaction?
[reactions id="361534"]