Back stronger than ever in 2014, Winchester Archery continues to produce high quality, 100% American made compound bows and crossbows.  New from the company in 2014 is Blind Side SST, one of four new models in their line-up.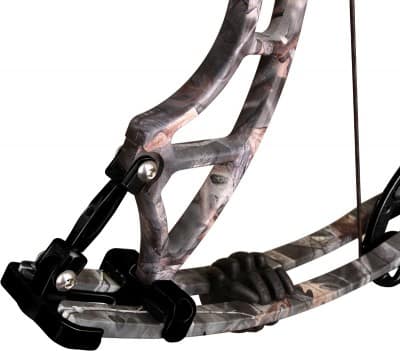 The Blind Side is Winchester's new flagship bow for 2014 and features their patented Pro-Link Pocket System.  This eye-catching technology completely eliminates the use of a traditional limb bolt while simultaneously suppressing limb vibration.  The Pro-Link Pocket System allows for a full 16lbs of draw weight adjustment in just three revolutions of the turnbuckle.  Powered by Winchester's 2-track AST cam, the Blind Side has the smooth draw cycle and hard back wall that Winchester has become known for.  The AST cam provides for up to 80% let off and will accommodate draw lengths of 27"- 30" in half inch increments through its module system.  The AST cam generates IBO speeds of 335 FPS while offering a forgiving shooting experience that every hunter and 3-D shooter will appreciate.  Dressed in a Proveil Reaper Woods camo, the Blind Side comes with Gordon Composite split limbs that will reach peak draw weights of 50, 60, or 70 lbs.  Carbon fiber rods in its tunable Sudden Stop string suppressor and adjustable dual roller guard compliment the premium look of this 33" axle-to-axle bow.  Weighing in at 3.9 lbs and featuring a 6" brace height, the Blind Side offers the best of Winchester Archery's technology.  Proudly made in the U.S.A., the Blind Side also features stainless steel hardware and Winchester's Transferrable Lifetime Warranty.  MSRP is $999.99.
For more information about the Blind Side SST and Winchester Archery, visit their website at www.winchesterarchery.com.
Images courtesy Winchester
What's Your Reaction?
[reactions id="362635"]