What tools and tricks will top pros bring to the bass wars in 2014? Fishhound.com asked Bassmaster Elite Series anglers Hank Cherry, Ish Monroe and Chris Lane to project the tackle or technique that could make the most difference to their game this season. You can read what these highly skilled fishermen had to say below. To view the original article on which this release was based, or to access additional Fishhound articles, photos and news items, click here.
Hank Cherry: He'll take anchovy with his swimbait!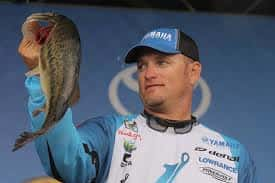 At the Bassmaster Classic media day on Wednesday, you can bet Hank Cherry will have to answer more than one question about "the one that got away" on day three of the 2013 Classic at Grand Lake of the Cherokees. This year, he has a "special order" menu item for Lake Guntersville's bass.
When it comes to selecting "search tool" for locating bass in this year's Classic, and all the way through the 2014 season, instead of using a spinnerbait or lipless crankbait, Cherry will be reaching for a four-inch Damiki Anchovy Shad. "Most guys think "big" when they are talking swimbaits, but this is just an average-sized bait, which is why I have referred to it as my 'finesse' swimbait," said Cherry. "Typically, I cast this lure in places where other anglers already have thrown other baits, so I am showing the fish something that's totally different. It looks natural to them, it doesn't make a lot of noise, and it pulls through the water easily. Best of all, I can fish it in six inches or 50 feet of water – it doesn't matter!"
Cherry likes to rig his Damiki Anchovy Shad on a darter head jig made with a 4/0 or 5/0 hook. "I will use anything from a 1/16- to ½-ounce jighead depending on where – or how shallow – I am fishing, he noted. "When I'm fishing the lighter weight jigs, I pair it with the Damiki Pandla Jig Head, but for larger sizes, I pour my own jigs. Whatever you use, it's important that your jig has that pointed head feature so that the bait tracks true."
According to Cherry, the versatility of the Anchovy Shad makes it especially useful. "I will fish this bait in a lot of different scenarios. A swimbait is great any time bass are on bait or on the feed – before a front, getting ready for winter, busting big schools of baitfish, Cherry said. "A lot guys target schooling fish with baits that make a lot of noise and have a lot of flash. But I have found that I can come into some areas where the fish are highly pressured and still pick off a few key fish with this presentation."
Cherry points out that the Anchovy Shad was a huge factor when he won at the 2013 Bassmaster All-Star Weekend in Michigan. "I just made blind casts in areas other guys already had fished in their own style. I don't know of another bait that would have caught those fish," he said. "I'll be throwing it at Guntersville during this year's Bassmaster Classic. A lot of guys will laugh when they see the size of this bait. Guntersville is a lake with a lot of big fish. But it just boils down to this: a fish is a fish! If a bass in the grass sees a shad swim past, he will bite it. And, nine times out of 10, when I come back through an area where guys were bringing bass up with a Trap, I catch a bigger fish."
As far as colors go, Cherry prefers one over all others. "My favorite color is Pearl white," he noted. "It seems to work for me wherever I go. But, if we get into a big spotted bass lake, I might throw a chartreuse."
"Looking beyond the Classic to our Elite Series season, Table Rock in Missouri looks like another great place to throw the Damiki Anchovy Shad, added Cherry. "It has a lot of clear water, and the fish will be moving up…weather permitting."
2014 New Product Note: Damiki also has added a thicker, rounded-body swimbait to its line, the Damiki Buzzing Shad, in both 4-inch and 5-inch sizes.
Ish Monroe: The No-Snell Solution!

Ish Monroe is an acknowledged shallow water expert who, last season, decided to solve a flipping challenge as old as the technique itself.
"Flipping soft plastics into heavy cover produces big bass for me every season, and, looking ahead to the schedule, I'm sure that will be the case again this year, said Monroe. "The tools are very basic. You need a good bait, a heavy tungsten weight and a strong straight-shank hook for a compact presentation that won't hang up. After that, it's all about a successful hookset! Your hook-up ratio goes up dramatically when you tie a snell knot."
According to Monroe, not many anglers are familiar with snell knots. "I do a lot of seminars at Bass University and at gatherings all over the country, and I always ask, 'How many people know how to tie a snell knot?' Only about three guys out of 100 raise their hands. After every seminar everybody asks me to re-tie that snell knot for them."
"That's why I designed the New Jack Flippin' Hook for River2Sea," explained Monroe. "It's a hook that produces the same cavitation as a rig tied with a snell, without actually having to tie that snell knot. It has a second line tie on the shank of the hook. Once you put your line through the first tie, you can tie any knot – except for a Palomar knot – on that second line tie and get the same benefit of the snell knot. For guys who want to tie a snell knot, they still can. That second tie is also a 'bait-keeper' to keep that plastic bait in place."
"I will be using the New Jack Flippin' Hook a lot with a Missile Baits D Bomb, the Missile Craw and the Baby D Bomb," Monroe added. "But it will work with all your flipping or Texas-rigged baits. I even throw Senkos with it – it's a great Senko hook as well."
2014 New Product Note: New Jack Flipping Hook is available in 3/0, 4/0, 5/0 and 6/0 sizes.
Chris Lane: Guntersville Breeds a Flashy New Frog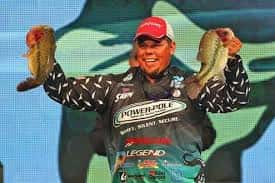 The 2012 Bassmaster Classic champion moved from Florida to a new home on Lake Guntersville, site of the 2014 Bassmaster Classic. Lane loves frog fishing, and many pros rate Guntersville as the top frogging lake in the country. Now he believes he is ready to meet his largemouth neighbors.
Lane points out that he designed the Snag Proof Guntersville Flash Frog with his new home waters in mind. "Guntersville has tremendous beds of hydrilla and milfoil, and the lake's giant bass love to take up residence underneath those broad acres of matted vegetation," he said.
"A lot of frog fishermen have been taking the skirted legs off their frogs and inserting rattles, noted Lane. "With the Guntersville Flash Frog, we put in three rattles: one in the body and one as a little nub of a leg on each side. The added weight in the back makes it hang more like a real frog, sitting at about a 30-degree angle. And we all know how big fish love to eat frogs!"
The Snag Proof Guntersville Flash Frog also features a spinner on the back. "It gives that little extra splash and little extra flash that makes a big bass want to come up and attack," said Lane. "When you work it over the mats and do hit that patch of clear water, that little spinner flashes. To a bass, that looks just like a shad. He will come up and engulf that thing!"
"I plan to fish the Guntersville Flash Frog on rip rap and to throw it during the shad spawn, too, along with fishing the mats. Those are just some of the applications. It's going to be really good this season!"
2014 New Product Note: The Snag Proof Guntersville Flash Frog is equipped with a Gamakatsu EWG hook. Snag Proof's other new offering is the Extreme Frog, designed for snakehead – and giant bass!
For more information visit Fishhound.com. To register for free as a Fishhound user, visit http://www.fishhound.com/registration.
Image courtesy Fishhound.com
What's Your Reaction?
[reactions id="364649"]