Red Bull KTM Factory Racing riders launched their bid to retain the MXGP and MX2 world titles on Saturday night at the Losail circuit in Qatar with a win in MX2 for Jeffrey Herlings and a podium third for Tony Cairoli in MXGP.
But both KTM riders had to work hard for their result with Herlings back on the track after only one pre-season race and almost six months off with injury while Cairoli was hampered with pain from a knock on the ankle in a qualifying crash.
It was a night of action under lights as the opening motos got underway on the hard pack track that was tricky and technical and slick in parts.  Herlings missed the start of his opener and had to negotiate his way through mid-race traffic, which, with the competition tightening up as teams attempt to break the dominance of the KTM riders, took the Dutch rider some time.
But by the time the two-lap board went out Herlings had passed second placed Glenn Coldenhof on his KTM 250 SX-F and was chasing down Dylan Ferrandis in the lead. He then put in his fastest lap and was only a bike length short of Ferrandis at the drop of the flag.
Herlings again missed getting away well in his second moto and got buried back in the pack in the opening laps, while KTM rider Jose Butron of Spain picked up his second holeshot of the evening. Herlings had moved up to sixth place in lap two but it was 11 laps into the race before he moved up to third position to claim a potential GP podium place. Then front-runner Max Anstie, who had led the race, went out with a mechanical leaving only American teenager Thomas Covington in front. Herlings slipped by him with two laps to go and went on to take the win.
Despite the win, the 19-year old Herlings was visibly disappointed with his performance. "I am still having problems with my starts, we're working on them but I need to improve. But tonight I just wasn't happy with my riding. All I can do is to keep working on it and hope to be better next weekend in Thailand," Herlings commented after the race.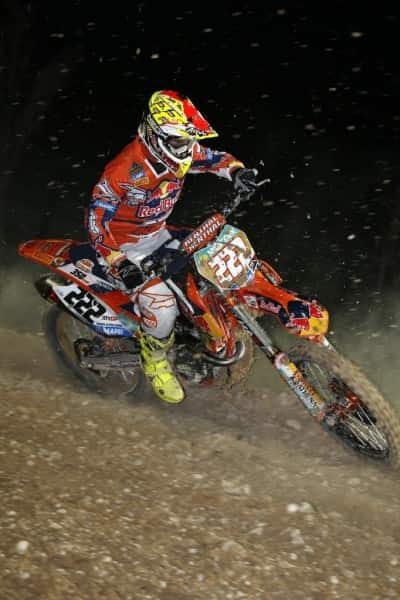 It was also a hard night's work for Red Bull KTM's Tony Cairoli in the newly named MXGP class. He was fifth at the start of his opening moto and took his time to settle in to study overtaking possibilities. In a typical last minute dash, Cairoli was on the back wheel of second-placed Gautier Paulin with just a couple of minutes of regular race time to go. Then with three laps to go he had slipped by the Frenchman and gave chase to Max Nagl in the lead. They crossed the line with the German only meters in front.
But KTM's seven times world champion was clearly feeling the effects of his sore ankle by the time he started his second moto. He was sixth at the start and had advanced up to third behind Paulin and Steven Frossard by the half way mark and the three riders rode out the race in that order. Cairoli's 2-3 secured him the third spot on the podium.
Herling's MX2 Factory teammate Jordi Tixier of France did not have a comfortable ride in Qatar, picking up a couple of seventh places to finish overall eighth on the night. Cairoli's teammate and sparring partner Ken de Dycker of Belgium is currently out through injury and is not racing the two fly away races.
The Losail circuit also hosted the opening round of the WMX and Irish KTM racer Natalie Kane picked up a second and a third place in her two motos for second overall in the women's GP. The competition returns to join the MXGP program in 2014 and entails a six-round championship.
Next race: MXGP of Thailand: March 9, 2014
MXGP Results
1, Gautier Paulin, FRA, Kawasaki (3 – 1)
2, Max Nagl, GER, Honda (1 – 4)
3, Tony Cairoli, ITA, KTM (2 – 3)
4, Steven Frossard, FRA, Kawasaki (4 – 2)
5, Jeremy van Horebeek, BEL, Yamaha (5 – 5)
Other KTM
14, Jake Nicholls, GBR, KTM (16 – 16)
15, Shaun Simpson, GBR, KTM (11 -21)
MXGP Standings
1. Paulin, 45
2, Nagl, 43
3. Cairoli, 42
4. Frossard, 40
5. Van Horebeek, 32
MXGP Manufacturers Standings
1, Kawasaki, 45
2, Honda, 43
3, KTM, 42
MX2 Results
1, Jeffrey Herlings, NED, KTM (2 – 1)
2, Dylan Ferrandis, FRA, Kawasaki (1 – 6)
3, Romain Febvre, FRA, Husqvarna (5 – 4)
4, Arnaud Tonus, SUI, Kawasaki (10 – 2)
5, Aleksandr Tonkov, RUS, Husqvarna (6 – 5)
Other KTM
6, Jose Butron, ESP, KTM (4 – 8)
8, Jordi Tixier, FRA, KTM (7 – 7)
12, Valentin Guillod, SUI, KTM (9 – 14)
MX2 Standings
1. Herlings, 47
2, Ferrandis, 40
3. Febvre, 34
4. Tonus, 33
5. Butron, 31
6, Tonkov, 31
Other KTM
8, Tixier, 28
MX2 Manufacturers Standings
1, KTM, 47
2, Kawasaki, 47
3, Husqvarna, 34
WMX Results
1, Meghan Kat Rutledge, AUS, Kawasaki (1 – 1)
2, Natalie Kane, IRL, KTM (2 – 3)
3, Livia Lancelot, FRA, Kawasaki (7 – 2)
4, Stephanie Laier, GER, Suzuki (4 – 5)
5, Nancy van de Ven, NED, Yamaha (3 – 7)
WMX Standings
1. Rutledge, 50
2. Kane, 42
3, Lancelot, 36
4, Van de Ven, 34
5, Laier, 34
WMX Manufacturers Standings
1, Kawasaki, 50
2, KTM, 42
3, Yamaha, 38
Images courtesy KTM Racing
What's Your Reaction?
[reactions id="366312"]