Southwick Associates, the nation's premier outdoors market research firm, has announced the brands hunters and shooters purchased most frequently in 2013. Results were compiled from the 36,680 internet-based surveys completed by hunters and shooters who volunteered to participate last year in Southwick Associates' HunterSurvey.com and ShooterSurvey.com polls.
In 2013, hunters and shooters participating in the surveys said they purchased Plano gun cases and bow cases more than any other brand.
"Protecting sportsmen's valuable gear has been our company's priority for over 60 years," says Plano Marketing Manager, Ben Rand, who is humbled, but not surprised by the recent survey findings. "We work hard to earn new customers and keep the ones we have," he continues.  "We accomplish that by providing the best-performing, most comprehensive line of bow cases, firearms cases and other cases for outdoor gear and accessories on the market today," concludes Rand.
Indeed, Plano currently manufactures 16 different bow cases, 3 unique crossbow cases, and 72 distinct firearms cases from its base of operations in northern Illinois – including a variety of new models for 2014.
Gun Guard Gun Socks


Nobody is tougher than Plano. Sometimes, however, protection is administered to a firearm with a velvet hand – not through wall thicknesses and impact resistance. It's achieved through protection from handling, with a companion focus on battling damaging moisture. This job lands squarely in the wheelhouse of Plano's new Gun Guard Gun Socks.
A series of soft but serious firearm sleeves, Gun Guard Gun Socks slip on like a silk stocking and fit like Cinderella's slipper. The soft, silicone treated materials offer superior protection against dings and scratches during short-term handling situations around the cabin or shooting range, while also providing additional protection against condensation and damaging moisture during long-term storage.
Gun Guard Gun Socks stretch to fit virtually every firearm in the locker. Five specific models range in price from $5.99 to $7.99, and are sized to fit pistols, rifles and shotguns.
Field Locker Mil-Spec Cases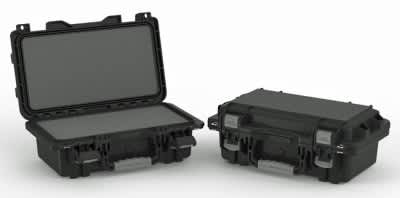 In the jurisdiction of firearms and firearms storage, the most exacting of users are in law enforcement and the military. So for 2014, Plano announces the release of the all-new line of Field Locker Mil-Spec Cases. These cases are specifically engineered and constructed to exceed the demanding expectations of law enforcement and military users, but they are the same cases you can use to protect your own firearms.
The finest firearms cases ever engineered, the robust series comes in five sizes and configurations, each exhibiting precise measurements and top-quality components. Each case is formed using Plano's inimitable molding process, which yields a reinforced shell that's up to any task it's assigned.
All Field Locker Mil-Spec Cases are watertight and dustproof. Secure sealing with premium gaskets ensure contents inside will not be affected by conditions outside. A regulator valve equalizes pressure divergence caused by altitude or temperature, while molded, heavy duty handles defy breakage and reduce fatigue to your hand while on the move. The long-gun and tactical configurations each sport a pair of wheels to make the cases incredibly mobile and perfect for traveling. Reinforced padlock gates on all Field Locker Mil-Spec Cases tell would-be thieves to choose another victim.
Internally, each Field Locker Mil-Spec Case features double-density foam. Fully customizable, the foam layers can be configured to a loving fit for your particular firearm and related accessories.
MSRP for Plano's new Field Locker Mil-Spec XL Pistol Case, Large Pistol Case, Single Long Gun Case, Double Long Gun Case, and Tactical Long Gun Case ranges from $94.99 to $249.99.
Images courtesy Plano
What's Your Reaction?
[reactions id="367155"]