Motionless waiting is vital to turkey-hunting success, but you never know when that big tom is going to appear. After hours of sitting, remaining still becomes almost impossible if you're not comfortable. That's why Millennium Treestands designed its chairs and seats for ultimate comfort.
Thanks to the exclusive, patented comfortMAX contoured tight sling seat, the new Millennium G100 blind chair is as comfortable as they come. Situated on a tripod base made out of aircraft aluminum, the 7.5 pound G100 is portable and easy to carry, which makes it ideal for the turkey hunter.
Featuring a 360 degree swivel, the adjustable G100 is ideal for hunting from a blind or on the ground. This versatile chair features adjustable legs for uneven ground and quickly packs up for transport. The G100 comes pre-drilled for the G101 Shooting Stick Mount.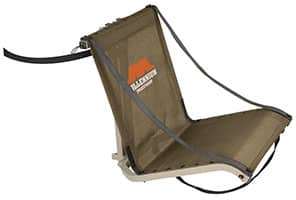 The M300 is not a treestand, it's a seat that fastens to the base of a tree, which makes it cooler in warmer climates and more quiet than a ground seat.
Weighing in at only 4 pounds, this all-aluminum seat comes with a carrying back strap for easy transport. Once you attach it to the tree, you'll have a fantastic seat for turkey hunting. It also works great for hunting ducks, dove, squirrel and deer.
The M300 has a large (20″ x 17″) seat with a weight capacity of 300 pounds. This easy-to-maneuver, easy-to-set-up-seat is the next standard in turkey-hunting comfort.
Images courtesy Millennium Treestands
What's Your Reaction?
[reactions id="368175"]