The latest products in the award-winning Lunkerhunt line have been launched.
Bait infused lures that feature a special technology that makes them more durable than other baits or soft plastics. Bait Jar Lures will not dry out in the sun and maintain their performance in and out of the water. All Bait Jars come packed full of baits and are infused with Lunkerhunt's very own Lunker Attractant.
Selections include: May Bug, Fish Bone & Spade Grub scents.
Lunkerhunt Core Strength Lures: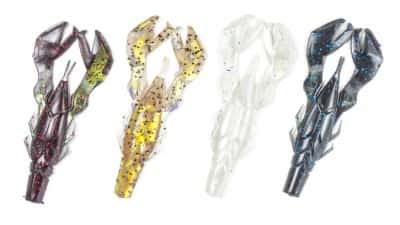 Raises the bar on soft plastic technology.  Core Strength allows for reinforcement around key joints and pivot points, providing lures with the freedom to maximize and enhance their action when fished through the water. Much like how rebar works in concrete, Core Strength Technology provides the strength to help your bait hold together and take hit after hit.
Lunkerhunt Core Strength reinforcement technology is found throughout the Lunker Craw and the Lunker Bug line. There is a Mylar skeleton within the lures that has special venting and engineering. Essentially it enables more action and creates a longer lifespan.
Core Strength Technology works like rebar in concrete. The difference is that it has a wide range of motion.
The Core Strength line is designed to imitate Crawfish and the North American Water Bug also known as the Giant Water Bug. Both of which are a key food supply for lunker bass.
The Mylar in the Core Strength gives a little flash that gets attention and generates strikes. The flash is subtle, but the reaction can be explosive.
For more information on the newest Lunker products go to http://www.lunkerhunt.com.
Contact:
Todd Brabender
785.842.8909
todd@spreadthenewspr.com
Image courtesy Lunkerhunt
What's Your Reaction?
[reactions id="389596"]