Four new Storm Arashi colors will help you match the hatch no matter what the fish are biting: Ghost Hitch, Pro Blue, Green Gold Shad and Black Chartreuse Shad.
"Those first three are more natural patterns, great for clearer water," says Storm pro-staffer Brandon Palaniuk. "Black Chartreuse is brighter and bolder — perfect for dirtier water."
Black Chartreuse Shad features a black back with lifelike scale patterns, a chartreuse body, a prominent black "shad spot," and a subtle pink-orange throat flash.
Ghost Hitch is designed with a black back, gold-green stripe, a white body, gold-brown cheeks and a pink belly accent.
The Pro Blue color pattern includes a blue back with realistic scale patterns, blue-silver cheeks, a white-silver body and an orange belly accent.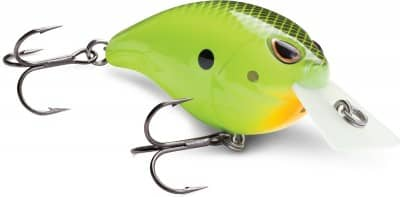 Green Gold Shad features a black back, green-gold side stripe with scale pattern, green-brown cheeks, a prominent black "shad spot" and a white-silver body.
All baits in the Arashi lineup are available in the new colors, including the Arashi Silent Square 3, Silent Square 5, Rattling Square 3, Rattling Square 5, Rattling Flat 7 and Rattling Deep 10. The numbers in each name indicate the bait's maximum diving depth.
"The Arashi arsenal keeps getting better and better," Palaniuk says. "There's silent stalkers and noisy search baits, there's shallow and deep runners, and now there are color patterns perfect for any situation."
All Arashi models come in 12 additional colors: Hot Blue Shad, Bluegill, Baby Bass, Crappie, Blue Back Herring, Wakasagi, Rusty Craw, Mossy Chartreuse Craw, Red Craw, Hot Chartreuse Shad, Parrot and Black Silver Shad.
All baits in the Arashi family feature a circuit-board lip, a patent-pending self-tuning line tie, rotated hook hangers, holographic 3D eyes and premium VMC Black Nickel Hooks. All Arashi cranks also feature a large head that tapers down to a thin, pointed tail — a design that creates unadulterated buoyancy to back out of cover, practically eliminating hangups.
The self-tuning line tie ensures that "Once these baits are in tune, they'll never come out of tune," Palaniuk explains. Circuit-board lip construction allows for a thinner bill, which makes the bait durable and gives it more action at slower speeds. Rotated hook hangers accommodate larger hooks. "You've got a better chance of catching them if you've got bigger hooks on," Palaniuk says.
Suggested retail price: $8.99
Contact:
Bob Ringer
(612) 375-8548
bob.ringer@spongpr.com
Image courtesy Storm
What's Your Reaction?
[reactions id="391461"]