By definition, tactical action is well planned and organized, but at the same time completely adaptable and flexible as situations develop.  The RangeMaxx R2G series of bags and shooting accessories fully support that mission with perfectly executed design, rugged reliability, and multifunction flexibility.
Whether you're gearing up for the shooting range, operational training, or simply a day at the office or family park, mission-specific RangeMaxx R2G bags are "ready to go" with you.  The line includes a range bag, pistol bag, messenger bag, AR bag, and a range pack/bag.  They include concealed carry functionality to keep your weapon hidden and secure, but ready should you need it.
Each RangeMaxx R2G bag model is engineered to organize your gear for a specific pursuit, but with extras that make them highly versatile as well.  For example, each bag includes ample MOLLE webbing creating an adaptable, modular platform to attach tactical knives or flashlights plus MOLLE pouches for even more storage.
RangeMaxx bags are built from rugged 1000D polyester in inconspicuous flat black making them highly versatile.  For example, the range bag is a concealed carry gym bag, the pistol bag becomes a "walk in the park" fanny pack, and the messenger bag is a perfect go-everywhere briefcase. They all feature thickly padded shoulder straps; heavy-duty web handles; reinforced seams; and strong reliable zippers.
All of the RangeMaxx Tactical R2G products are available at: http://www.basspro.com/.  But if you want to feel the quality and explore the versatility firsthand, you can check them out at your nearest Bass Pro Shops retail store.
RangeMaxx R2G CCW Tactical Range Bag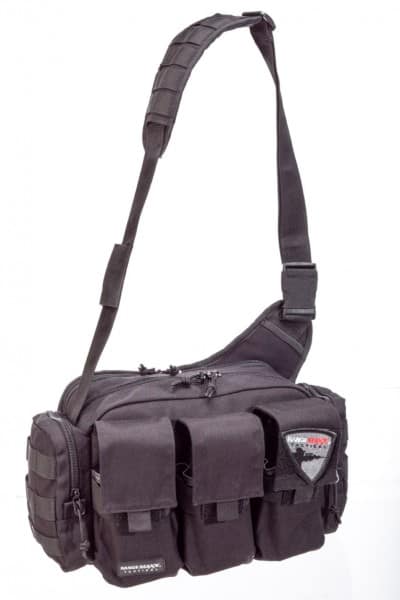 RangeMaxx Tactical R2G CCW Pistol Bag
RangeMaxx Tactical R2G CCW Messenger Bag
RangeMaxx Tactical R2G AR Tactical Bag
RangeMaxx R2G CCW Tactical Range Pack
Contact
Tammy Sapp
tsapp@basspro.com
417-873-5022
Images courtesy RangeMaxx
What's Your Reaction?
[reactions id="397421"]