Yeah, I know, .22 LR ammo is impossible to find. But the situation is getting better, and shooting the fun new Smith & Wesson M&P22 Compact is a great way to celebrate that fact.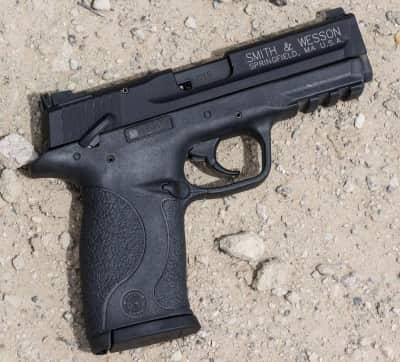 If you keep up with the .22 LR pistol market, you know that Smith & Wesson announced the original full-size M&P22 pistol way back in 2011. That original model was an adopted child through a partnership with Walther. The pistol was made by Walther in Germany and imported and marketed by Smith & Wesson.
Since then, the companies have moved into more independent ventures (amicably, I might add) and now Smith & Wesson has produced a natural-born .22 LR M&P pistol—the M&P22 Compact. Unlike its predecessor, the new M&P22 Compact model is entirely American-made by Smith & Wesson—and it's not just a scaled down version of the original. The new compact model has been largely redesigned; a quick look at the inside will reveal new internals including a trigger transfer bar, extractor, ejector, firing pin, and feed ramp. Speaking of feed ramps, one of the design goals of the new pistol was reliability with a broad range of ammunition. More on that later.
The specs
Like most .22 LR pistols, this one is a blowback design with a fixed barrel. It's a single-action, hammer operated firing mechanism with solid safety levers on both sides of the frame. As a side note, the safety levers are now metal with a plastic over-mold and are noticeably more solid than those of the original M&P22.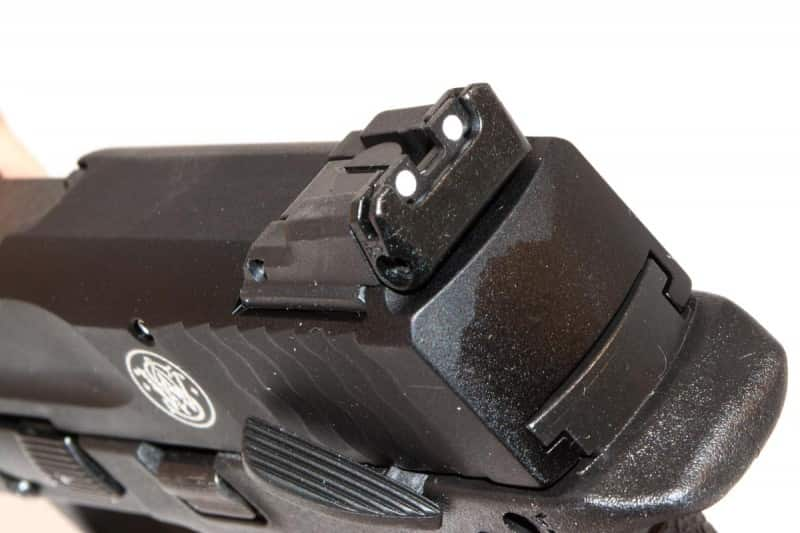 Here are the basic specs:
Overall length: 6.7 inches
Barrel length: 3.6 inches
Barrel rifling: 1:15, 6-groove, right hand
Overall height (including sights): 5.0 inches
Overall width (with controls): 1.5 inches
Total empty weight: 17.0 ounces
The pistol has a threaded barrel, but you won't notice that at casual glance as the threaded portion and thread protector cap are internal to the slide. This means that you will need an adapter to extend 1/2×28 threads past the muzzle so you can attach a silencer. If you have an original M&P22, be aware that the barrel threading is now larger, so you'll need a new adapter. Check with the folks at Tactical Innovations for availability, they are developing an adapter as we speak.
In addition to ambidextrous safety levers, the M&P22 Compact has a magazine release button that can easily be moved to the opposite side, so the pistol is friendly for righties and lefties.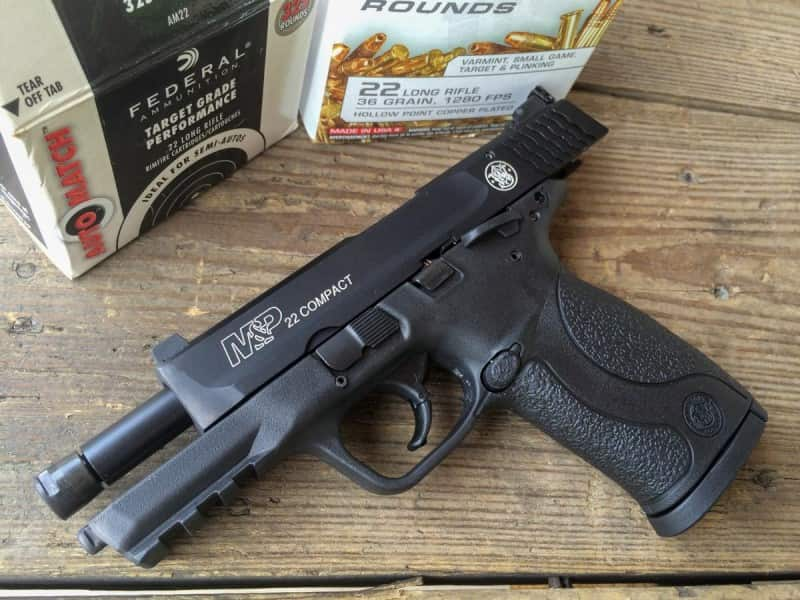 Sights are a standard dovetailed post and notch with three bright white dots. The rear sight has also been redesigned to be more easily adjustable, so point of impact can be tuned to your specific choice of ammo.
Other features include a front rail for lights and lasers (don't laugh, this makes an excellent rodent gun, trust me, I know!), two 10-round magazines, and a loaded-chamber indicator in the top of the slide.
The trigger is more reminiscent of a service pistol than a race gun, and I think that's part of the goal of the Smith & Wesson M&P22 Compact. Comparable in size to an M&P Shield, it makes a lower-cost option for training. The trigger has about one-third of an inch of take-up, followed by a break at just under six pounds of pressure.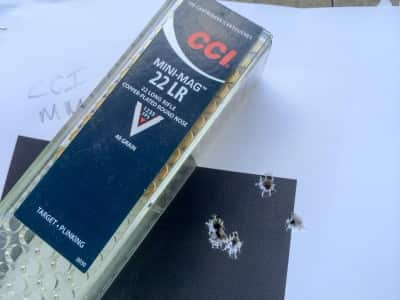 Shooting the Smith & Wesson M&P22 Compact
I really hate accuracy tests of pistols. Most of the time they're performed freehand or maybe from a handgun resting on sandbags. These kind of tests are far more of an indicator of the shooter's skill and eyesight than a meaningful test of the mechanical precision of the gun. Anytime you're relying on the human eye sighting an iron post at a target downrange, a fraction of a millimeter change in sight alignment translates into a large fraction of an inch of the point of impact. Don't even get me started on all the other human factors like trigger press, hold, or caffeine level in the bloodstream. However, I find that some time spent precision shooting will help one uncover how easy a particular gun is to shoot accurately, so that was my primary goal here.
With that said, when shooting for "accuracy" I try to eliminate as many variables as possible. For example, I use pure black 4.67-inch target squares because many pistol front sights are about .14 inches wide. That translates to exactly 4.67 inches at 25 yards, so it's very easy to line up the front sight with the target downrange with pretty darn-good precision. The top and sides of the front sight will superimpose almost perfectly with the target square.
As a related side note, I'm currently testing a neat product for accuracy shooting—the EyePal peep sighting system. These are small disks that "stick" to your shooting glasses. You look through a pinhole at your sights and target. The small aperture sharpens up your view tremendously so you can see your sights and the target clearly. They really help with precision shooting using iron sights and a package contains disks for pistol, archery, and rifle shooting. I highly recommended them.
Since this is a compact .22 LR pistol, I ditched the 25-yard accuracy routine and set up a target at 15 yards. I shot a variety of ammo using a Caldwell Pistolero rest. This adjustable platform is light, but if you weigh it down with some ammo boxes or lead shot, it does an admirable job of providing a steady pistol-shooting platform. Here are the results I got from 15 yards:
| | | |
| --- | --- | --- |
| Ammunition | Velocity (feet per second) | Group size (inches) |
| Aguila Sniper Subsonic SSS 60-grain LRN | 754 | 1.96 |
| American Eagle 38-grain copper-plated HP | 959 | 2.91 |
| ArmsCor Precision 40-grain LRN | 905 | 2.85 |
| CCI Mini-Mag 40-grain copper-plated RN | 948 | 1.22 |
| CCI Stinger 32-grain copper-plated HP | 1,339 | 3.78 |
| Eley Practice 100 LRN | 848 | 1.61 |
| Federal Target Grade Performance 40-grain LRN | 979 | 2.26 |
| Remington Thunderbolt 40-grain LRN | 882 | 2.6 |
| Winchester 36-grain copper-played HP | 1,025 | 1.86 |
| Winchester Match T22 40-grain LRN | 930 | 1.56 |
.22 LR guns are notoriously finicky about the ammo they like in terms of function, so my intent here was to find what the Smith & Wesson M&P22 Compact would digest. Once that was determined, I wanted to see what it liked to shoot with consistent accuracy.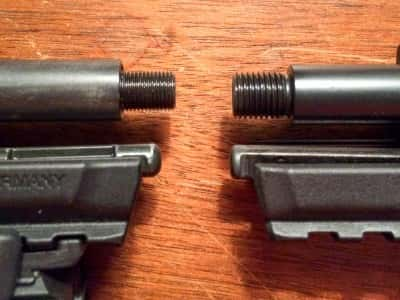 I had two surprises in my testing. First, this pistol eats everything. I tried many different types of .22 LR ammo, and a lot of it, in the function test. It ran and ran and ran. The second surprise was that the Smith & Wesson M&P22 Compact really likesmWinchester bulk pack ammo. I've found that this particular jacketed .22 LR ammo, with its sharp bullet profile, tends to hang up in a lot of semiautomatic pistols and rifles. Not only did it run like Forrest Gump, it was one of the more accurate loads tested. How about that? Cheap, functional, and accurate. That's what pinking should be all about, right?
Closing thoughts
The proportions of this pistol are all right. The 87.5 percent scale of the original M&P22 model is just right for a .22 LR pistol. I've got fairly large hands and can get a complete grip with ease. The perfect proportion also lends itself to silencing. Adding a small .22 suppressor like a SilencerCo Sparrow doesn't make the pistol unwieldly—it's still compact and handy.
While the proportion and feel in the hand are just right, what I like best about this big little pistol is its appetite. I've gone through my collection of brands and styles of .22 LR ammo and it functions with all of them. In these days of limited .22 supply, we have to take what we can find on the shelves and it's nice to know whatever you buy will work with this pistol.
One final note: Smith & Wesson is offering a free box of Winchester .22 LR ammo with each M&P22 Compact purchased through December 31, 2014. Suggested retail price for the Smith & Wesson M&P22 Compact is $389.
Tom McHale is the author of the Insanely Practical Guides book series that guides new and experienced shooters alike in a fun, approachable, and practical way. His books are available in print and eBook format on Amazon.
Images by Tom McHale
What's Your Reaction?