Savage Arms keeps fueling it's self-proclaimed "rimfire revolution" with the launch of its new B-Series lineup, which includes the B22, B22 Magnum and B17, which are chambered in .22 LR, .22 WMR and .17 HMR, respectively.
Popular YouTube personality Sootch00 recently posted a detailed and grade-A review on the new rifle; check it out below:
If you don't have time to watch Sootch00's 20-minute, in-depth review, here are 10 highlights on the new rimfire tack-drivers:
The looks of the B-Series rifles are quite a departure from Savage's tried-and-true, older Model 64, Mark II and Model 93 rifles. The new guns have a bold and futuristic look, yet a highly functional feel. We heard one company official say the B-Series is specifically designed to look more appropriate for Buck Rogers than Roy Rogers.
The B-Series includes a dozen new models in different configurations, including Sporter Barrel, Heavy Barrel, Heavy Threaded (suppressor ready) and Heavy Stainless options.
B-Series rifles feature a 21-inch carbon steel barrel and 39-inch overall length, with a 13.5-inch length of pull. Rate of twist is 1:16 on the B22 and B22 Magnum, and 1:9 on the B17. Weights range from 5.44 pounds for the Model B22 FV-SR and B22 Mag FV-SR, to 6.22 pounds for the Model B17 FV and B17 FVSS.
The ergonomic yet stylish features include a slightly higher comb, which accommodates the addition of optics – though each of the B-Series sporter models are also fitted with adjustable open steel sights, while the contour barrels come complete with two-piece bases.
The new rifles also offer a target-style, vertical pistol grip, which allows shooters to hold the gun in a more natural position that puts less pressure on the wrist. We tried it at SHOT Show and loved it!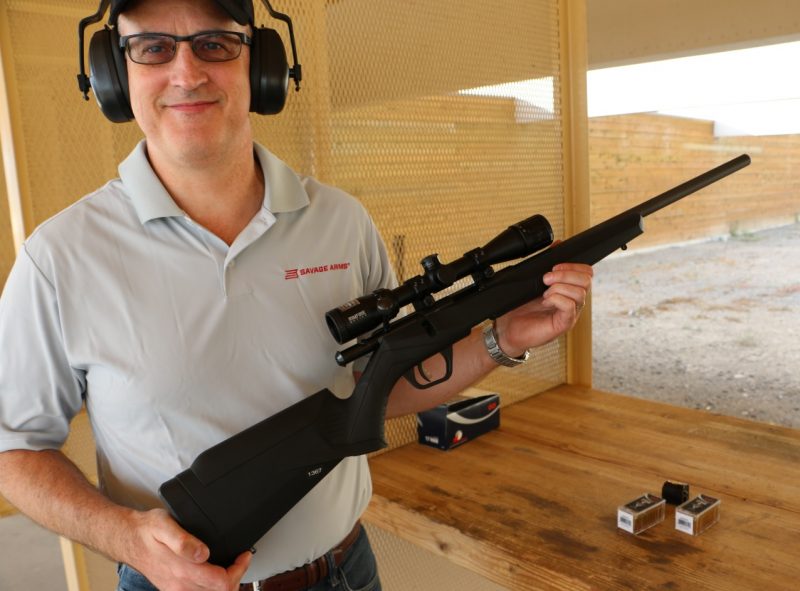 Savage engineers relocated the B-Series safety to the top of the tang, so it's easy to manipulate while keeping your shooting grip – and form – intact.
These rifles utilize an ultra-reliable 10-round rotary magazine that is a proprietary design. It is easy to use and ensures the chamber is fed with a steady supply of fresh ammunition. As a bonus, the flush-fitting magazine never gets in the way or catches on brush and branches the way a detachable box or other extending magazine can. In other words, the system works just as well in the woods as on the shooting bench.
The B-Series bolt guns also feature zero tolerance headspace, similar to the company's celebrated centerfire platforms. Each barrel is threaded into place with its individual action and bolt to form a perfectly matched set that is locked in place with a barrel locknut.
Each barrel is button-rifled and perfectly matched to a rugged yet easy-shouldering black-matte synthetic stock.

The easy-handling, fun-to-shoot B-Series rifles also feature Savage Arms' accuracy-boosting adjustable AccuTrigger. This revolutionary technology lets shooters fine-tune trigger pull to match their personal taste, allowing for the crispest, cleanest, lightest release possible, without sacrificing safety or paying a gunsmith to do it. Again, our experience at SHOT Show confirmed it; the AccuTrigger is the real deal.
Manufacturer's suggested retail for the B-Series rifles range from $281 to $411, depending on the model. For complete details and specifics visit savagearms.com.