I've been ice fishing for more than 2 decades, and along the way I've accumulated a bunch of gear. That said, I've added almost nothing new to my arsenal in the last 15 years. Does my old stuff still work? Usually. Will some of the new advancements in lures and other gear help me catch more fish? Absolutely.
Case in point: Take a look at my old ice fishing tackle box and you'll see bulk trays filled with a wide variety of small jigs. The one lure style I lack more than any other, however, is horizontal panfish jigs that "fish heavy" but still provide a small enough profile to appeal to finicky sunfish and crappies.
In the old days, ice anglers usually depended on small jigs (ice flies) that presented the hook in a vertical position. This jig style can be deadly – even today – but there's one important negative: You often have trouble seeing these vertical jigs easily on electronics. The modern ice fisherman who targets sunfish and crappies wants to spot their jig on their flasher, regardless of jig size and desired depth, and nothing shows up as well as a jig with its hook and live bait or soft plastic positioned horizontally.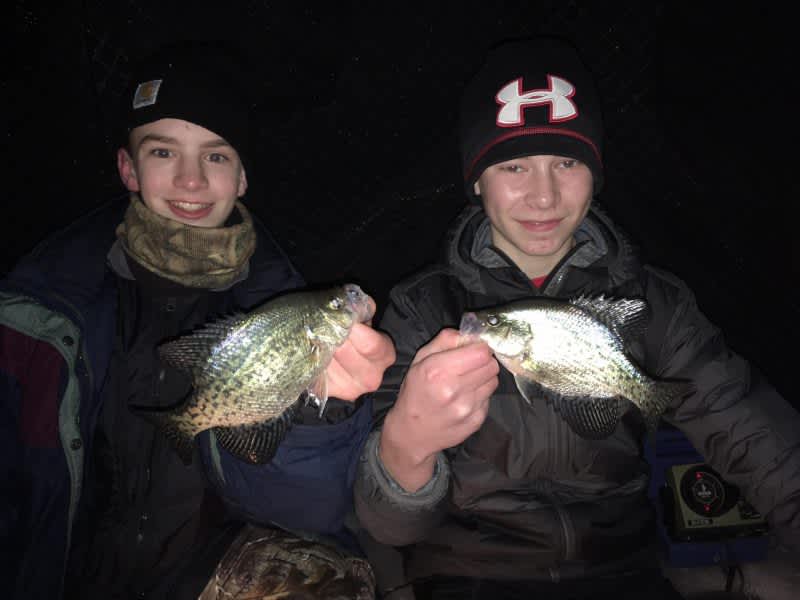 So as the winter of 2016/2017 marched on, and my two sons, ages 11 and 14, began stealing ice jigs from my tackle box to place in their boxes for day trips to nearby frozen lakes with their friends, I knew I needed to get with the times. Online research led me to a company called Your Bobbers Down, and on their website I found exactly what I was looking for: Fiskas jigs.

Specifically, I drooled over the hand-painted finishes shown on the Fiskas Wolfram Jigs (pic above) made of tungsten. And I loved the fact that many of them included glow in the color scheme. I don't know about you, but whenever I'm pursuing crappies, and the sun hits the treetops to the west, I have a glow jig tied on my line. For sunfish, I went with size 14, 12 and 10 hooks, and for crappies I went with 12s, 10s and 8s. Important note: I almost never use minnows for crappies; 99.9 percent of my panfish pursuit is with Eurolarvae or soft plastics.
In addition to the hand-painted jigs, I also added a few of the Epoxy Finish and Metallic Finish Wolfram Jigs to my tackle box. Why? Because you never know!
To round out my panfish jig upgrade, I added a few of the Fiskas Balances Jigs (one example below). Because of their unique shapes, they fall/glide differently on the drop than a more standard Wolfram Jig. Again, every time on the ice is different, and you have to let the fish tell you which presentation they prefer.

As I placed these jigs in my old school tackle box like marbles in a jar, I couldn't help but think that I was going to damage the spectacular finishes on these jigs. It simply didn't seem right to have them rattling around loose in a bulk compartment. So I went back to the Your Bobbers Down website and found a compact, inexpensive option to keep my new jigs organized and protected. It's called a Bug Luggage box (below) and is crush-proof and won't absorb water.

I went with the size large box, which will hold 136 jigs. I love the fact that I can quickly see the hook size, too, when jigs are placed in the Bug Luggage box. Sweet system!

Earlier I mentioned soft plastics. Even though I've never gone on the ice in pursuit of panfish without fresh and lively Eurolarvae, I can imagine a time – very soon – when I'll have the confidence to do so. Very simply, the new super-soft scented plastics designed specifically for tiny ice fishing jigs are seemingly irresistible to sunfish and crappies.
Now, I admit that my experience with soft plastics is limited, but I've already had tremendous success with a few designed that fall under the Little Atom umbrella (below). My favorites include the Duppies, Skimpies and Micro Nuggies. You can rig these killer plastics in variety of ways depending on your jig type and desired action, but make no mistake, they flat out send panfish into attack mode.

There's a lot of winter left here in the North, and late-season ice is my favorite time to walk on water. I love the cat-and-mouse game of looking through the hole at a lush cabbage bed only 4-8 feet below the ice and trying to keep my jig away from the smallest panfish, while trying to entice the bull gills and slab crappies into striking. My goal is to try and top my 14-year-old son's biggest gill (photo below) from this winter; it's not going to be easy!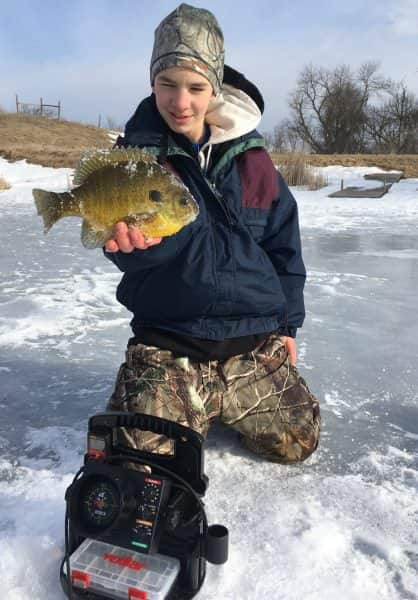 Stay safe on the ice and good luck fishing!
What's Your Reaction?