Depending on where you live, you might be targeting pre-spawn largemouths on open water, or – like me – pursuing late-ice panfish on hard water.
I love late-winter ice fishing. Panfish have started to move shallow in expectation of the spring spawn, and if you can find green weeds on shallow flats, say 4-10 feet deep, you can enjoy fast action. My favorite lakes are those clear bodies of water that allow me to sight-fish (i.e. look down the hole and play keep-away from the small sunfish and crappies, while trying to entice the bigger fish into striking).
Recently I walked out on 8 inches of ice and had the entire lake to myself. And no, I don't live in the middle of nowhere. I fact, the 200-acre public lake I fished this past weekend is less than an hour drive from downtown Minneapolis, Minnesota.
During previous February and March ice adventures, I always wore a life jacket and carried ice picks in case of an emergency. Safety first. Always.

This time, however, I tried a new combo winter parka/pfd (personal flotation device). Called the I-Float Jacket from Frabill, this parka (below) is the only ice fishing suit on the market to be recognized by the U.S. Coast Guard as a USCG Certified Personal Flotation Device. In other words, when you wear the Frabill I-Float, you're wearing a life jacket. Period.

With air temps of 32 degrees and winds of 20 mph, it was cool but not crazy-cold, so I wore a lightweight fleece top under the I-Float jacket and was toasty warm during my walk to my fishing spot, and while sitting in a pop-up ice shelter (no heat) for the next few hours. The I-Float jacket fits better and is more comfortable than the usual winter parka I wear ice fishing, and when you combine that fact with not having to wiggle into a cumbersome life jacket, too, it's a win/win.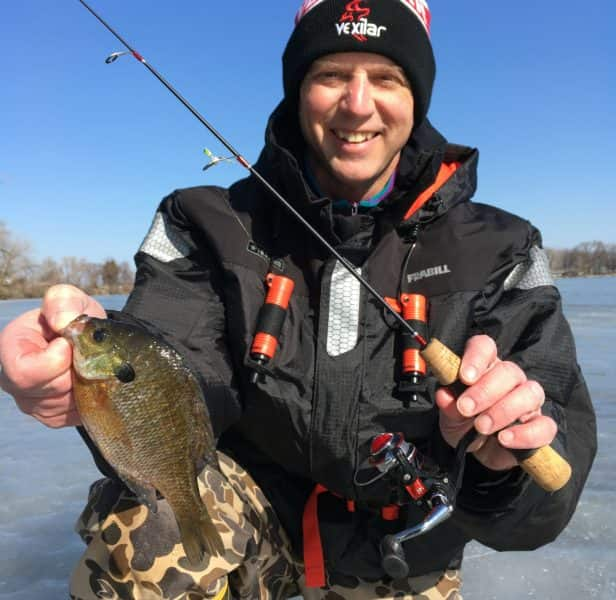 Though I thankfully didn't test this feature, the I-Float jacket has mesh self-drainage openings for emergency water evacuation, and ice picks that store in out-of-the-way holsters. As the photo below shows, the business end of the ice pick gets to work when you press the pick against the ice.


Other jacket features include: 3M Scotchlite reflective material; high-visibility USCG orange accents and lining; waterproof and windproof; ergonomically designed elbows; durable Cordura on heavy wear points (shoulders and elbows); collapsible hood; and hand warmer pockets. The I-Float jacket is available in sizes S to 3XL. Sizing note: I'm 5' 10" and weigh 175 pounds; the size "Large" fits me perfectly with room underneath for layering garments.

If you don't believe this jacket will keep you afloat, check out the video below by Frabill Pro-Staffer Jeff Thomas. Not only will you see it keep Jeff from sinking, but you'll see how well the drainage system works, too.
On star rating system of 1 to 5, I give the Frabill I-Float Jacket a solid 4.5 stars. In my opinion, the only thing that keeps it from a perfect score is I wish it had a small zippered pocket (inside or outside) for storing can't-lose items such as truck keys.
P.S. Another huge benefit to the I-Float Jacket is the ability to use it for open-water fishing during cold temps. As the photos far below show, if you pursue muskies or walleyes into October, November or December, the I-Float is the perfect companion.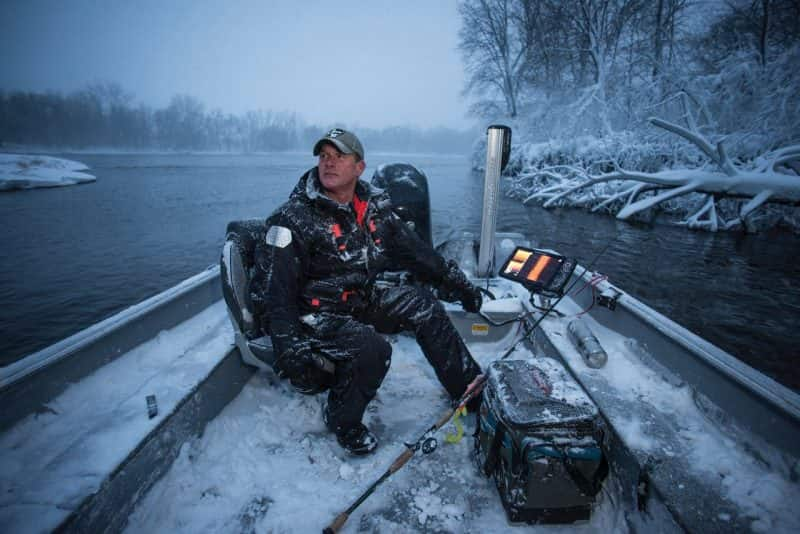 What's Your Reaction?