Many avid whitetail hunters – me included – spend countless hours each fall in our LaCrosse rubber boots. They help keep my feet dry when crossing creeks, and minimize human odor on the ground as I walk to and from my treestands and ground blinds.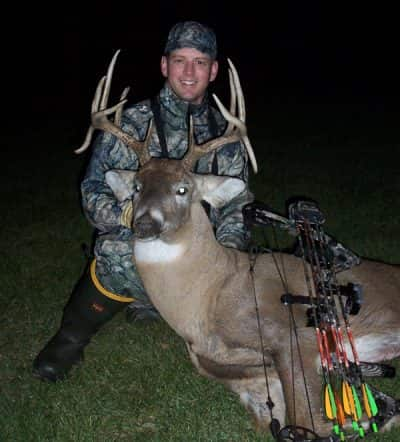 I like to wear those same boots when pursuing turkeys during the spring, with one very important exception – in snake country. You see, my standard LaCrosse deer hunting boots are no match for snake fangs.
But Mr. Cottonmouth might have met his match. Check this out . . .
LaCrosse recently expanded its AeroHead Sport family with the new AeroHead Sport Snake Boot. It has all the same lightweight comfort and durability that hunters like me have come to expect from the AeroHead name, with the added skin-saving benefit of 360-degree snake-proof protection.

I don't know about you, but whenever I hunt in the South or Southeast, I want to avoid snakes just as much as I want to run into a mature gobbler, and this new AeroHead Sport Snake Boot will give me peace of mind. And frankly, I hunt better, smarter and longer when I'm concentrating on turkeys instead of snakes.
AeroHead Sport Snake Boot features include:
Patented AeroForm technology delivers revolutionary comfort and durability
Flexible Snake Guard material for 360-degree snake-proof protection
Molded polyurethane over a neoprene core for ultra-lightweight and flexible, waterproof comfort
Thick polyurethane midsole for outstanding cushioning underfoot
Polyurethane reinforced shin and Brush Tuff bi-directional material provide abrasion resistance
Molded kick-off heel plate for easy hands-off removal
Adjustable neoprene gusset to accommodate a variety of calf sizes and a more secure fit
Moisture wicking and quick-drying polyester jersey liner
All-season outsole with non-loading tread pattern built for rugged, varying terrain
Available in Mossy Oak Break-Up Country
16-inch height
SRP $200

I can't wait to give these new LaCrosse boots a try during my next turkey hunt in snake country. Will I go out of my way looking for trouble? Of course not. But it'll sure be nice to have comfortable, waterproof snake-proof boots protecting me on my pursuit.
What's Your Reaction?