Range Review: Savage Arms B17 Rimfire
Dave Maas 05.19.17

During a recent media event and shooting school in Texas (click here to read my first article about the trip), I had the chance to field test the Savage Arms B17 bolt-action rimfire rifle.
Like many of you, I love plinking – it doesn't matter if I'm hammering aluminum cans at a gravel pit with a 22LR, or trying to achieve tiny 10-shot groups on paper from a bench – it's just plain fun to pull the trigger on a rimfire rifle and not have to worry about recoil and loud muzzle blast.
So, imagine my excitement when I stepped up to the firing line and saw a new Savage Arms B17 rimfire begging for attention. Specifically, I called dibs on a B17 FV-SR (MSRP of $364), which is packed with features. Unlike so many rimfire rifles that feel like youth guns, the B17 handles like a full-sized centerfire. It has an ergonomically designed stock with a high comb, and target-style, vertical pistol grip that allowed me to hold the gun in a comfortable position. I also liked the gun's top tang safety.

The B17 FV-SR model (above) is distinctive because of its 16.25-inch, button-rifled, heavy barrel, which is threaded to accept a suppressor. My test rifle (below) carried a BlackHawk! Pulse suppressor, which weighs only 5.3 ounces and has all the strength to handle magnum rimfire ammunition. The Pulse's hardened stainless-steel baffles seal in hot gasses, and it can easily be disassembled for cleaning. It suppresses 22LR to 113.9 dB; 17 HMR to 124.2 dB; and 22 Win. Mag. to 126.6 dB.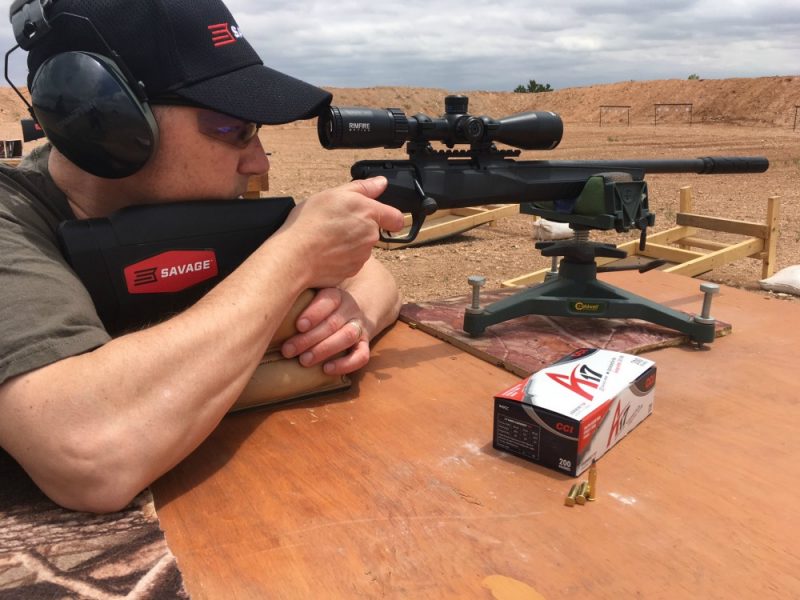 Like all B17s in the Savage lineup, my B17 FV-SR had a 10-round rotary magazine, and an adjustable AccuTrigger. I liked the rifle's oversized bolt handle, too. (If you've never shot a Savage rifle with an AccuTrigger, you need to change that ASAP. They are crazy good. Check out the video at the end of this article for more info on the AccuTrigger.)
Finally, the B17's receiver is drilled and tapped for a scope, and during my day of testing, I used a Bushnell Rimfire 3-12X40mm scope, which provided a crystal-clear view of a variety of targets from distances near and far.
For ammo, I shot up hundreds of rounds of CCI A17. While this 17 HMR ammo is optimized for the new Savage A17 semiauto rifle, it works perfectly in a bolt gun, too. Bullet weight is 17 grains, and it exits the muzzle at 2,650 fps. The Varmint Tip bullet is designed for rapid expansion. Sadly, I didn't have any coyotes run through the rifle range during my day of testing to experience its performance on animals.
As you can see from the photo below, at 50 yards the gun/scope/ammo performed very well. I was hitting a bit below the bull's-eye (the green logo just above all the bullet holes) on my first 10 shots, but a simple scope adjustment brought all future point-of-impacts into the green spot.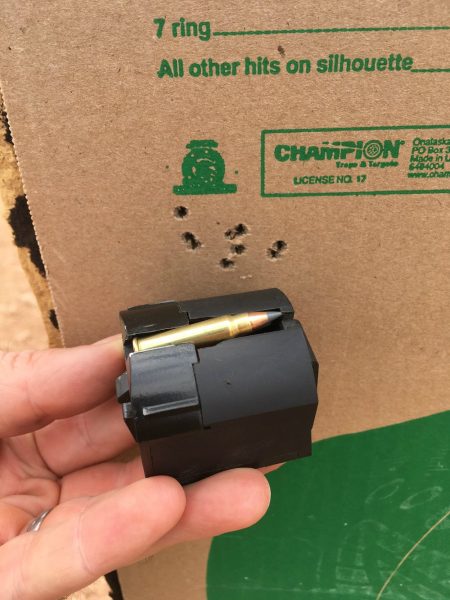 This was my first experience shooting a suppressed gun of any sort, and I can tell you that the BlackHawk! Pulse tamed the muzzle blast to comfortable levels. The only reason you see me with ear muffs in place in these photos is because other shooters nearby were shooting non-suppressed rifles in everything from 223 Rem. to 308 Win.
When trying to describe to friends what it was like shooting the Savage B17 rimfire in 17 HMR, I said, "It's like a 22LR on steroids." There's almost no recoil, with the Pulse there's very little noise, and the performance at longer ranges is impressive. While hitting steel targets with a 22LR at 100 yards is doable, you can't consistently hit ones placed at 300 yards. With the B17, it's "game on" at 300 yards and even farther.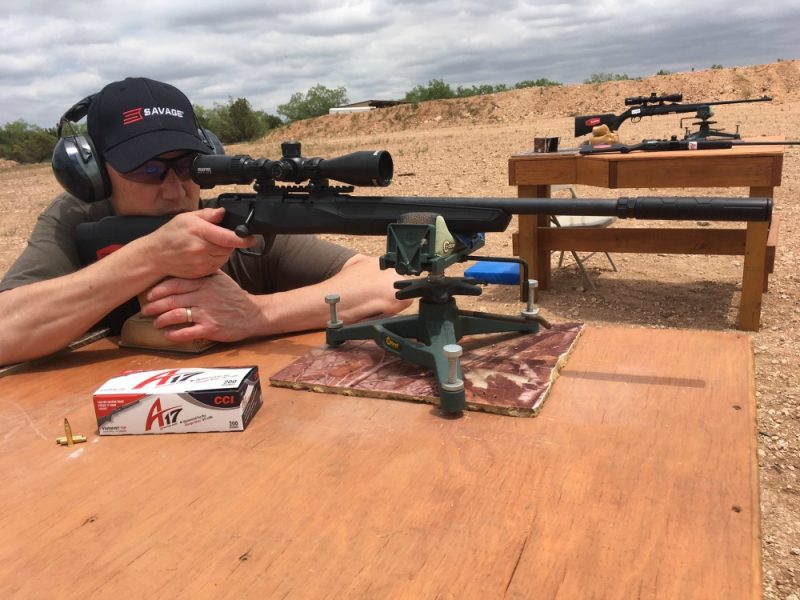 For an easy-to-shoot varmint gun, I can't think of a better option than a Savage Arms B17. For everything from pop cans to predators, the B17 rimfire can do it all.
Author's note: For more on the incredible Savage Arms AccuTrigger, watch the video below.