Top 10 Reasons to Visit Aikens Lake Wilderness Lodge in Manitoba
Dave Maas 07.11.17

Depending on your age, chances are good you stayed up a bit late, even on a school night, to catch David Letterman's "Top Ten List" part of the show. So, in keeping with the Letterman tradition of revealing the answers beginning at the bottom, let's get started. Here are my top 10 reasons for visiting Aikens Lake Wilderness Lodge in Manitoba.
The Aikens Lake website is the best in the business.
If you're like me, the research and planning for an adventure/vacation is a big part of the fun, and the information found on the Aikens Lake website is simply outstanding. From giving you a taste of the Aikens experience to explaining the details of which fish species are available to anglers, the site covers it all.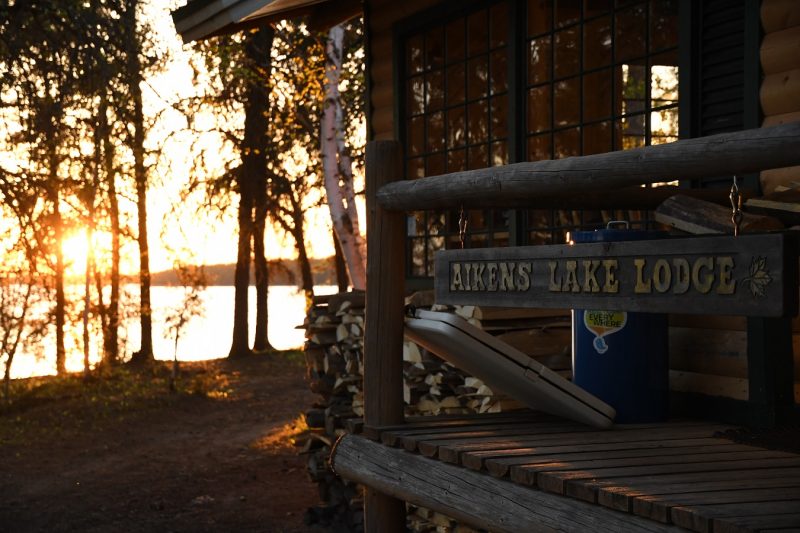 TripAdvisor doesn't lie.
If you haven't used TripAdvisor in your travel research, you need to start. Now. While an outfitter's website can certainly be helpful, as I discussed in No. 10, the opinions of persons not on the payroll of an outfitter carry even more weight. Check out TripAdvisor to see what people who have visited Aikens have to say about it. I know you'll be impressed.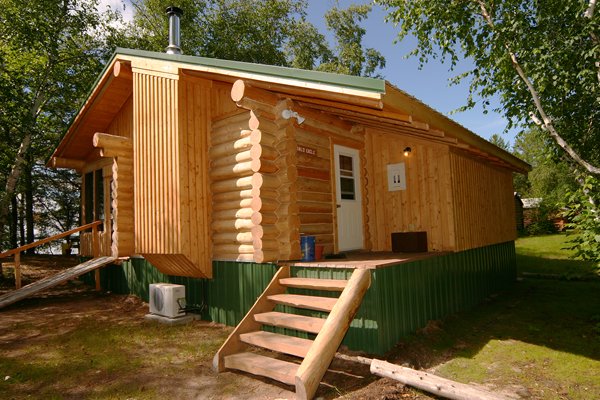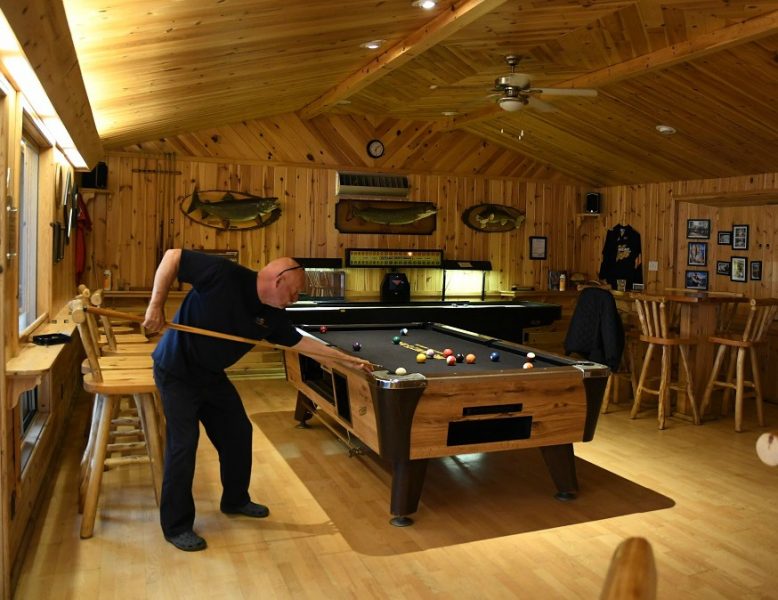 Pre-trip communication.
I don't know about you, but I hate it when after a company gets my money, the special treatment I was receiving disappears into thin air. The opposite is true at Aikens. After you book with Aikens, the staff stays in close contact with you as the dates of your adventure draw close. You'll even be sent a questionnaire that asks you about food allergies and special dietary needs for everyone in your group. The Aikens staff leaves no stone unturned.
Easy access.
No matter where you live, it's relatively easy to get to get to Aikens Lake Wilderness Lodge. Those living in the Midwest who choose to drive can simply head for Winnipeg, Manitoba. From there, it's only 90 minutes (paved roads the entire way) to the town of Pine Falls, where you can stay overnight in the Papertown Motor Inn. On the morning of day No. 1 of your adventure, you'll drive less than 10 minutes down the road to the Bluewater Aviation float plane base. Easy. Those who wish to fly to Winnipeg can usually be in camp that same day; guests will be picked up at the airport in Winnipeg by a comfortable shuttle owned by Aikens and then driven to Bluewater Aviation. Like I said . . . easy!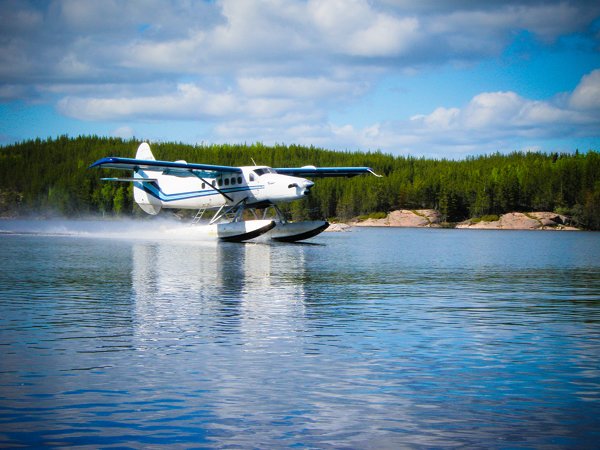 Can you say 'Turbo Otter'?
I don't know about you, but in my opinion, there's no finer way to fly than in a float plane. And while I dearly love a DeHavilland Beaver, it's big brother, the Otter, is something to behold. The amount of gear, and number of people, that can be carried in a Turbo Otter (photo above) is simply amazing. During the 30-minute flight into camp, you'll marvel at the landscape (water-scape) below. These planes are throwbacks to time gone by (1950s and '60s). And I really loved this about my flight into Aikens: As you approach camp, the pilot will fly over the Aikens dock and then do a sharp turn upon final approach. This "fly by" gives you a great view of the lodge and in the many cabins below, but it also alerts the Aikens staff that it's time to head for the dock to meet and greet new guests.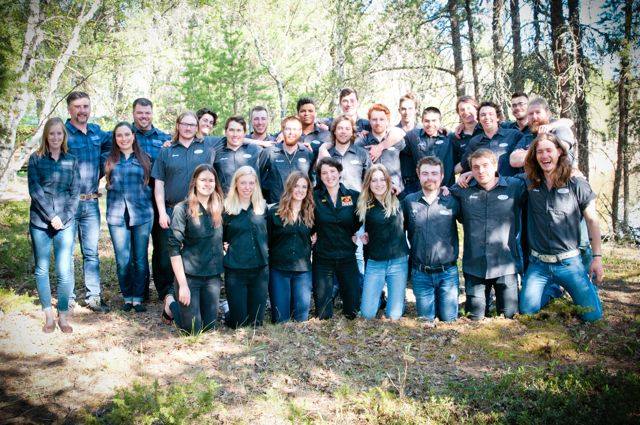 Friendly and professional staff.
As I referenced in No. 6, the Aikens staff heads for the dock when they hear an Otter arriving. As you step off the float plane onto the massive dock, you're welcomed by more smiling staff faces than you can believe. In fact, even when camp is full (about 30 people) the staff still outnumbers the guests. When I was there on the first day Aikens opened its season on May 24, 2017, there were a dozen guests in camp, so staff outnumbered us by more than 2 to 1. While you get a quick tour of camp and learn about all the amenities, the staff is carrying your luggage to your room. Nice. Everyone I met during my stay at Aikens was kind, courteous, knowledgeable and professional . . . simply the best.
Wilderness wifi
Okay, I feel a bit bad including this one on my list, and I'm having second thoughts about having it fill the No. 4 slot, but in this modern world, it is nice to stay connected to family, friends (and I almost hate to say it: coworkers). Aikens has free wifi for its guests, and mine worked wonderfully from my cabin. I could check the local weather, quickly scroll through emails, post pics of my adventure on Facebook, etc. Of course, if you want to totally escape the world of work and disconnect, you can. But it's nice to have the ability to check-in via your smartphone.
You'll eat like a king.
I won't spoil the surprise by listing all the fine foods I ate during my visit to Aikens, but know this . . . you'll feel like you're at a 5-star restaurant in the middle of the wilderness. And while breakfast and dinner at the lodge are fantastic, it's the shore lunch each day that is the headline. I've had shore lunch many times in my long fishing career (hundreds of times I'm sure), but the guide staff at Aikens takes it to the next level. My favorite was the beer-battered walleye with all the trimmings (potatoes and onions fried in a cast-iron skillet, baked beans, etc.), but you're guide will give you numerous other choices, too. My God it was good.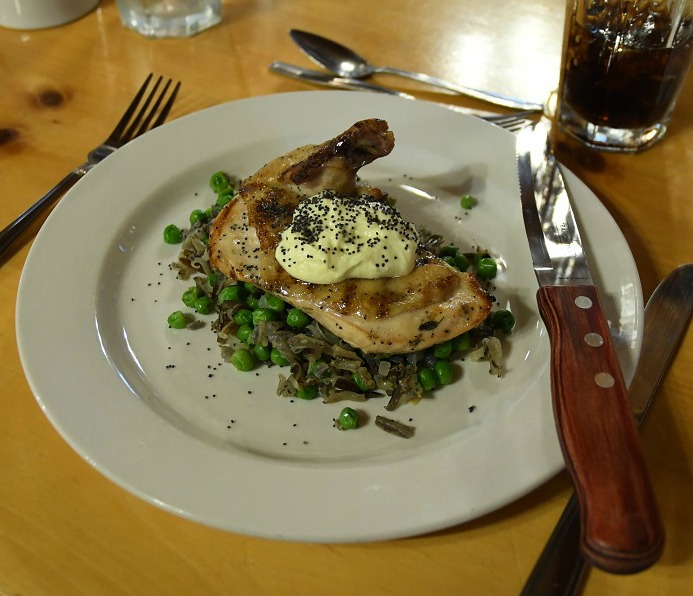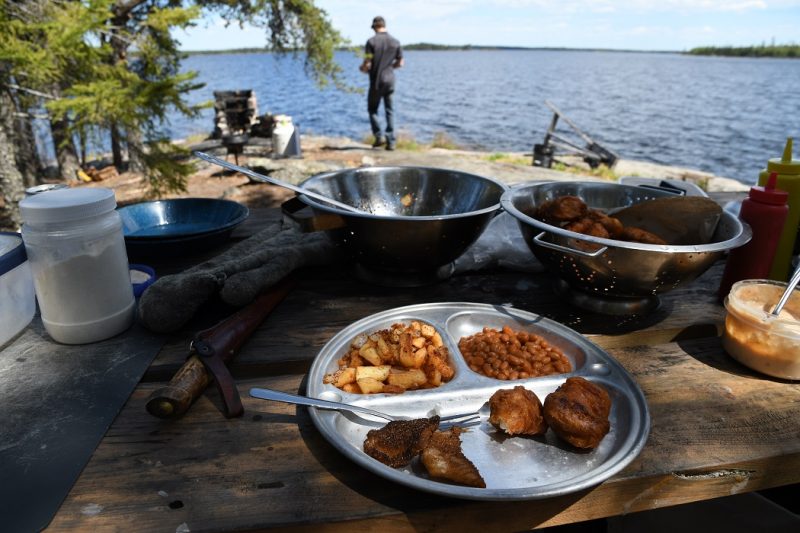 Top-notch boats, motors and gear.
You need the right tools for any job, and the guide staff at Aikens has those tools. From smooth-running, four-stroke Yamaha outboards and Minn Kota trolling motors to modern fishfinders, the gear on the guide boats (pic below) is top-notch. I brought my own rods, reels and lures to Aikens, but there's an option to use gear supplied by camp, too. And unlike many places I've visited in my career, Aikens can supply its guests with top-of-the-line rods and reels. In fact, I marveled at the bait and tackle shop located near the Aikens dock; it's as well-stocked with gear as many retailers I've visited near home. Amazing. I also liked the bait and tackle shop's "bragging board," which included recent photos of previous guests' trophy fish.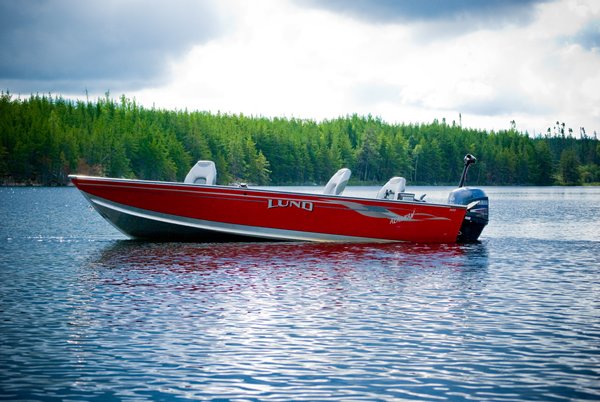 I specifically visited Aikens Lake in late May because I wanted to target trophy pike. And as the photos below prove, I was blessed beyond measure with two Manitoba Master Angler northern pike. My first measured an incredible 47 inches in length, and my second, which was caught a few hours later, stretched the tape at 45 inches. My brother, Steve, also caught two Master Angler pike during our 3 days of fishing; both of his trophies measured 41 inches. We didn't spend a lot of time pursuing walleyes, but when we did, we were successful. Aikens also has outstanding fishing for lake trout, which I plan to target on my next visit.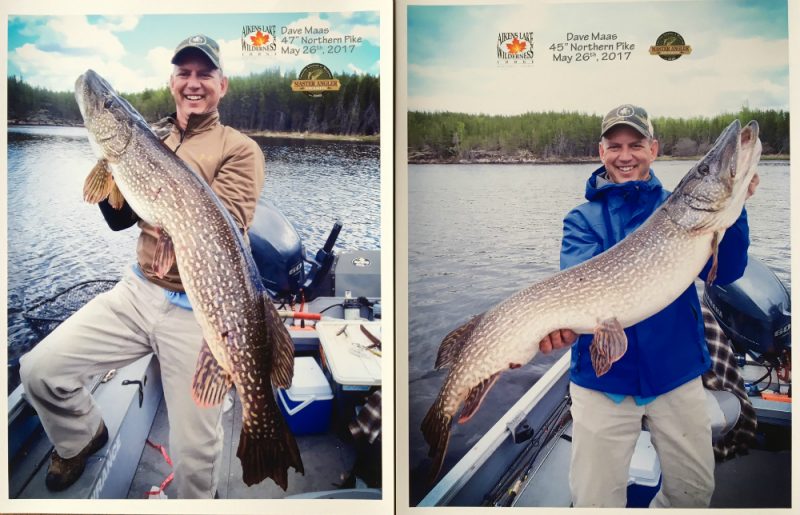 Only now as I review my list do I realize that I haven't really called attention to the fishing knowledge and skill of the Aikens Lake guides. And rather than make this a "Top 11" list, I'll simply write a follow-up article that will enable me more time and space to give credit where credit is due. Stay tuned!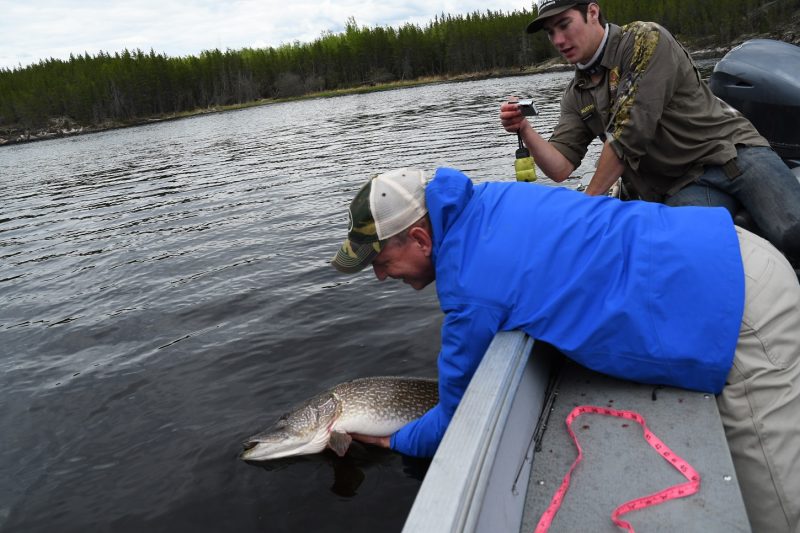 Author's note: If Aikens Lake doesn't fit into your travel plans, there are many other great choices in Manitoba as well. Click here to begin your search for the fishing — or hunting — trip of a lifetime. This is not a misprint: Manitoba has more than 110,000 lakes! I'm from Minnesota, the "Land of 10,000 Lakes," and this stat is hard even for me to comprehend!