First Impressions: Exodus Lift II Trail Camera
Dave Maas 09.06.17

In mid-August 2017, I placed two Exodus Lift II trail cameras (MSRP $229) on 160 acres of South Dakota river-bottom, and this past weekend my father-in-law (photo above) and I checked on them for the first time.
As the saying goes, I've got good news and bad news.
First the bad: I'm certainly not performing a widespread whitetail inventory on 160 acres with only two trail cams, and because these cams are placed on deer trails and not over a mineral site or bait, I'm relying on natural movement to capture deer pics. In addition, this river-bottom often holds only a small number of deer until later into the year. Right now, the prairies of eastern SoDak are filled with food, cover and water, so I don't really expect to see many deer move into my half-mile of river-bottom until mid-October. All of this is just another way of saying that I don't have any good-sized bucks on camera. I have a few 2-year-old 4x4s, but the best is certainly yet to come.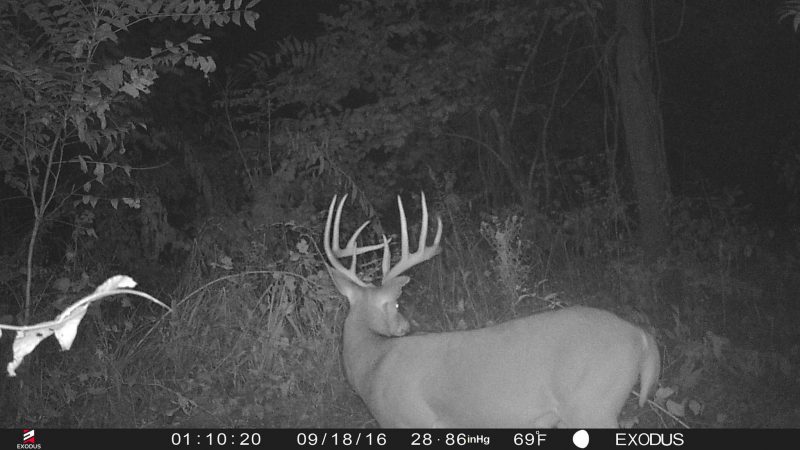 The good news is the Exodus Lift II cams are working very well. I'll save a more detailed report for later in the season when I have more pics to share with you, but here are the highlights:
The camera is super easy to place correctly due to its 2-inch LCD color view screen. When the camera is in setup mode, you simply look at the screen and what you see is what you get. Simple. I like simple.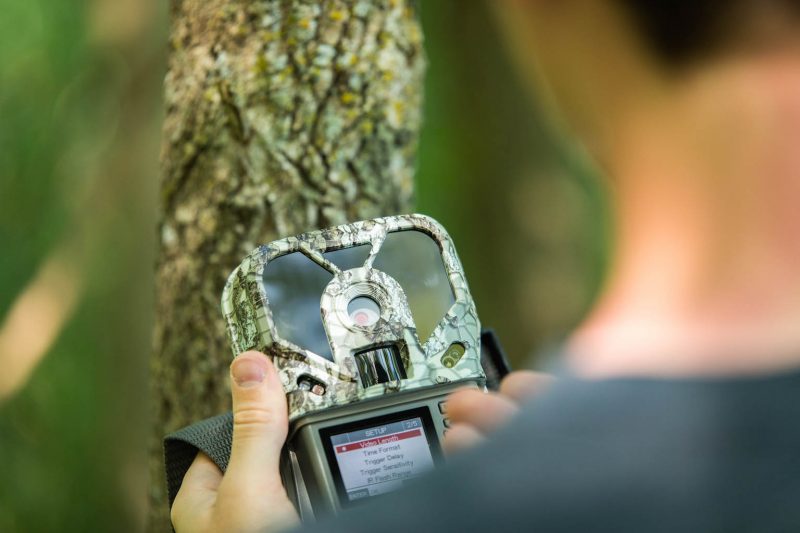 I'm not a rocket scientist, and a thick user manual filled with small print scares me. The Exodus Lift II is easy to use. As the photo below shows, the quick setup reference is contained on two pages in six line items. And the first two are instructions on putting in the batteries and the SD card. Like I said — simple.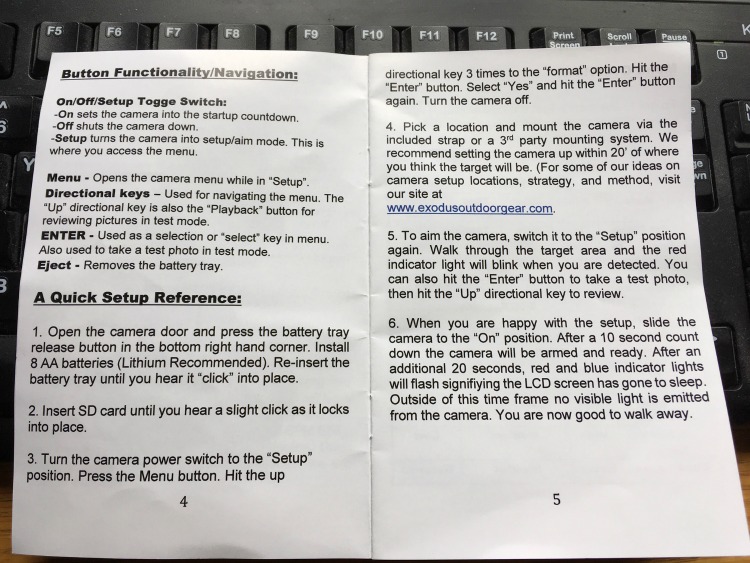 Navigating through the menu is intuitive and easy. There are enough choices to satisfy a wide range of camera users, but not so many choices as to make it intimidating.
The photo quality is good, and the trigger speed is great (advertised as .3 seconds). I have no way of testing trigger speed, but I can tell you that I didn't get a series of pics of deer hindquarters and no heads. And I did get pics of bounding deer centered in the frame — nice. Later this fall, I'll test out the video mode around scrapes.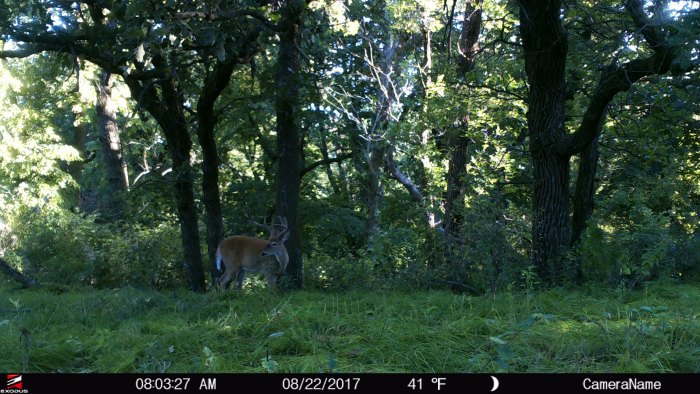 I have some massive trees on my SoDak ground, and the included camera securing strap was long enough to go around the biggest trunks.
I can't speak to battery life at this point, so look for my thoughts on that topic in a follow-up article later this fall. I run trail cams into early January, so the Exodus Lift II will be tested in some nasty conditions. That's a given.
Finally, I liked short paragraph in the manual that discussed the warranty (see below). Nothing is more frustrating than getting a year, maybe 2, from scouting camera and then have it quit functioning. I take that back — one thing is worse: When you call the so-called custom service phone number (if there is one) and you get the runaround. Been there, done that — so many times I can't count on all my fingers. Exodus promises a more dependable trail cam and better customer service. Again, I can't speak directly to this topic because my cameras are functioning perfectly so far, but if that's true, then I'd say an Exodus Lift II might be just what the trail cam industry needed.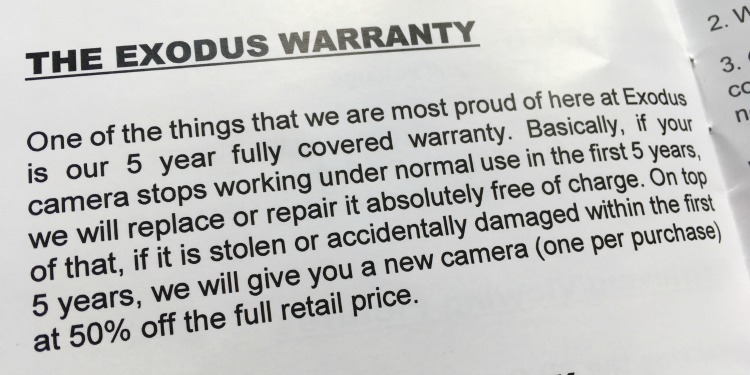 One final thought: Regardless of whether you're in the market for a trail cam, take a minute or two and check out the Exodus Outdoor Gear blog. Unlike many websites that contain only fluff content about how great their products are, this blog contains dozens of great how-to articles about trail cams, and deer hunting in general. For example, click here to read "A Beginner's Guide to Trail Cameras." Good stuff.
P.S. Check out this video to learn more about the new Exodus Lift II trail cam. The specs for the cam are shown below the video.
NEW Exodus Escape Camouflage
2″ LCD Color View Screen
.3 Second Trigger Speed – 60′ Detection Distance
5 Second Video and Photo Recovery Time
4 Camera Modes: Image / Video / Time Lapse / Hybrid (Photo and Video)
3 MP / 5MP / 8MP / 12MP (Interpolated) Photo Resolutions
25,000 + Images Expected From 8 AA Lithium Batteries
1-9 Photo Burst Mode
Upgraded CMOS Sensor W/Advanced Color Optimization
Aluminum Alloy Reinforced Shell
1080P/30 FPS Video with High Definition Sound
60′ No-glow Flash Range
Customizable Video Length 1-90 Seconds
Customizable Operating Hours
Geo-taggable Photos for Precise Photo Organization
Cable Lockable, Lockable SD Card Door, and Password Protected.
Batteries and SD card sold separately