Test Ride: Old Town Predator PDL Kayak
Dave Maas 10.11.17

I love fishing small, out-of-the-way lakes. I own a 16.5-foot, fiberglass, multi-species boat rigged with a dependable 60-hp outboard, trolling motor and electronics, but I celebrate those times when I can haul my 12-foot johnboat in the back of my pickup and explore. Evidently, my 14-year-old son, Elliott, also possesses the "I wonder if that pond has any fish?" gene, so together we've been trying out nearby bodies of water with limited/difficult access. (Click here to read about a fantastic day we shared this past summer for largemouth bass.)
To expand our fishing even more, we decided to add a kayak to our fishing fleet, specifically a 13-foot, 2-inch Old Town Predator PDL. The "PDL" part of the name is in reference to the kayak's PDL (pedal) Drive.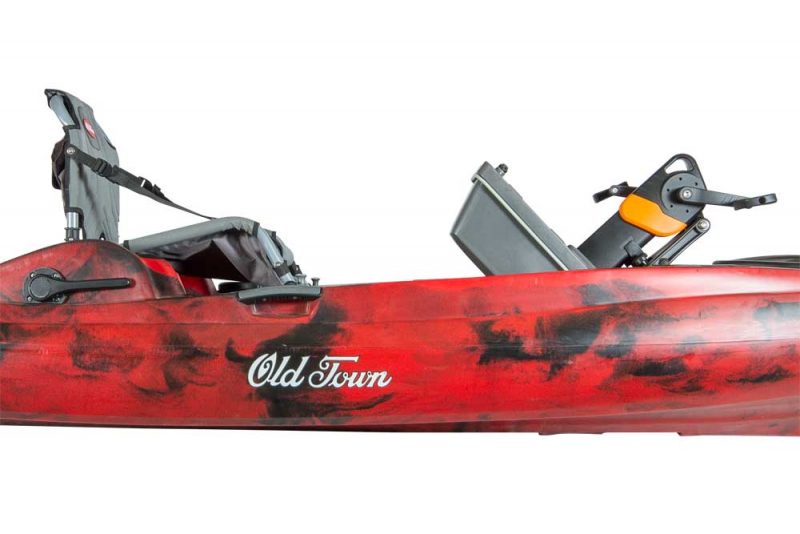 Before deciding on this model, I talked to a few friends of mine in the fishing industry, and they said the weedless power prop on the PDL works great in forward and reverse. Because I'd be pursuing largemouth bass in particular out of this kayak, I wanted the ability to fine-tune my boat control, and having instant, hands-free reverse seemed mandatory for jig fishing along the breakline, skipping docks, and working topwater frogs along the edge of lily pad fields.
Of course, a kayak of this quality contains many other fisherman-friendly features, but in this article, I'm going to focus on the PDL Drive and the kayak's overall comfort and stability.
'Hey, Wait Up for Me!'
With a moderate amount of pedaling effort, it's easy to get the Predator PDL moving along a 5 mph. The first time we put the kayak in the water, Elliott called dibs on fishing from the Predator, so I took a seat in our johnboat. It wasn't a windy day, probably 10 mph, but it was difficult for me to keep up with him with my 40-pound-thrust trolling motor set on 4 (the next-to-highest setting). I could tell that Elliott wasn't working too hard to keep a steady pace as he crossed a half-mile of open water to get to the calm shoreline.
And here's where it gets really good — as I was trying to catch up to him, Elliott stood in the Predator to make his first-ever kayak cast. We've fished this lake enough to know that this particular bulrush point often holds largemouth bass, and seconds later Elliott was setting the hook on a decent-size fish. I was about 50 yards away, and it was impressive to see the kayak's stability during the hook-set and subsequent fight. Elliott finally sat down in the Predator's chair to land the bass (photo below), then waited for me to show up to take photos.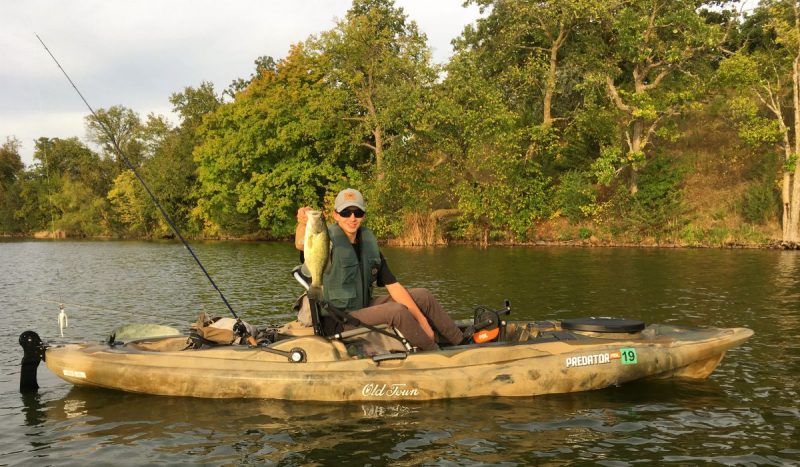 As the afternoon turned to evening, it was clear that Elliott was having a ball fishing from the Predator PDL. And even though he'd never fished from a kayak before, it was clear that the learning curve was virtually nonexistent. As I moved along the shoreline behind him, turning the trolling motor on and off to slowly reposition my johnboat, Elliott remained standing in the Predator PDL, leaning over occasionally to turn the pedal a time or two — forward or reverse — to reposition his kayak. At no point did he lose his balance, even when he set the hook into a 22-inch largemouth that weighed exactly 5 pounds.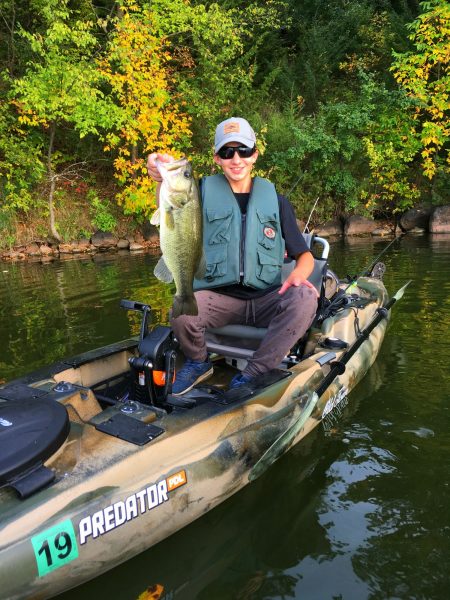 Additional Takeaways
Since that maiden voyage with the Predator PDL, we've both had the opportunity to fish from the kayak, and I know I speak for him in saying the rig is a fishing machine. In no particular order, here are some additional takeaways:
Elliott is a couple inches shorter than me, but the Element Seating System is fast and easy to adjust. And the seat itself is so comfortable that I choose to do more sitting than standing. The seat is positioned relatively high off the water, too, which we both preferred.
It's easy to tilt the PDL Drive into its docking position when traveling through super shallow water, or when needing to clear heavy, matted vegetation from the prop.
Because the PDL Drive drops into the kayak with a snug fit, you don't end up with water splashing up from beneath the kayak. In other words, the ride in the Predator PDL is much drier when compared to other kayak designs.
The rudder control knob is responsive and set with the correct amount of steering tension.
As I said before, the PDL Drive is fast! The prop turns 10.3 times for every crank of the pedals, so the system is incredibly efficient. Yes, you're getting some exercise — which is a good thing! — but you aren't overworking to glide across the water.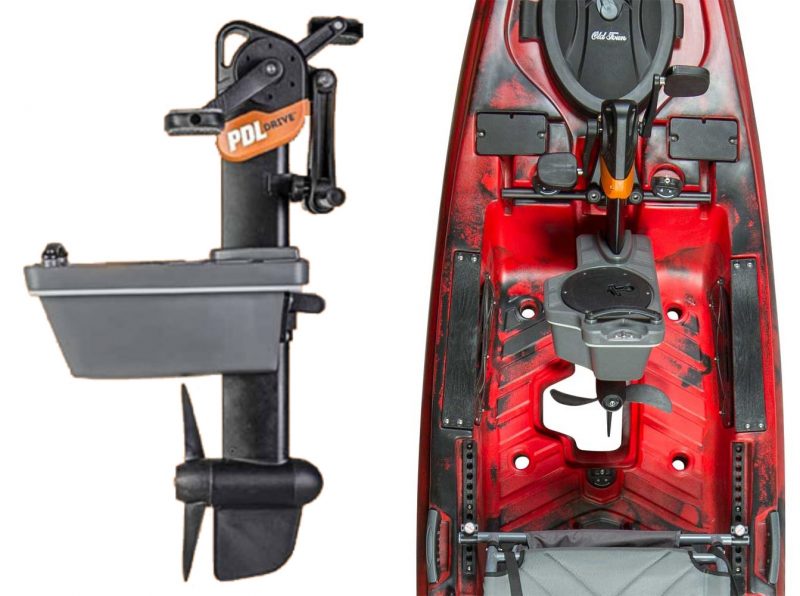 The leaves are changing here in Minnesota, and the air temp was 30 degrees this morning, so it won't be long and we'll be trading pedals and trolling motors for ice augers. But even though our days are numbered this fall with the Old Town Predator PDL, both Elliott and I are excited for spring 2018. We already have several lakes in mind to explore. The only question is who will win the coin toss and get to choose the kayak!