First Ride: 6 Things to Love about the 2018 Yamaha Wolverine X4
Derrek Sigler 12.21.17

Yamaha is one of those companies that never jumps into a segment quickly. Instead, they take their time and come out with a machine that, in turn, creates its own section of the off-road vehicle marketplace.
Such is the case with the all-new 2018 Wolverine X4. I can say "all new" when talking about the X4 because even though they have had the two-seat Wolverine on the market for some time now, the new X4 shares little in common beyond the name. What Yamaha wanted to do was create a new multi-passenger recreational UTV with just the right blend of power, handling and capability. They succeeded big time. Here are my top six takeaways from a recent test ride.
1. Powering Up
For a while now, Yamaha has powered its utility and recreation machines with 700-class, single-cylinder engines. There is nothing wrong with that, as these bullet-proof, torque-monster motors offer up plenty of usable power. So, it was a bit of a surprise when they unveiled an all-new 847cc, liquid-cooled parallel twin engine. The new motor makes great power and was designed using technology borrowed from Yamaha's motocross bikes. The engine sits low in the frame, and is compact, yet has a long stroke that gives the X4 one of the best power curves going for a recreational machine. No, you're not going to win a drag race against a RZR on flat ground, but you'll have better, more usable power in tight conditions. And the motor is extremely deceptive. Hunters, pay attention here: The X4 is — by far — the quietest UTV on the market today. You think you're not doing something right when you give it throttle because you don't hear the motor. It's amazing.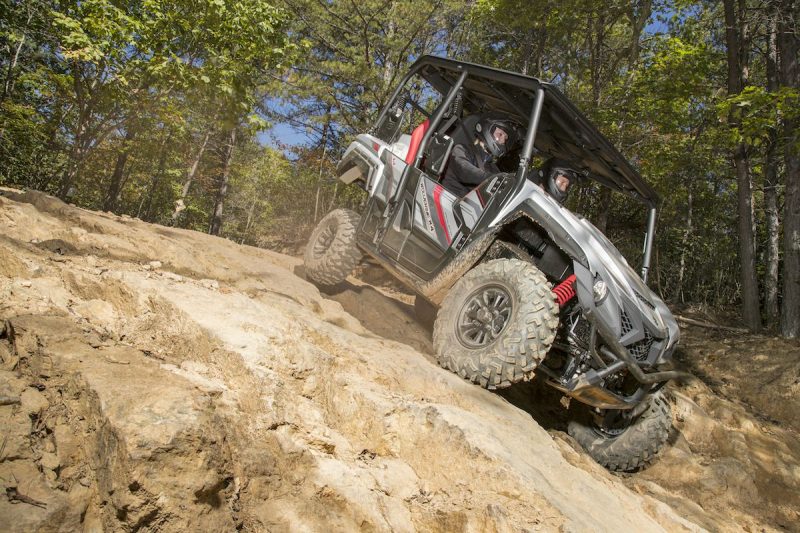 2. Quiet Please
It's not just the motor that is quiet. Yamaha took a look at every element of the machine to see where they could reduce noise. The motor mounts are all new. Every piece of the drive train was engineered to reduce vibration. There was a weird sound I kept hearing on the trail that took me a few moments to understand — it was the tires rolling on the ground. Usually you don't hear much from the tires unless you have a flat. The specially-designed Maxxis tires never went flat, it was just odd to hear them. The only UTV I've ever been in that was quieter was electric.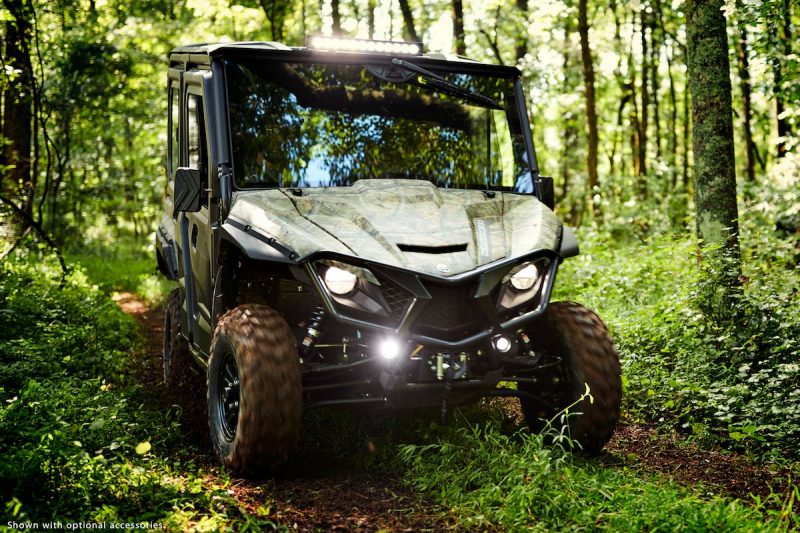 3. Handling
The Yamaha X4 is only 59 inches wide. This is significant because many trail systems are now opening up to 60-inch machines, but not any wider. There are a lot of machines that are just over 60 inches. Yamaha also made the machine turn on a dime with superb steering that is precise and easy, with Yamaha's proven power steering system. The excellent handling along with the rest of the machine makes it very easy to drive for extended periods with little fatigue.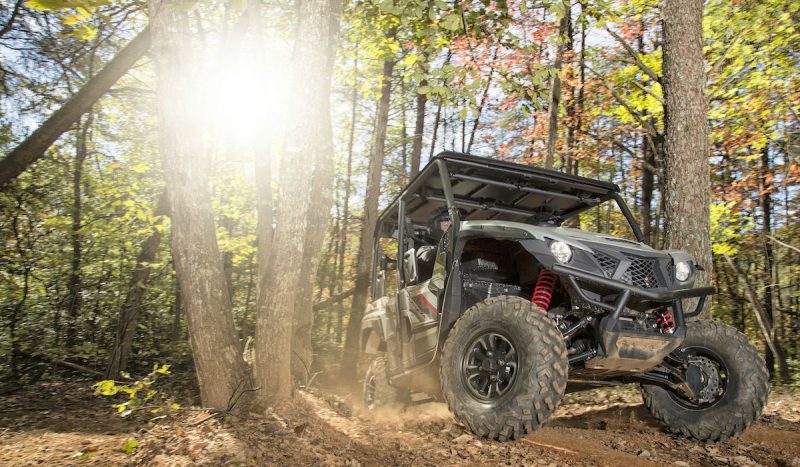 4. Comfort Level
The X4 carries four with full-sized seating for all. The seats are very well designed, and I only slid forward on extremely steep downhill sections. The rear seats are better for smaller passengers, mostly due to the foot area. The engine cover sits between the seats, and takes away some of the floor space. Something else Yamaha did was to redesign the seat belts. If you spend much time in a UTV, you know that uncomfortable seatbelts can be the end of the fun. These work great and are very comfortable for just about any size person. The only issue with comfort was getting in and out of the machine. I'm not a small guy, and the seat bolsters Yamaha uses to help keep you feeling secure as you ride make it a little difficult for someone like me to get in and out of the machine. It's a small issue and one I can get used to in trade for the secure fit while driving.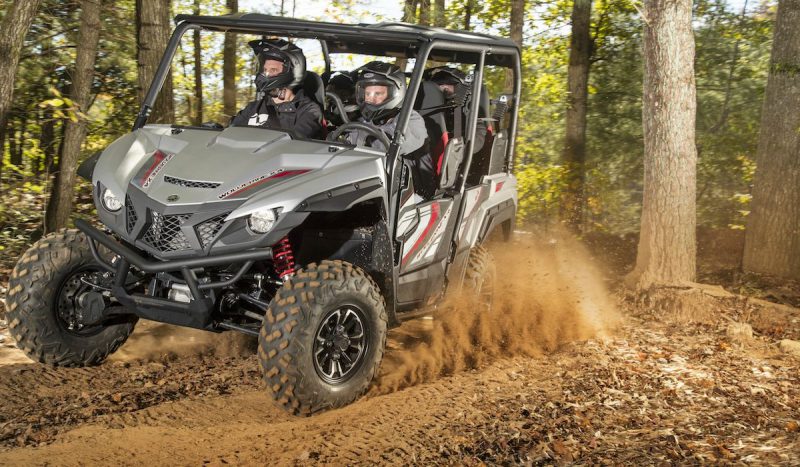 5. Cargo Capacity
To keep the X4 shorter and more trail-friendly, Yamaha sacrificed cargo capacity while in four-seater mode. The rear seats, however, move. The bottom of the seat flips forward and the seat back slides ahead to give you a decent amount of cargo space. The rear area can hold up to 600 pounds of cargo, and there is a tailgate for access. No, the cargo area doesn't dump like some work-specific UTVs. But it'll be perfect for hauling your buck out after a successful hunt, along with your gear and hunting buddies. There is also a 2-inch receiver hitch and a 2,000-pound towing capacity. The rear suspension is self-leveling, too. This allows the machine to adjust the ride height and character of the suspension action to keep the ride the same whether you're carrying anything in the rear of the machine or not.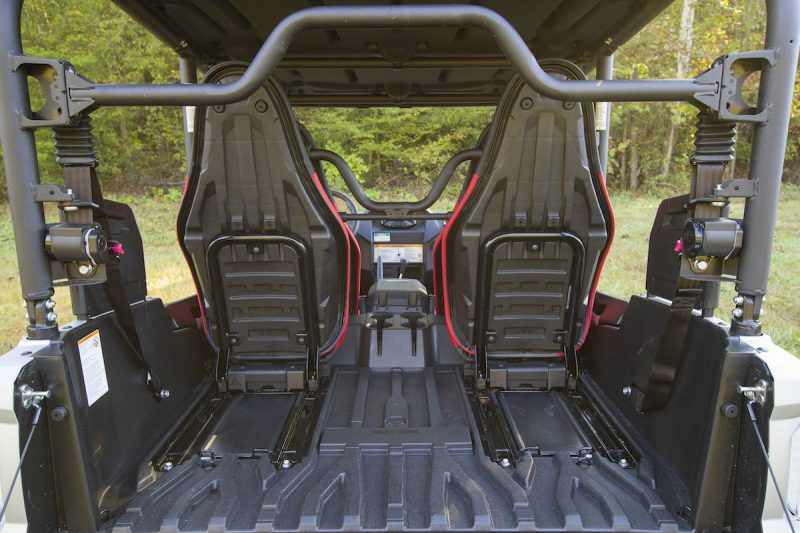 6. Other Touches
Being a Yamaha, it has superb engine braking. In low range, you can crawl down steep hills and never touch the brakes. In fact, at times, I had to give it more gas as the X4 wanted to stop itself. There is a bullet-proof 4-wheel drive system and their perfected Ultramatic CVT transmission. If you need a cab enclosure, the X4 has an available complete cab that was designed alongside the machine, making it the only recreational four-seat machine with a full cab enclosure. It comes in grey, blue and silver in the SE model, but as hunters, we're probably going to flock toward the Realtree Xtra camo version.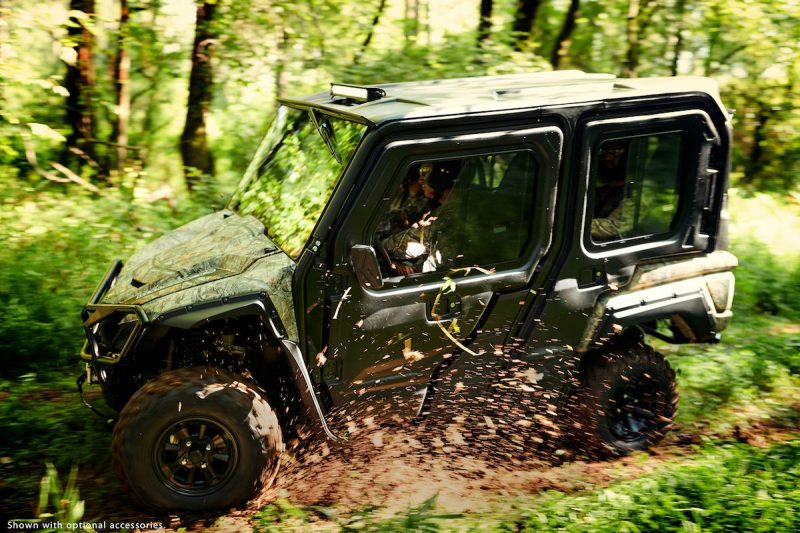 Want to learn more? Of course, you do. Get to your Yamaha dealer and schedule a test drive. That is the best way to see what the new Wolverine X4 has to offer. It's a great trail and hunting machine, so if you want to realize your adventure of a dream hunting trip, this is the machine to do it in. You can also learn more by going to the Yamaha website.