For Midwest bowhunters like me, deer season has been in the rearview mirror for about a month. Sure, we can go on winter woodland hikes and search for shed antlers, but it's not the same. I've pulled my trail cams, removed the padded cushions from my portable treestands and ladder stands (otherwise the squirrels and other critters chew on them), and stored my archery gear until spring turkey season.
As I put away my equipment, I was reminded of the two books that took me through the 2017 archery deer season. You see, I like reading to help pass the time in the whitetail (and turkey) woods. In fact, I think it helps keep my mind sharp and refreshed while sitting hour after hour. Unless deer sightings are frequent, it's easy to "zone out" in a treestand, and I find that I stay more on top of things if I have a good book in my hands.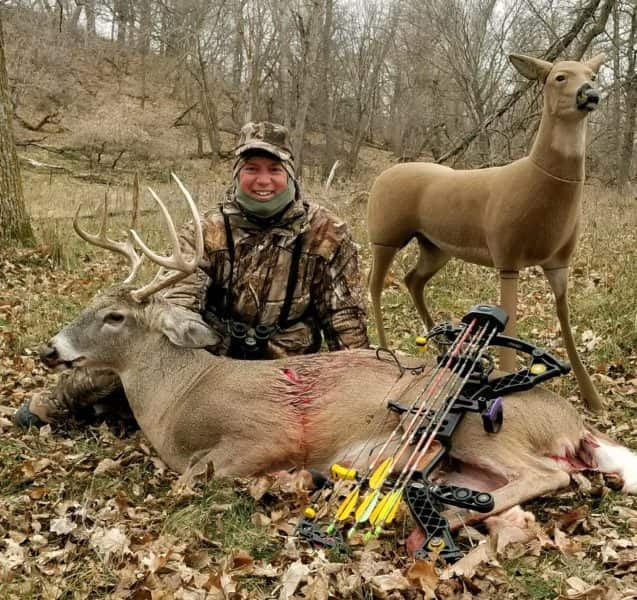 In addition — and I have no way of proving if this is true — I like to believe that my brain isn't broadcasting the message of "Predator on the prowl!" — when I'm thinking about characters and storyline from a book. Whether you believe whitetails have a sixth sense and can "feel" or detect danger, the simple fact is that in my experience, the more I read and the less I think about spotting/killing a deer, the more I'm covered up in whitetails.
Enough background on why I like to read; onto the reviews.
'Taking Aim' by Eva Shockey
In April 2017 I wrote an OHUB article titled, "Why I'll Read Eva Shockey's New Book, 'Taking Aim.'" I won't get into those details again here, but my prediction that I'd enjoy the book turned out to be spot-on. And even though I thought I knew much of Eva's background —  because I've known her dad, Jim Shockey, for many years — I was still surprised by many of the details presented in these pages. I won't play the role of spoiler here, but you'll be amazed by the chance encounter that happened in a retail store (owned by Jim), that set the course for Jim getting started in the guiding/outfitting business. And this, of course, led to Jim's prominent presence on outdoor TV, and so on, and so on.

Eva (above) was not a diehard hunter since a child; quite the opposite, really. And the story of how she found hunting — or perhaps, how hunting found her — isn't widely known. "Taking Aim" is well-written, and make no mistake, it will appeal to men as well as women. There are many good lessons about life and overcoming obstacles, too. In fact, I recently shared one quote from the book with my 15-year-old son, who is contemplating future college, careers, etc. Eva wrote:
"When I was growing up, my parents urged me to do something with my life that I loved 80 percent of the time. 'No matter what you choose,' they said, 'it's not going to be perfect. There will be days you don't like it or it's hard or boring. But if you're excited about it 80 percent of the time, you can handle the 20 percent that's not so great.'"
FYI: My opinion on the quality of this book is shared by (at last count) 106 readers who gave it five out of five stars on Amazon.
'Old Money' by Bobby Cole
I've been reading Bobby Cole suspense novels for many years. And the best part of these thrillers is they're set in the Southeast, and hunting and fishing is cleverly woven into the story lines in a way that only an avid outdoorsman like Bobby Cole could do.
During spring 2017, I killed a South Dakota bird (below) after setting down Cole's "Silent Approach" title because the tom's close-range gobbling made it impossible for me to continue reading. The turkey's approach was anything but silent! Click here to read my review of this great book.

This past fall in South Dakota, Cole's book "Old Money" kept me company on many treestand sits. The title is No. 3 in a series featuring character Jake Crosby; the first two books are "The Dummy Line" and "Moon Underfoot" (below). Without giving too much away, Jake is a newly minted Mississippi game warden, and he's trying to solve two cases at once. The first involves a series of ongoing robberies of wealthy sportsmen as they return to their trucks in the dark after an afternoon/evening of hunting. The second includes a redneck brother and sister pair and their ruthless search for their deceased father's rumored hidden treasure.

Like Cole's other books, "Old Money" is a fast read and tremendously entertaining. You can buy it on Amazon, and to date, it scores four out of five stars with 134 reviews. FYI: Bobby Cole lives in Mississippi and is President of Mossy Oak BioLogic (the food plot company). He is an avid wildlife manager and hunter. He loves writing in his free time.
If you have anyone on your gift list who loves the outdoors, I'm confident they will enjoy either of these two books. I'm currently sharing them with family and friends — while also trying to decide what new book to carry in my turkey vest this spring.

What's Your Reaction?