DSD White Face Strutter — The Best Turkey Decoy Money Can Buy?
Dave Maas 03.06.18

Regular visitors to OutdoorHub may remember previous articles and videos we've highlighted showcasing made-in-the-USA Dave Smith Decoys (DSD). There was the torture test — shooting a $120 turkey decoy with a shotgun from 12 yards — as well as the article/video announcing the new Mating Motion Pair of turkey fakes from DSD.
Another new DSD turkey decoy for spring 2018 is the DSD White Face Strutter. This full-size strutting tom is the brain child of Matt Winters from Kansas Premier Outfitters.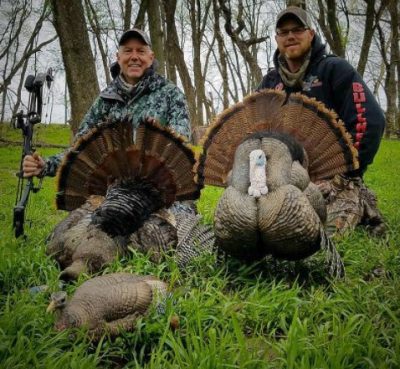 Quote from the DSD: "After studying bird behavior for years, Matt approached us about doing a custom white-headed strutter decoy. He noticed that often, right before breeding, a tom's head color would change to white. While the tom was focused on breeding, other gobblers would run in and try to get a piece of the action. We agreed to at least create a couple for product testing, but we couldn't believe the results.
"In the first year of hunting over this decoy, Matt shot 72 toms with his clients. The amazing part was, it wasn't only dominant toms that felt comfortable running in. Dominant, subordinate and even jake gobblers would sprint toward the decoy, all because the head color now gave them the message that there was a hen nearby ready to breed, and this tom was more interested in making love than picking a fight with them. After 2 years of product testing, we are excited to officially add the White Face Strutter into our decoy line."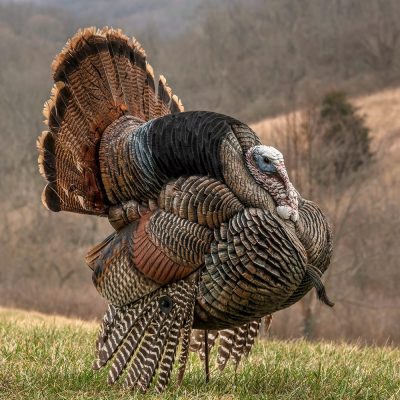 In other words, if you desire the attention-demanding benefits of using a strutter decoy, but still want a deke that isn't too intimidating for 2- to 3-year-old birds to charge, then the White Face Strutter is perfect for you.
Click here to learn more. Note: Tail fan, wings and beard aren't included. But if you're a serious enough turkey hunter to spend $199.99 for the best strutter decoy money can buy, you probably have access to these components.
P.S. If you aren't familiar with the brand DSD, check out the video below. In my opinion, the workmanship behind these decoys is unmatched. Period. And if you're looking for something black to wear in the ground blind this spring, click here to see a crazy-cool hoodie from DSD; it features a turkey track pattern bordered by a strutter's wing tip drags.