We recently had the opportunity to test out Suzuki's all new 2019 KingQuad 750 AXi to see how it handles on the trails after receiving its first upgrade in roughly a decade.
For a long time, Suzuki has been the leader in innovation of the ATV industry. So, when we got the invite to come to the official unveiling of the 2019 Suzuki KingQuad lineup in Charlotte, North Carolina, we were excited to see what their engineers have been working on.
Look Good, Play Good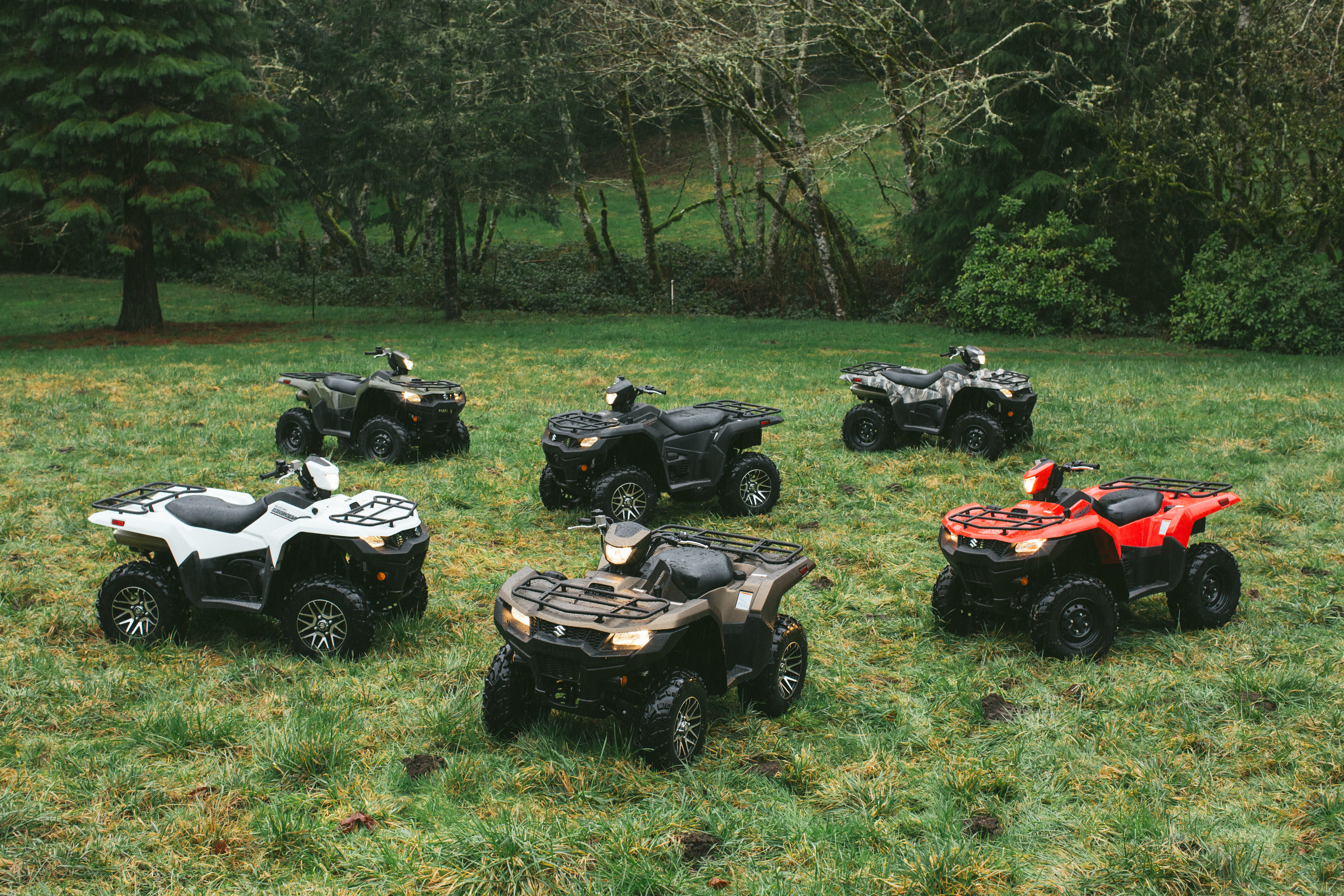 The overall appearance of Suzuki's KingQuad hasn't changed a lot in past years. On the 2019 model, Suzuki added a handlebar-mounted headlight, tweaked the plastics a hair, and gave it a much more aggressive look compared to the 2009 version.
The KingQuad 750AXi and KingQuad 500 AXi come with standard steering and steel wheels and are available in Flame Red or Terra Green.
Suzuki also offers a Power Steering version, which features electronic steering, steel wheels, and an assortment of color options including Flame Red, Terra Green, Solid White or Camouflage.
The KingQuad 750 AXi Power Steering SE features cast aluminum wheels, and comes in Solid White.
And finally, the KingQuad 500 AXi Power Steering SE+ also comes standard with cast aluminum wheels, but riders have a choice between Matte Black or Matte Bronze colors.
Long-time ATV riders may not be blown away by stylistic changes on the all new KingQuad, but rest assured, this machine is packed full of updates in areas that outdoor enthusiasts will truly appreciate.
Get More Done
The new 2019 Suzuki KingQuad lineup was designed to do just that.
The engineers at Suzuki made small, but vital improvements all over this machine to make it more powerful, yet easier to ride. An upgrade to the frame and redesigned rear suspension brackets allow the ATV to tow up to 1,322 pounds – plenty of towing power to move a boat or haul supplies out to your deer stands.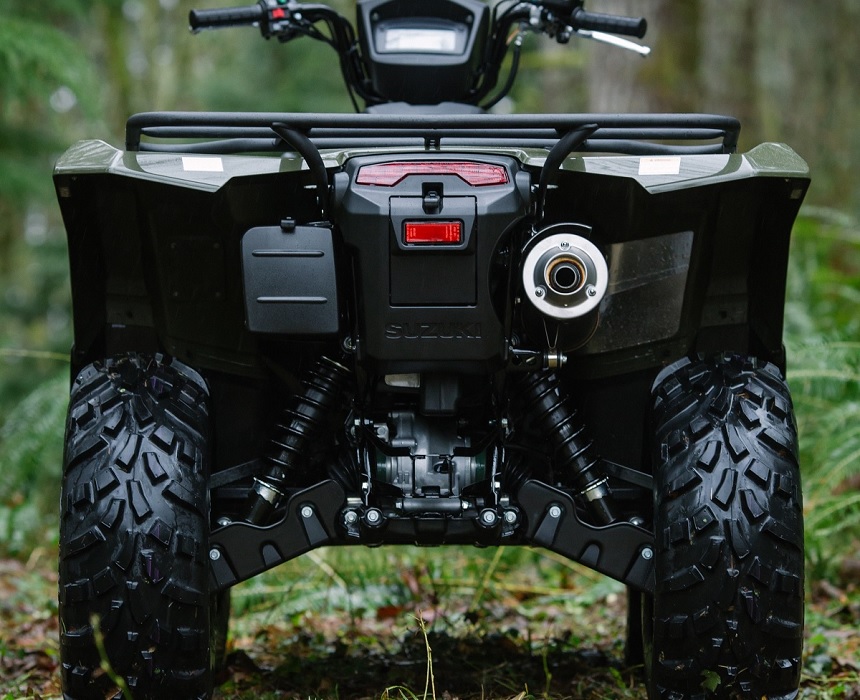 Off-Roading
Suzuki invited members of the off-road media, including a handful of outdoor/agriculture outlets, to North Carolina for a day of riding on their new KingQuad ATVs. The trails were all carved by the team at Joe Gibbs Racing MX, which runs Suzuki's motocross team.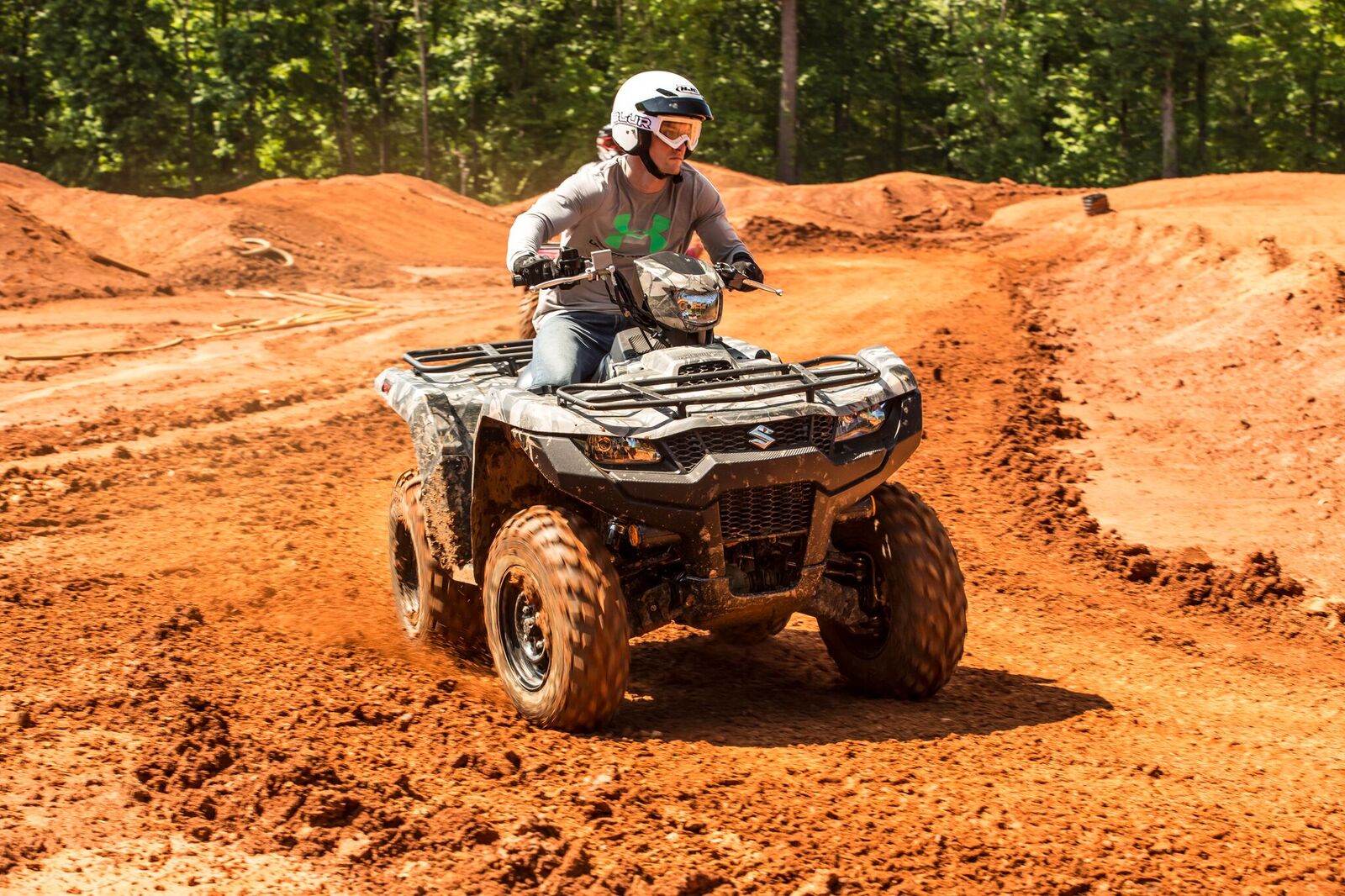 We spent hours riding on a number of trails, all varying difficulty and featuring different obstacles. No matter what was thrown at it, however, the 2019 KingQuad took it all on the chin and kept chugging along.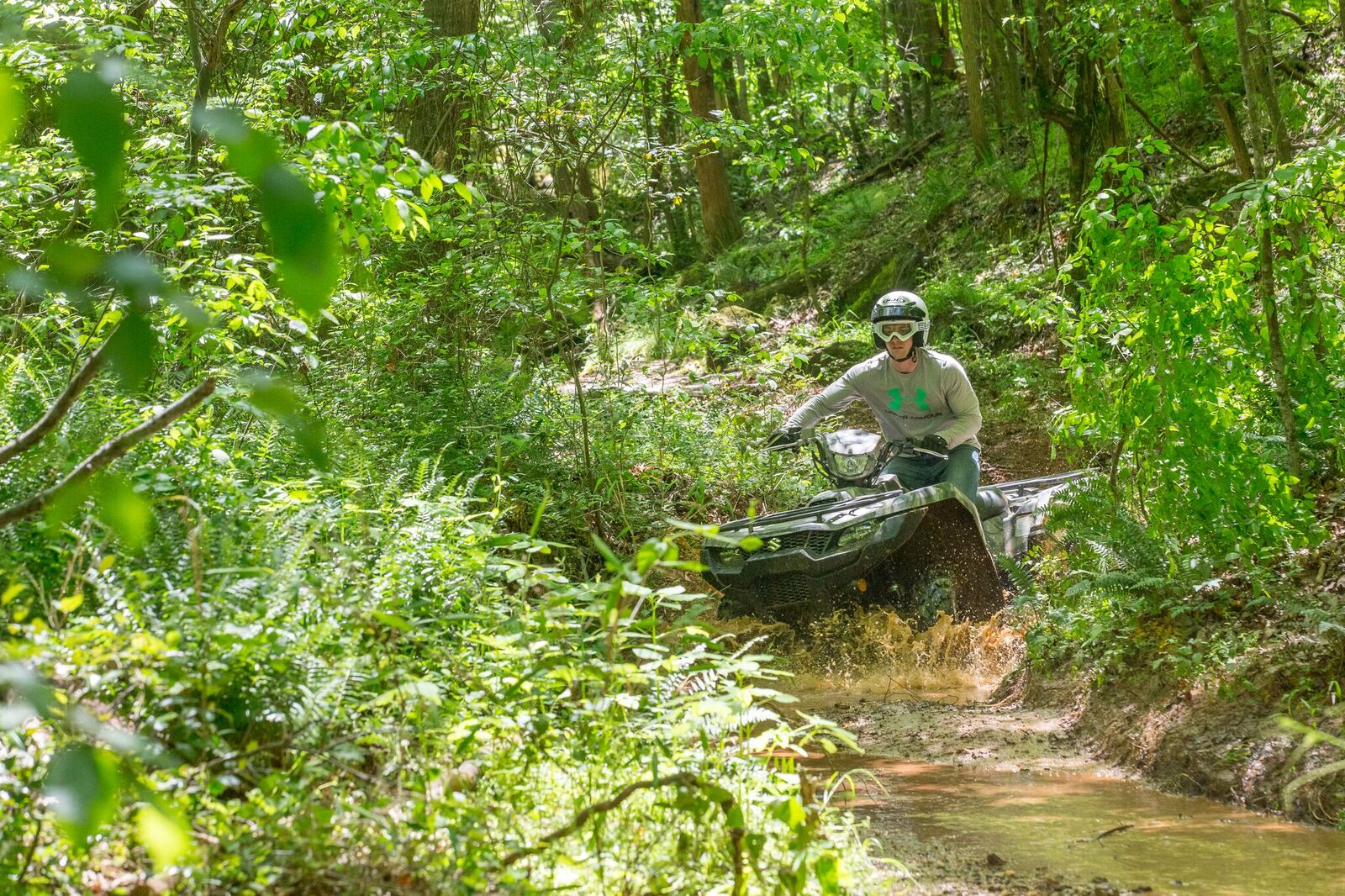 The Ride
Not even a quarter mile into our first "introduction ride," a sneaky little dip led me to – somewhat unexpectedly – experience the improvements of the front wheel suspension. And although I hit the dip going a little faster than I would have liked, the shocks took care of the load, and didn't bottom out.
Actually, as I write this, I can't think of an instant where I found the bottom of the suspension all day long!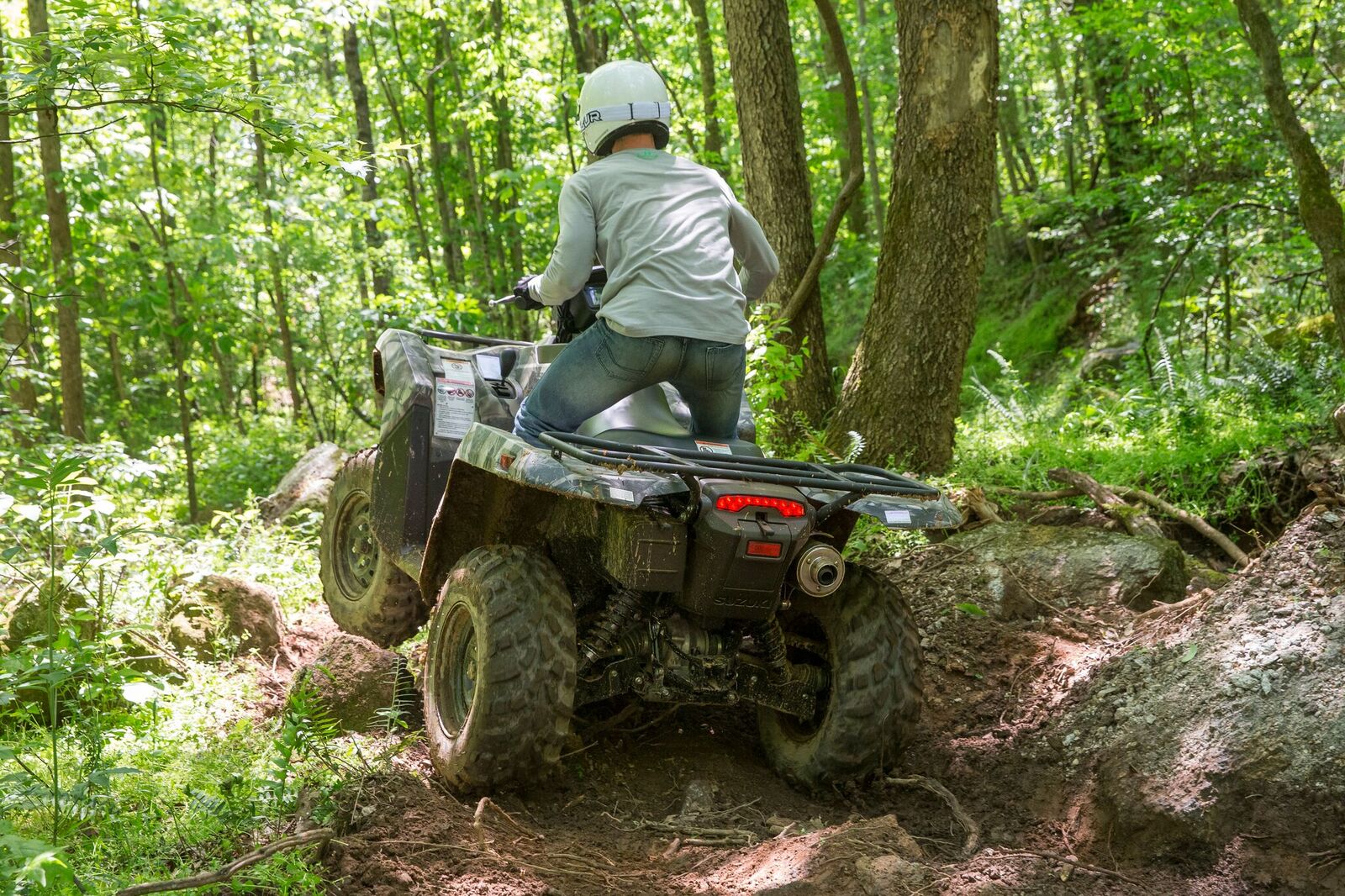 One thing I forgot to mention, was all the storage available on the KingQuad! While tearing up the trails, I was able to safely keep my OHub ball cap, cell phone, wallet, and a bottle of water with me in two easy to access storage compartments. 
And these ATVs are quiet too, making them ideal for getting out to deer stands, or for public land hunters who prefer to run and gun around rough terrain. 
Overall, the new 2019 Suzuki KingQuad 750 AXi is smooth handling and a much more capable ATV than previous models.
If you're in the market for a new off-road vehicle to help you out around deer camp, I highly recommend looking into a KingQuad to add to your toy collection. Of course, side-by-sides are all the rage right now, but it's tough to beat the versatility and ease of riding of a KingQuad 750 AXi.