JM4 Tactical, out of Abilene, Texas, has taken the concept of an attractive holster to a whole new level.
The Quick Click & Carry holster, available in three styles, uses magnets to keep the gun on your pants. With a sturdy waistband, the Quick Click & Carry (there are copyright issues with the simpler "QCC"), doesn't require a belt—though a belt does help.
While it's not the only holster that uses magnets to keep the holster on, what makes this one different is its patented magnetic retention of the gun itself. One magnet both retains the gun and provides attraction to a flap that's also magnetized and goes over the waistband to secure the holster in place.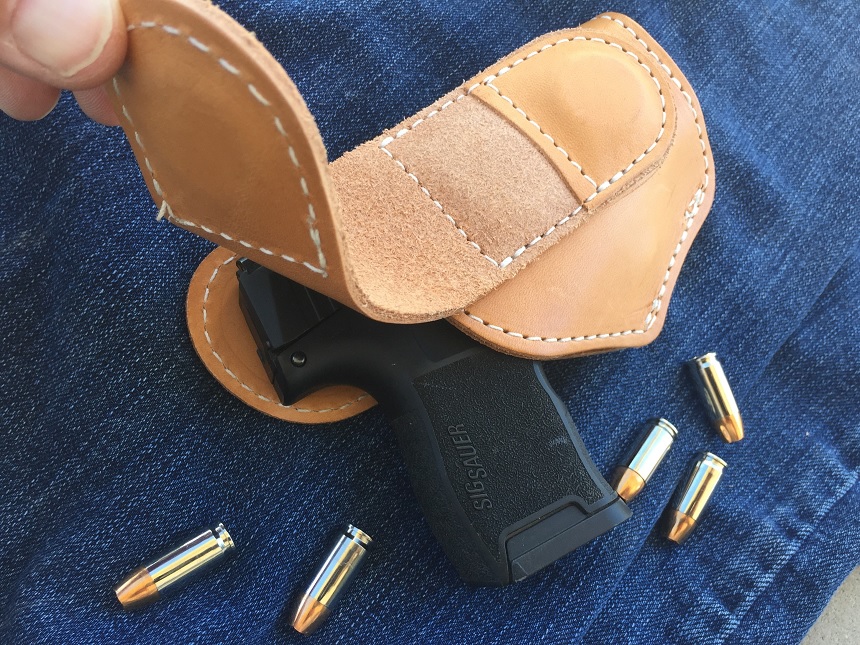 All JM4 Tactical holsters are made of leather sourced from U.S. cattle and tanned by the Hermann Oak leather company in St. Louis. They're hand-stitched and dyed by American workers.
The Quick Click & Carry is available in the original design, a High Ride model, and a shirt-tuckable one. I've worn the original and High Ride, and have come to settle on the High Ride as my EDC holster after trying dozens as a concealed carrier and product tester.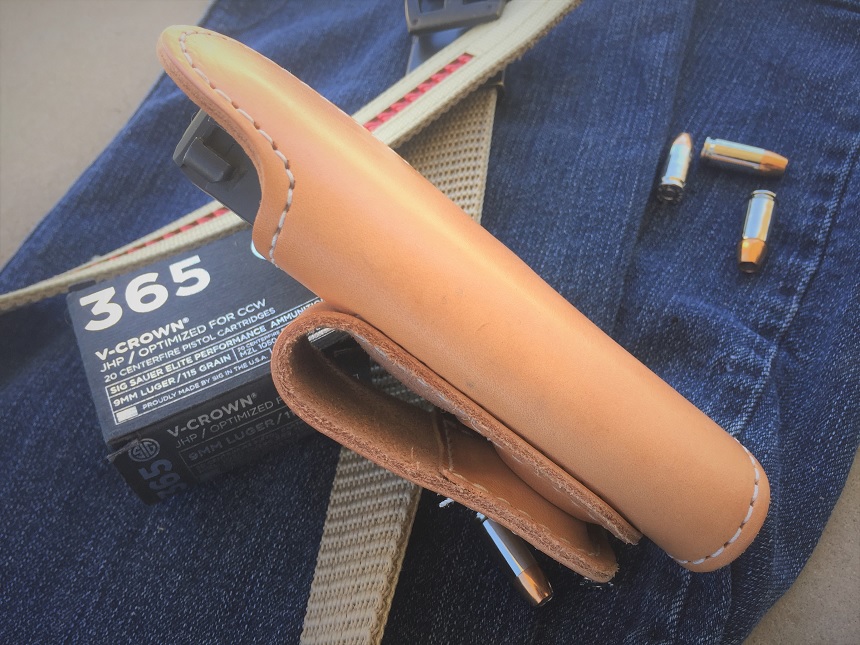 The original design offers the best gun retention, and sets lowest inside the waistband. While it works for some longer-framed people, I found a common pain point for appendix carriers—the muzzle end of the holster constantly poked my thigh. A lanky friend now uses that holster with an M&P Shield and is happy with it.
The High Ride design, as the name implies, carries the firearm a bit higher in the sheath, but still has a sweat guard to keep you and the gun from sharing oils and salt. It offers an easier draw, with greater ability to get a firing grip on the gun while it's still fully concealed—a feature that lends great confidence and I believe is of great importance for a number of potential self-protection situations.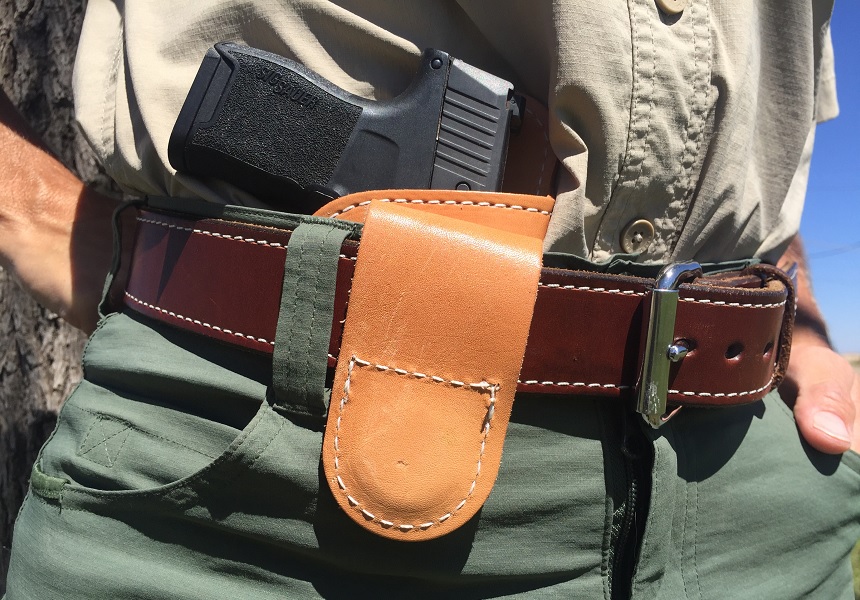 Unlike the original design, the High Ride doesn't poke me in the leg. Although JM4 Tactical warns that its retention isn't as great, I can still hang my subcompact carry gun—I've worn it with a Glock 42, 43, and Sig Sauer P365—upside-down from any steel surface and it stays.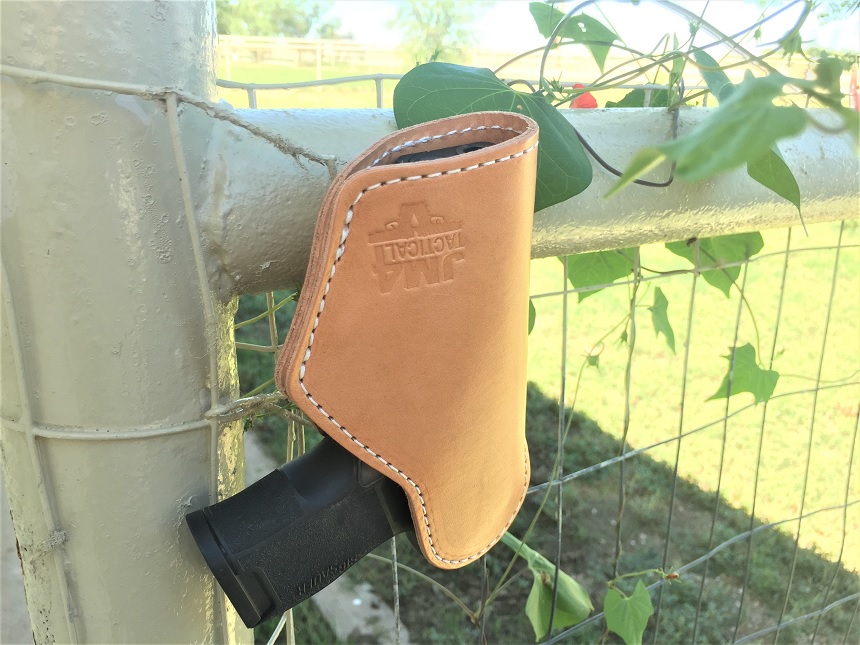 I'd expect there to be less retention with a larger, heavier gun, though, and probably the return of the irritating thigh-poke. Concealed carry is, in part, about compromise and deciding what you're willing to give up on the way to being able to protect yourself and those you care for.
This holster has been a true panacea for my daily carry routine. So long as I wear something with a sturdy waistband, I can run, ride my horse and do property chores, and be presentable at work meetings in dress casual attire, all while staying armed with zero concern about the gun coming loose.
In terms of printing, AKA that telltale bulge under my shirt, the JM4 Tactical holsters are among the easiest to wear. The only thing I've found that prints less in appendix, inside waistband carry are plan sheaths that simply stick inside the waistband, held there with belt pressure. While that's more discreet, my activities with such holsters are also limited as there's nothing to keep the gun from falling out if I get into certain positions.
Another advantage of the Quick Click & Carry holster is the ability to re-holster the gun without removing the holster from the carry position. There's no shame in doing so, however, in order to be completely safe. The holster retains its open position when the gun is removed.
The major drawback with this line of holsters is that, unless you choose the natural tan color, you'll deal with dye bleeding onto your clothing and skin.  I wore a black model for an entire spring/summer in the desert heat, and while it finally quit discoloring my skin, it never stopped transferring black onto clothes.  I replaced that holster with a tan one, and that's become a perfect setup for me. A little olive oil, applied and soaked into the leather, has darkened the flap a bit without creating a dye problem.
For those wanting a generic fit, easy outside-the-waistband holster, it works for that too, but you'll need to buy the holster made for your non-dominant hand. I don't feel the holster is as securely attached to the wearer in OWB format, but it is handy as a placeholder-type holster for use in the short term.
Sizes are generic, with many choices available. The company website has a fit guide so you can be sure your choice is a match for your gun. Magnetic retention doesn't require an exact fit for a firm hold on the gun. The same medium size High Ride holster fits my G42, G43, and Sig P365, with the exception that the 42 doesn't fit into the holster when wearing a Streamlight TLR-6 light/laser.
JM4 Tactical holsters start at $47.95 for the rough-leather version; most are priced under $80. Exotic leathers are offered for premium prices. JM4 Tactical offers frequent sales and coupon specials.