Two Holster Companies Roll Out New Models in October
Eve Flanigan 10.22.18

For those watching political news, the so-called October surprise has been a sort of bust so far. But if you're a holster shopper, the October surprise is looking pretty good. Two respected holster companies released new models this month with belt-borne holsters that are suitable for open or concealed carry.
Bravo Concealment 3.0 OWB
This Texas company, perhaps best known for outfitting shooting phenom Instructor Zero with Glock 19 holsters, trimmed down its OWB design for the new 3.0 model. It's made of what the company calls polymer plastic, a material said to have superior impact resistance compared to Kydex.
The holster has adjustable, locking retention and a somewhat adjustable cant.  Out of the box, it has a 10-degree rearward cant for concealment. I turned mine nearly vertical to make for easier draws. Surprisingly, I can conceal a Glock 19 on my hip with this holster, something no other model, inside- or outside-waistband, has made possible. It still requires a heavy jacket or shirt over the gun to conceal the grip, but I successfully navigated a trip to two of the finest establishments in my hometown—Walmart and Denny's—feeling confident the gun was well concealed unless I bent over far enough to make the grip press against my jacket. It's a very body-conforming holster.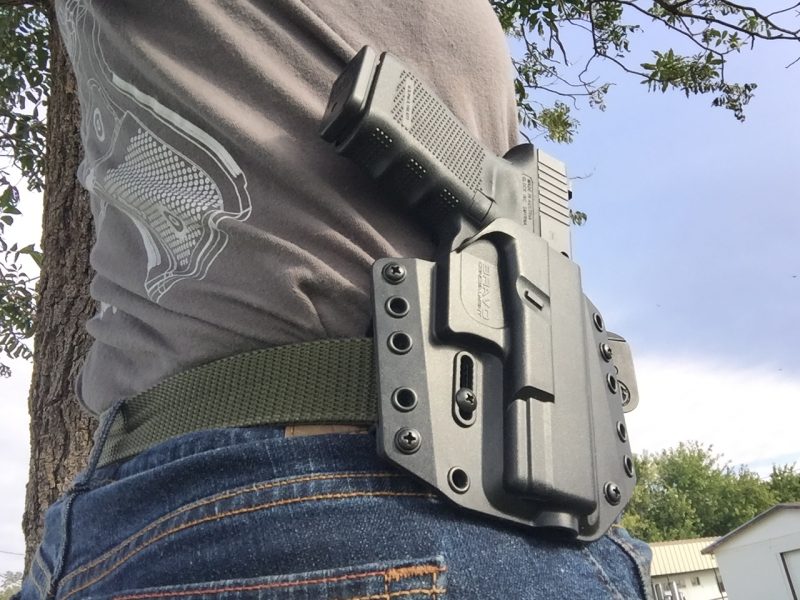 There's room for a threaded barrel and red dot optic in this holster. There's also plenty of room to get a firing grip without gouging my middle finger.
What the 3.0 doesn't have is excess material at the bottom corners. This is the biggest difference, in my opinion, between it and the company's older OWB design. It's a good change that reduces bulk.
The 3.0 OWB comes standard with 1.5- or 1.75-inch belt loops, which are very sturdy. They can be traded for the company's pancake-style loops for an even closer fit, or for clips to convert it to IWB.
Sweat protection is adequate for the Glock 19 test gun—and currently the 3.0's major shortcoming is the limited selection of guns, all Glocks, that it fits. If Bravo's other product lines are any indication, a more complete assortment of fits will be in the works.
In addition to wearing this holster concealed, I wore it openly during a carbine class. It never interfered with the sling or with going into prone and other non-standard shooting positions. It rides high, and does demand that my elbow go way up on the draw, but drawing and reholstering are a breeze. The retention, by my estimation, was perfect as shipped.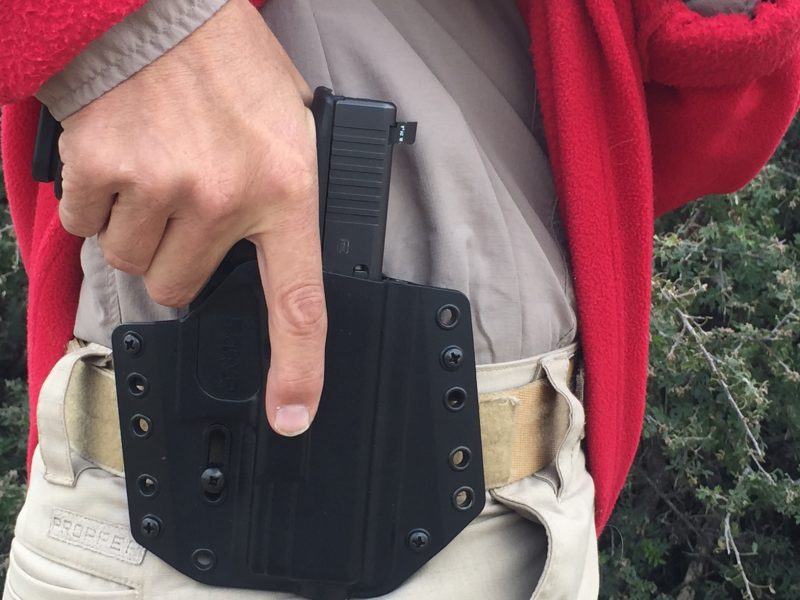 This holster is a real treat at $57.99. Package deals are available.
1791 Gunleather Project Stealth
Are you an innovator with classic taste? Now you don't have to settle for one or the other. The Project Stealth holster by 1791 Gunleather, of Florida, combines classic black steerhide with radically modern, flexible carbon fiber. It's a truly new look and one that will draw admiring glances when worn open.
These holsters have double-thickness, American steerhide with two belt loops that are integral to the holster. The open-top gun compartment is faced with a carbon fiber material that molds to the gun, but is sufficiently stiff to protect it.
There are several fits available, and with sizes are generalized. For example, a Glock 42 and Sig Sauer P365 fit the same holster. There is a break-in period, which my holster is still undergoing, and I imagine it's best to dedicate a specific gun to a particular Project Stealth holster so that it'll break in to the shape of one specific firearm.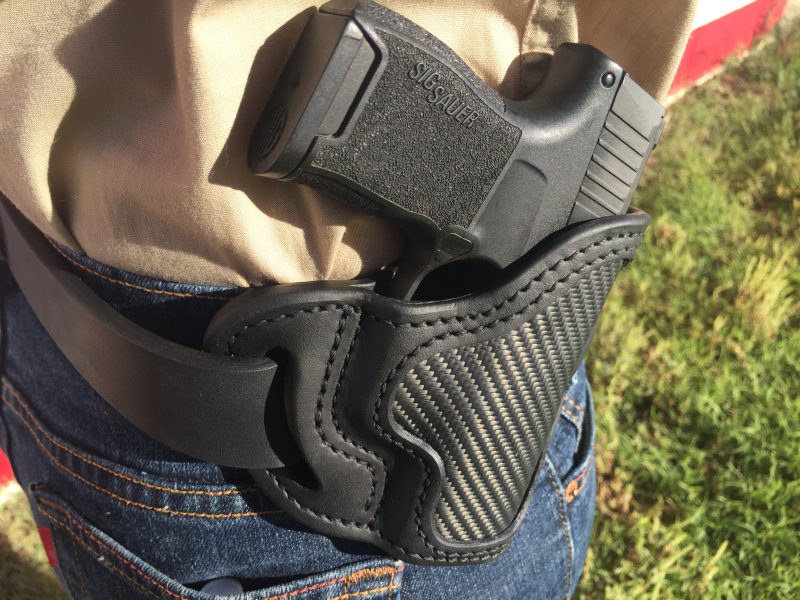 A student and I tested the Project Stealth, and the company's matching harness leather belt, for a 1911 and sub-compact. A Sig Sauer Nightmare, a commander-size 1911, set into the holster with a fit that exposes more of the skeletonized trigger than I'm comfortable wearing. Though the trigger face itself is covered, it's conceivable that a skinny, if unlikely, object could impinge into the trigger. The student's full-size Ruger 1911 shows a much better fit, with the trigger barely visible. After wearing it for several days with that fiream, the student says the holster is continuing to have good retention of the gun as he goes about daily activities. He is quite impressed by the stability of the holster on his belt, and says there is little play horizontally or vertically compared to his usual OWB rig.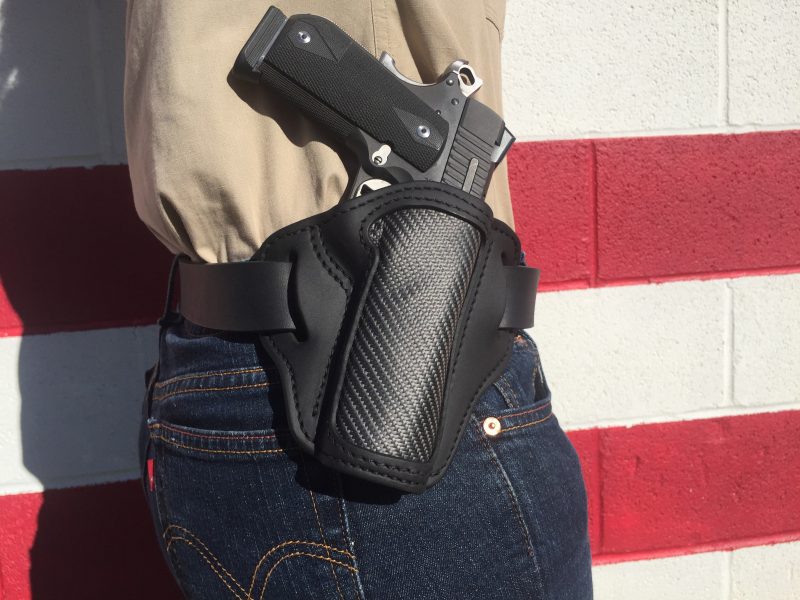 I've been wearing the sub-compact version of the Project Stealth. As the belt loops are breaking in, the holster fits very snugly against my side, making it easy to conceal the little gun under a jacket. Since the retention comes from squeezing the gun down into the sheath, it's tempting to push the gun so far into it as to impede getting a firing grip.  I'm not as fast on the draw with this OWB, worn at three-o'clock position, as I am with my IWB holster worn at one-o'clock, but I'm getting there. I confess "staging" the gun a bit higher than in full retention is a way I've gamed this one for faster range work, but for confidence I push the gun to full retention for everyday carry purposes.
The quality of leather and hardware on the holster and belt is excellent, and stronger than it needs to be. The edges of the belt are finely finished and the dye is consistent.
Carbon fiber is known for its handsome finish and abrasion resistance, and so far it appears to be delivering the goods, with both test holsters looking good with initial wear.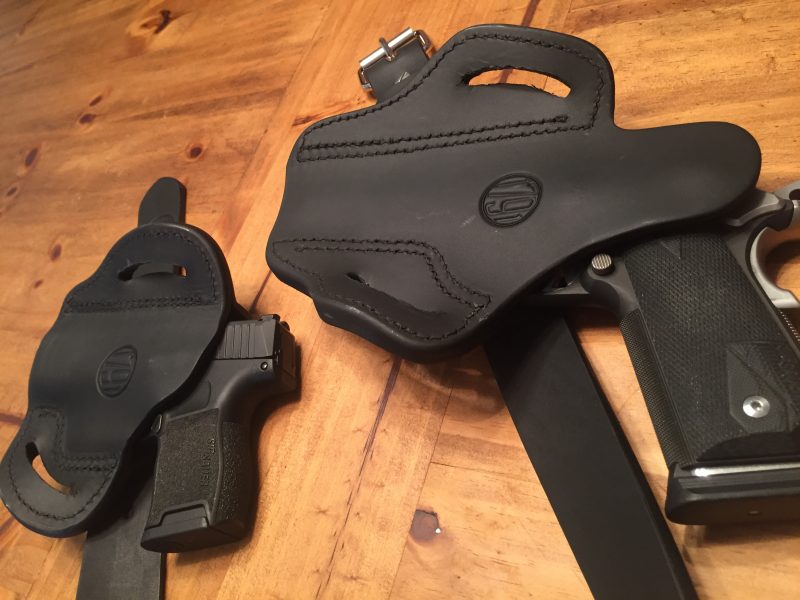 A wide variety of guns fit In the Project Stealth holster, currently only offered in four sizes, black only, for $99.99. The 1791 Gunleather belt is offered in nine sizes and a choice of black or brown for $59.99.
Maybe the October surprise of politics isn't what some outlets touted it to be. However, the unsung heroes of October are Bravo Concealment and 1791 Gunleather. In a market where many products are looking identical, tired, they are making eye-catching and useful new designs that are all treat, no tricks.