Springfield Armory's New SAINT Edge Pistol
Tom McHale 11.16.18

Springfield Armory is marching through the MSR forest with a slew of new offerings. The original SAINT rifle has been supplemented with a short-barrel rifle (SBR) version, a free-floated barrel model, a SAINT pistol, and the newest additions, the SAINT Edge rifle, and SAINT Edge SBR. The SAINT Edge family members are the "step up" options loaded with premium features and aftermarket gear. If you want the top of the SAINT line, consider the Edge models. Now, the company has rounded out the current Edge family with a pistol variant. Let's take an up-close and personal look.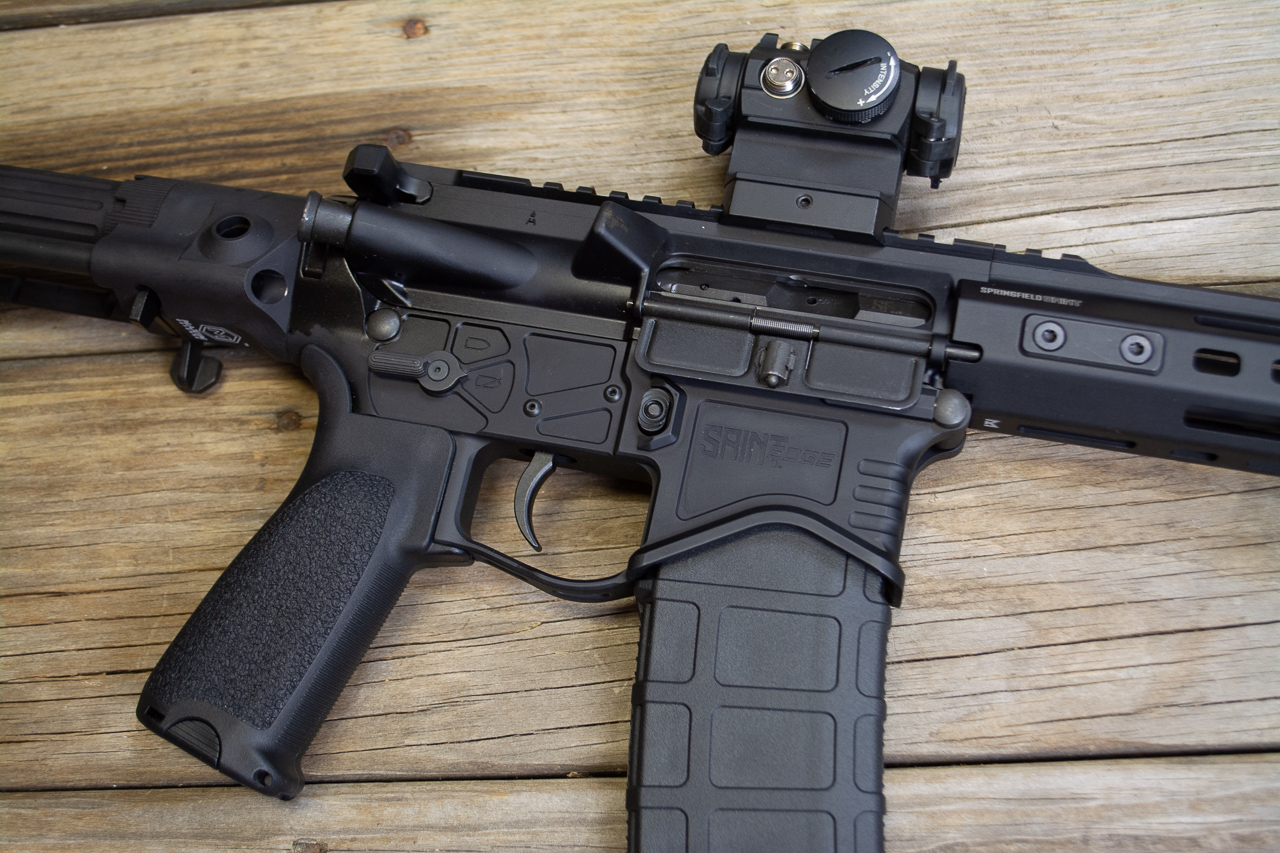 The Short Skinny
The SAINT Edge Pistol sports an even shorter barrel than the SAINT Edge SBR with a 10.3-inch length as compared to 11.5 inches. Like the other Edge models, it's chambered in 5.56mm NATO. Also, like the others, it's Melonite treated with a 1:8-inch twist rate.
The receivers are machined from billet 7075 T6 Aluminum and hard-coat anodized for corrosion resistance. When you separate the receivers, you'll notice a small green pin in the rear of the lower. That's part of the Springfield Armory Accu-Tite Tension System. It allows you to custom fit the two halves to prevent shake and wobble between upper and lower. As parts wear over time, you can increase the tension to keep everything snug.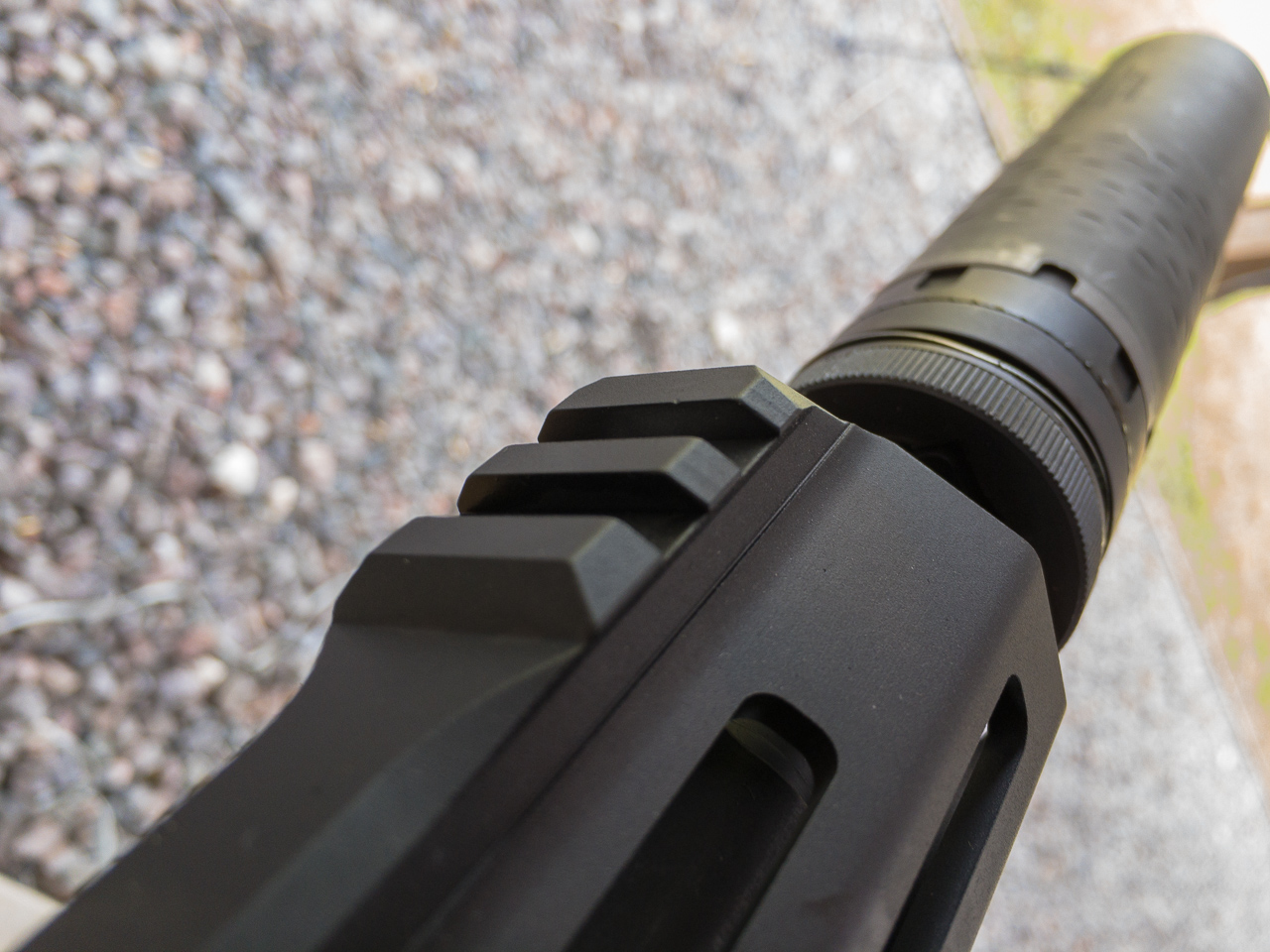 You'll spot some general sexiness in the receiver too. It's got decorative (and weight-reducing) cuts around the safety lever and above the trigger area. You'll also notice some grooves in the front of the magazine well for an improved grip if you hold there. The well itself has inverted "V" cuts, also to shave a bit of weight. it doesn't hurt that they also look cool.
Under the hood, you'll find an Enhanced M16 bolt carrier group, also treated with Melonite. The bolt charging handle is a Springfield Armory piece and features a generous latch on the left side. It's easy to operate, even when optics are installed thanks to its enlarged width. The trigger guard is machined into the receiver but has a bulge and features plenty of room for operation when wearing gloves. The safety levers are ambidextrous – already present on both sides, not just reversible.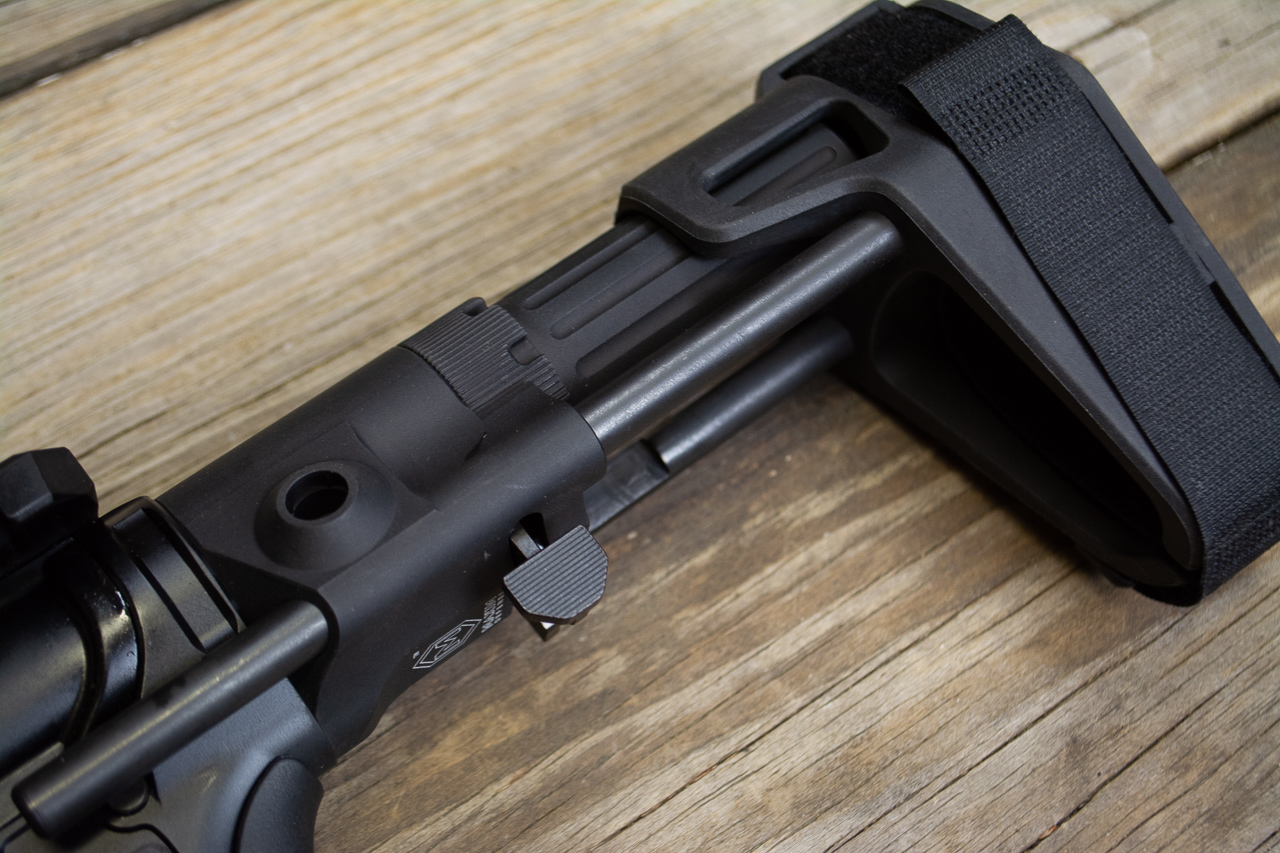 The gas block is a low-profile model and is adjustable. That's important on a gun like this one and here's why. Not only might you choose to shoot different ammo (like maybe heavier 77-grainers) to optimize results from the shorter barrel, you also might want to suppress this pistol. Adding a suppressor changes everything with the gas system as the silencer adds a lot of gas back pressure. It's nice to have the option to direct more or less gas back to the bolt carrier so you can balance reliable function and wear and tear on your gun. Too much gas and you'll unnecessarily beat your rifle to death over time. Not enough and you'll experience reliability issues. I didn't have to adjust anything when shooting different loads through the SAINT Edge Pistol, but if I choose to buy this one, I'll probably stick a silencer on it full-time. At that point, I'll select my preferred ammo and tune that gas block.
The handguard is a Springfield Armory part also and offers M-LOK slots at seven positions around the rail – everywhere except the top. Most of the top rail is clean, but there is a short rail segment in the back that mates with the one on the receiver and a small one up front for the flip-up sights that are also included with the SAINT Edge Pistol. There is a hand-stop installed on the front of the handguard in the six o'clock position – a nice feature when working with a short-barreled firearm. The pistol grip is from Bravo Company and features an internal storage compartment for spare parts, batteries, or whatever else you feel compelled to tote around.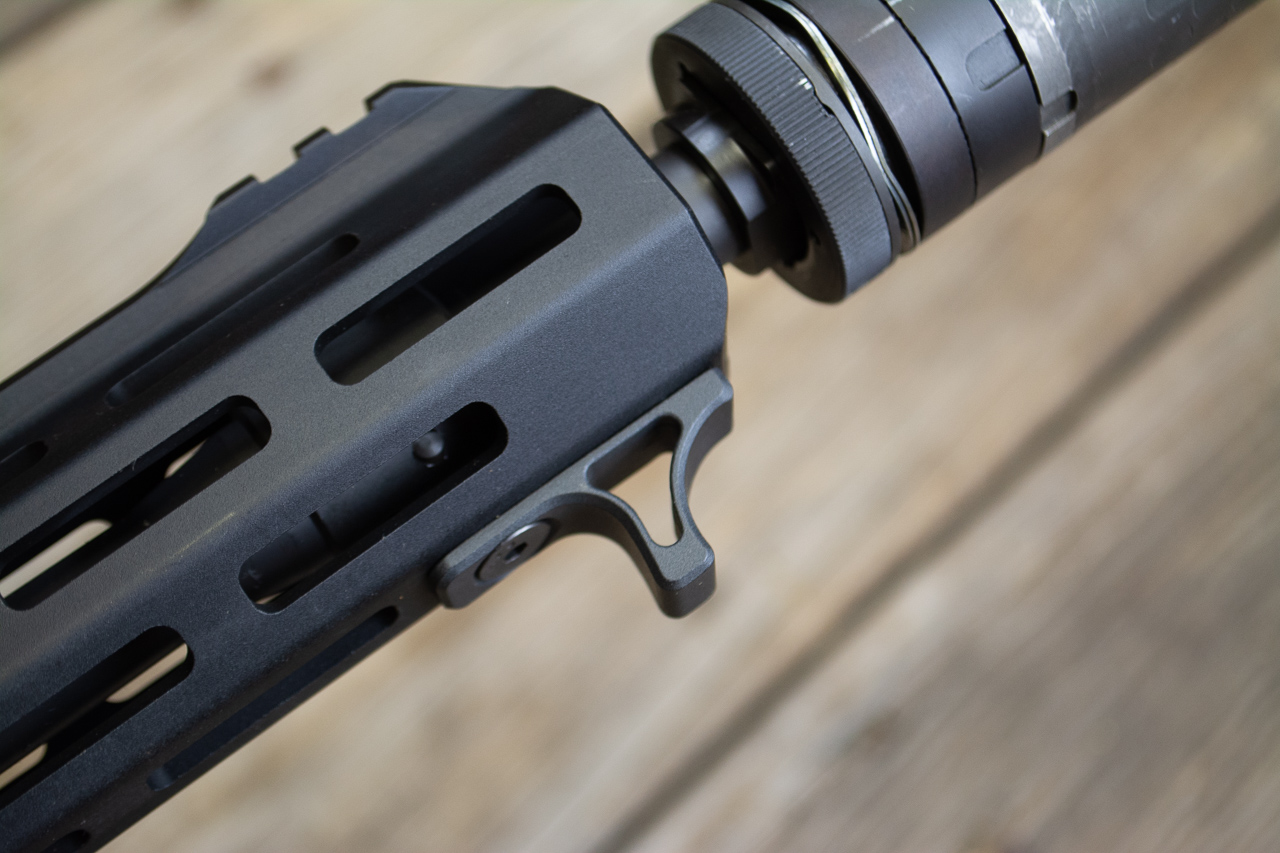 Triggernometry
The factory trigger on the SAINT Edge isn't a factory AR trigger. At all. Here I was expecting a gritty 94-pound trigger press that felt like dragging a brick across a cinder block. I was disappointed, at least by that metric. The trigger is a single-stage with no take-up at all. A steady four and a half pounds of pressure breaks it. No grit, no creep, no slop. It's crisp – like an expensive aftermarket upgrade. The reset is also short and crisp, perhaps just a sixteenth of an inch give or take. For a service pistol to be used in a defensive capacity, I love it. It's not too light but still precise enough for accurate shooting. I suspect you'll like it also.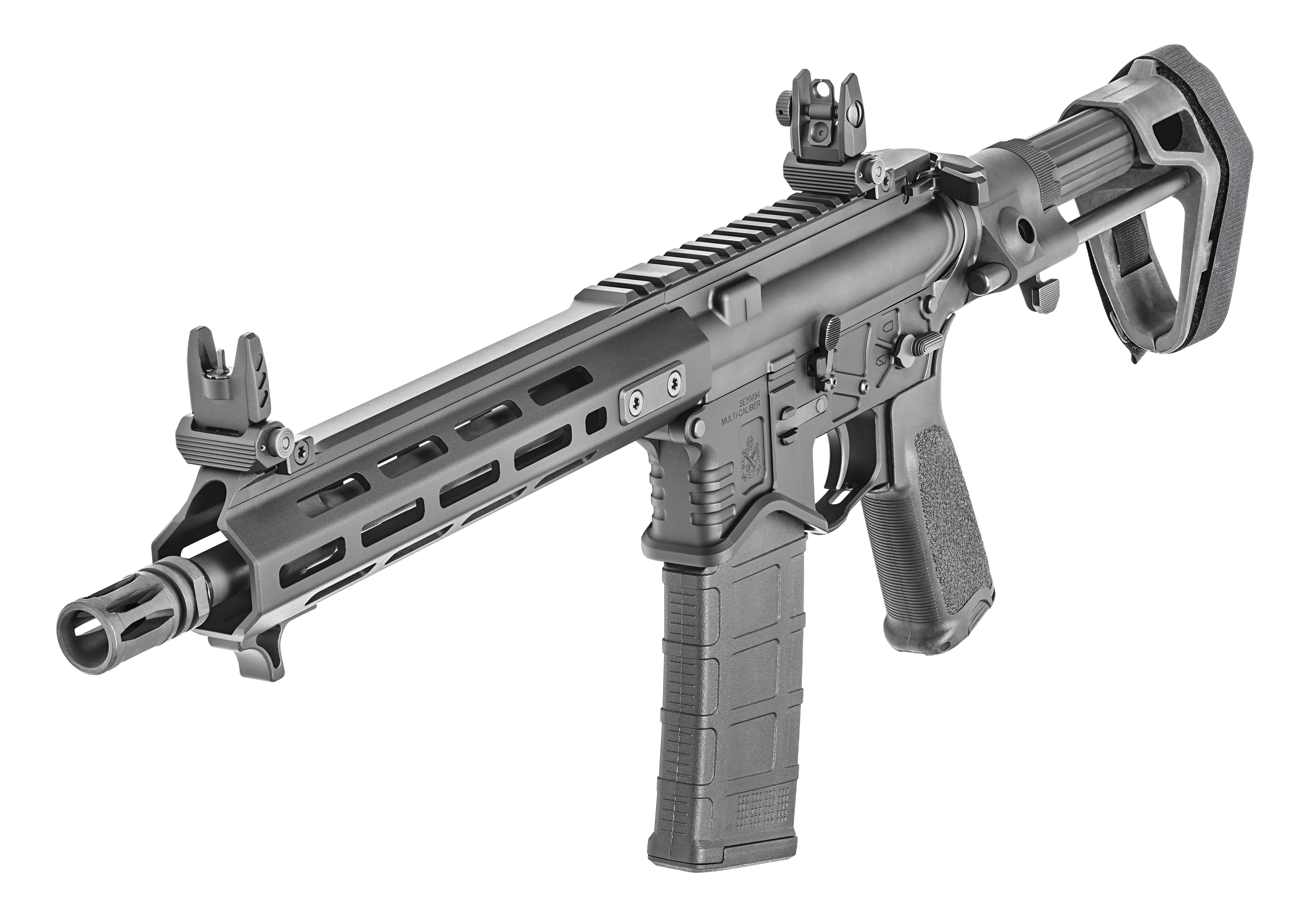 Brace Yourself
The CQB brace is provided by Maxim Defense. It's a traditional AR pistol brace in that the "butt" is a split rubber component designed to wrap around your forearm. A Velcro strap circles that to secure the rubber wings in place. What's different is that the brace is supported by dual rods on either side of the proprietary receiver extension. Those provide absolute stability. There is no shake or wobble in any of the four positions. When fully open, the adjustable brace adds four inches of length of pull when compared to the fully closed position, so each of the four adjustment stops is about an inch apart. To adjust the length, there's a steel lever under the left side support bar. Press that in (towards the right side of the rifle) and the catch releases so you can slide the brace support bars through the supports. This component is a big upgrade that's included with the SAINT Edge Pistol. It normally retails for between $395 and $550 on its own.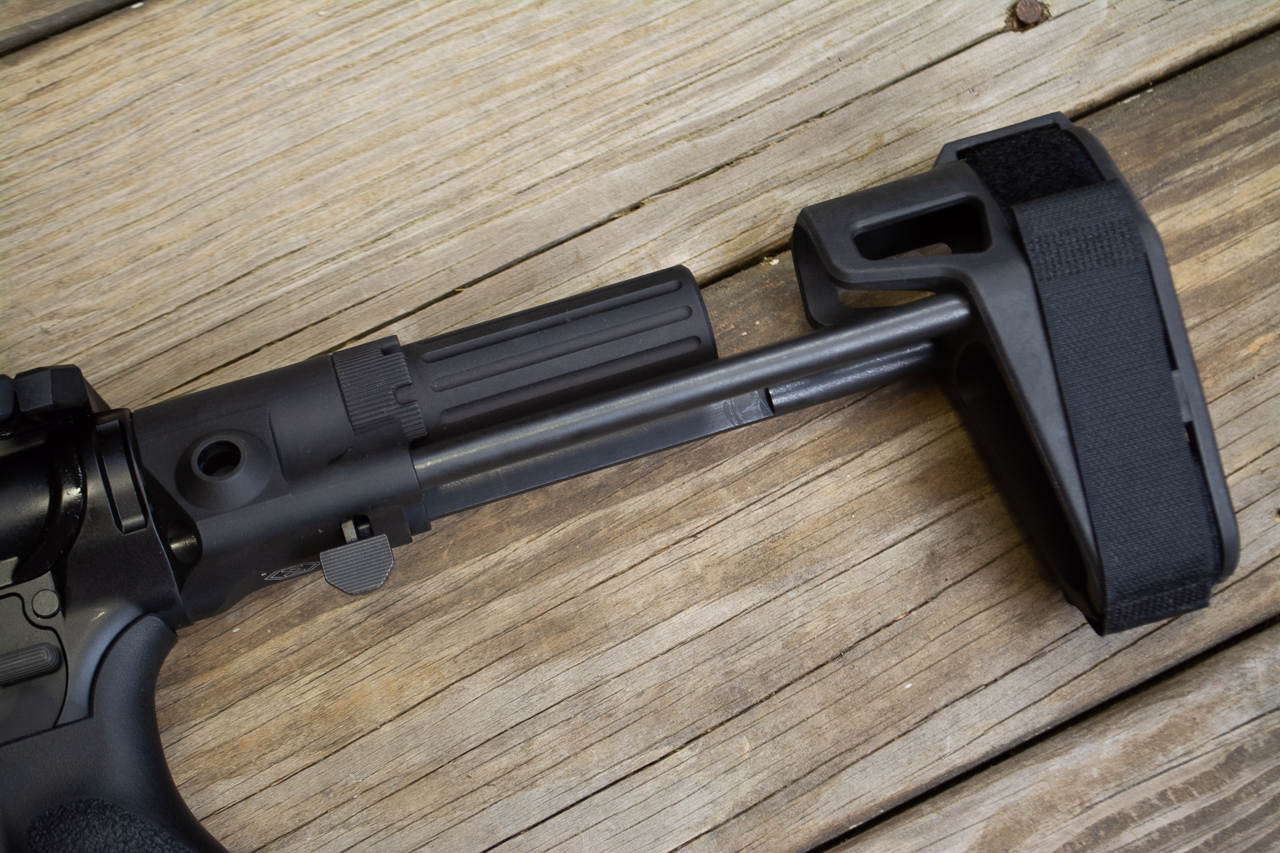 What About Velocity?
The thing about short-barrel AR-15s is that there's not enough length to reach the full velocity potential of the 5.56 or .223 rounds. That's true. It's the tradeoff you make when choosing portability and compact size. I did some testing with several different types of ammo to see what kind of difference I could expect in real-world performance. I shot and chronographed the longer barrel stuff on a previous outing, but the altitude (near sea level) and atmospheric conditions were close enough to provide pretty good data. Here's what I measured for velocity.
| | | | |
| --- | --- | --- | --- |
| Ammo | SAINT Edge Pistol | AR-15 (16" barrel) | Difference |
| American Eagle AR 223 | 2,631.0 fps | 2,876.8 fps | 245.8 fps |
| Hornady V-Max 55-grain | 2,548.0 fps | 2,832.7 fps | 284.7 fps |
| Sig Sauer OTM 77-grain | 2,244.7 fps | 2,516.3 fps | 271.6 fps |
As expected, we lost some velocity from the shorter barrel at the approximate rate of 43 feet per second per inch, give or take a bit.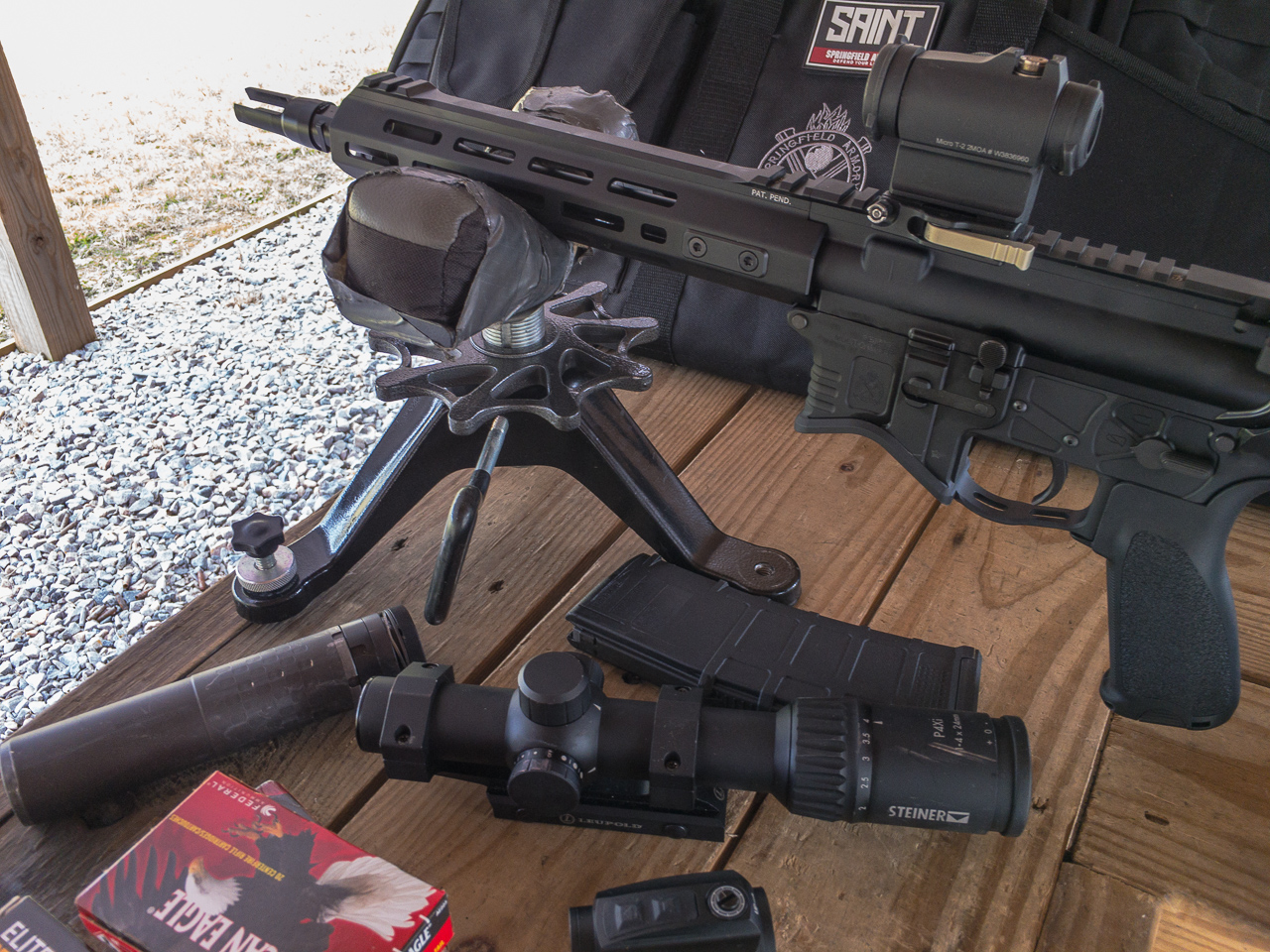 Accuracy
I initially tested accuracy "out of the box" with an Aimpoint Micro T-2 red dot sight. This Aimpoint is an excellent optic and features a crisp two MOA dot, so assuming I could see half decently, getting a fairly precise point of aim on the target shouldn't have been too much of a problem. I set up targets at 50 yards and proceeded to shoot five-shot groups from that distance. It's a pistol, and I was using a non-magnified red dot, so the 50-yard distance seemed appropriate.
I'm pretty sure that, during my first range outing with the new Edge pistol, I heard a faint voice whispering "suppress me…" Being the obedient type, I did. After mounting a SilencerCo Saker-compatible three-prong flash hider in place of the standard birdcage model, I was able to mount my Saker 556 suppressor using its quick-attach/detach system. With a 10-inch barrel, the extra "net four" inches of the Saker still keeps this package compact, although it does make a noticeable difference in the weight department. Anyway, I did another round of accuracy testing and mounted a Steiner P3TR 1-4x optic. Just because.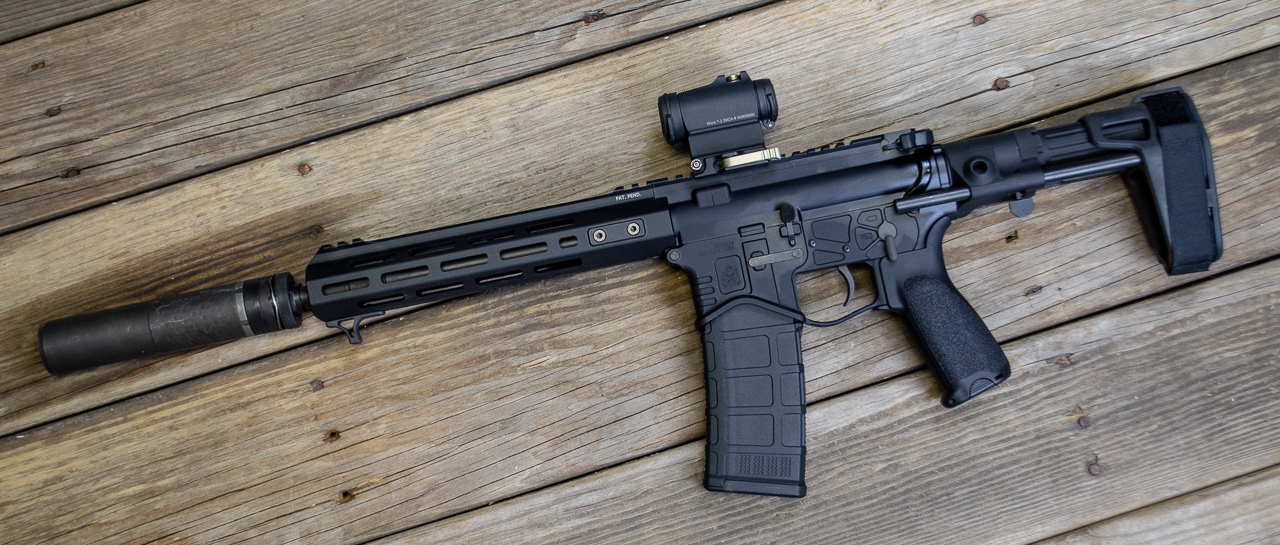 Here's where things got interesting. Most AR rifles I've shot tend to shoot a bit better when adding a suppressor. Certainly, they're easier to shoot accurately due to the lack of blast and smoothed-out recoil, but they seem to perform a bit better mechanically too. Based on admittedly limited data, the SAINT Edge Pistol seemed to shoot for accuracy just a hair better without the suppressor. A lot more range time will determine that for sure one way or another, and the differences weren't significant in a practical sense. It's just an observation. Anyway, here's what I measured for 50-yard groups in both configurations.
| | | |
| --- | --- | --- |
| Ammunition | Unsuppressed | Suppressed |
| Hornady V-MAX .223 Remington 55 grain | .99" | 1.36" |
| American Eagle AR 223 .223 Remington 55 grain | 1.07" | 1.49" |
| Sig Sauer OTM .223 Remington 77 grain | .73" | 1.12" |
| Sig Sauer HT .223 Remington 60 grain | .99" | 1.44" |
While I'm normally a "suppress it!" type of guy, I'm not sure whether or not I would suppress this pistol. The shooting benefits are great, even if there is a bit of difference in accuracy potential. On the other hand, it's just to darn maneuverable and handy without the extra length and weight of a suppressor. For home or car use, that ultra-short pistol configuration is hard to beat. It's clearly a first-world problem, and I'll get over it one way or the other.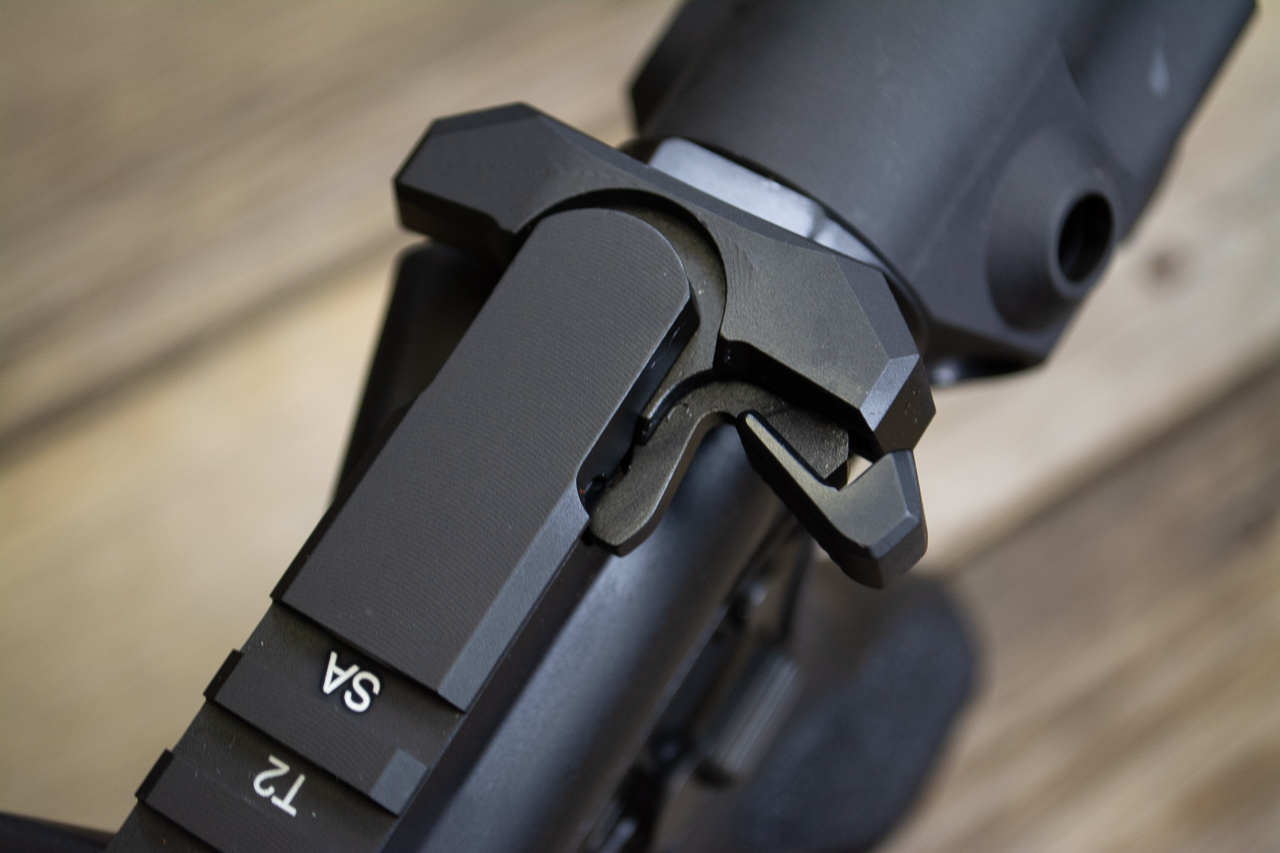 Closing Arguments
Every time I become tempted by pistol-caliber carbines, I run across something like this and think, why not just use an AR pistol? This one is chambered in .223 Remington, which is solid in its own right, but I'd bet a nickel that Springfield Armory will make one of these in 300 Blackout if demand warrants. And no, I don't have any inside information on that, it's just a guess.
The SAINT Edge Pistol offers a useful combination of attributes. Big capacity, standardized magazines, portability, and rock-solid performance make it a sweet addition to home or vehicle defense plans. Those evil folks in Geneseo are clearly trying to bankrupt me as I'm going to have to buy this one.