The Benchmade Corporation has been around since 1988. Originally started in California, they decided to move their operations to Oregon in 1990 where they have remained ever since. Initially, they created their knives in-house using parts sourced from other manufacturers. But, as they matured, they were able to purchased new manufacturing machines and started developing their own parts. In doing this, they become on of the first knife manufacturers with the ability to completely build all of their knives in-house. Being able to control every aspect of their knife production enabled them to create knives that went above and beyond – and the Benchmade Gold Class series was born.
From the beginning, Benchmade's goal was to create high-quality, exceptional performing, knives for every customer. No matter what their need and/or background (i.e. special forces, back country hunters), they wanted their knives to be the best. The Gold Glass by Benchmade is a series of elite, customized knives that don't compromise on quality for looks. In fact, Benchmade's Gold Class is considered to be the STANDARD by which all other knives are measured by.
One of the most well known "Family" of blades from Benchmade is the 'Bugout™ Family.'
The Bugout is built in-house, just like all Benchmade blades, and it is handmade by the Benchmade's bladesmiths using the best quality and materials available. They spend countless hours making sure that each blade is perfect before it is ever shipped out.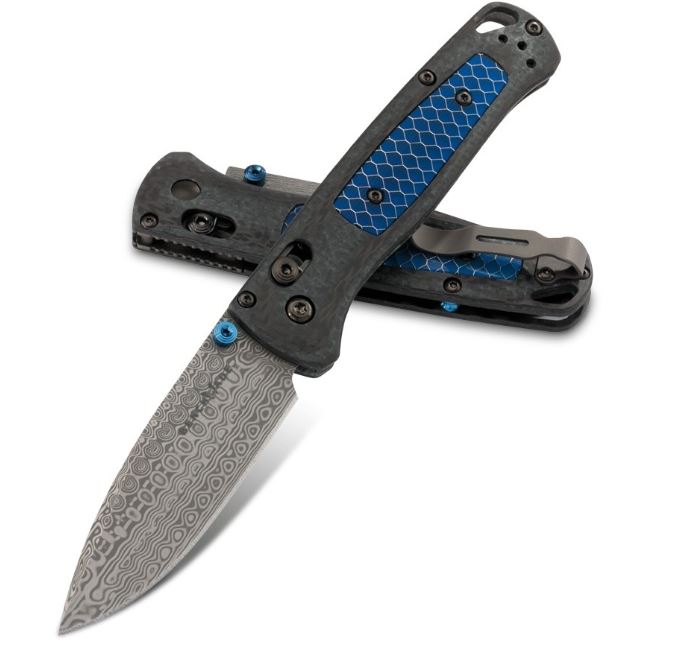 Damasteel
The 535 Bugout® has become one of the most popular knives in Benchmade's line up. So, to celebrate, they created a new Gold Class version that's full of upgrades. Munin™ pattern Damasteel® and ghost carbon fiber handles are coupled with smoked gray PVD coated liners, pocket clip, and hardware. Blue anodized titanium thumb studs and barrel spacers round out this Unlimited Limited Gold Class.
A Bugout of this caliber is sure to be a bright spot in anyone's collection.
Axis Locking Mechanism
The Axis Locking Mechanism is one of the most highly touted features of the Benchmade Gold Class knives. Most locking mechanisms age over time, and lose their ability to maintain a full, safe lock. But, Benchmade addressed this problem by adding in a steel bar that covers the width of the handle. The stop pin keeps the blade from every becoming unlocked, no matter how old it is or the situation it is being used in.
Final Thoughts
Any knife from Benchmade is going to be built to last, but there's a distinction of owning a Gold Class knife from Benchmade. If you appreciate the time and effort put into superior design, along with the precision and customization of a hand-crafted knife, then the Gold Class is the perfect option for you.
A Benchmade Gold Class knife is perfect as an EDC since is comes with a stainless-steel blade with a carbon fiber handle for great grip. The locking mechanism will ensure that the knife stays open in any situation and the quality and durability are unmatched.
If you consider yourself a knife aficionado, you already know about Benchmade Gold Class knives. Many may balk at the price when comparing the Gold Class to other knives, but it's like comparing watermelons to peanuts – there's no real comparison. If you want the best quality, best precision, best durability, hand-crafted, with the best materials you can buy, then you can't choose anything other than a Benchmade Gold Class knife.