Summer Gun Guide: Recreational Firearms
Tom McHale 05.02.19

Some of us buy guns for personal or home protection. Some get a competitive bug and a burning desire to crush their peers on the action pistol or precision rifle courses. To others, guns are simply a tool used for their true passion: spending a day in the field hunting. One thing that many of these folks have in common is an appreciation of the potential of guns for pure fun and recreation.
Here, we've assembled a list of firearms for your consideration that just might bring a little extra joy to your next range outing this summer.
A pistol caliber carbine is a handy firearm. One that breaks in half – on purpose – is the cat's meow. The Ruger PC Carbine is both. For now, caliber offerings include 9mm and .40 S&W. I suspect we'll see .45 ACP and maybe, just maybe 10mm before too long given the popularity of this gun. And, as previously hinted, it's a takedown design that splits in two in seconds for easy transport.

The PC Carbine doesn't just use pistol ammunition, it does so using pistol magazines too. That's always been one of the benefits of this category of firearms. You have one supply of magazines and can use them interchangeably in your handgun or the carbine. Ruger takes that idea one step further. Rather than force carbine buyers into a Ruger SR-Series handgun, they designed the PC Carbine with a replaceable magazine adapter. In the box you'll get an adapter for SR-Series magazines and another compatible with Glock magazines.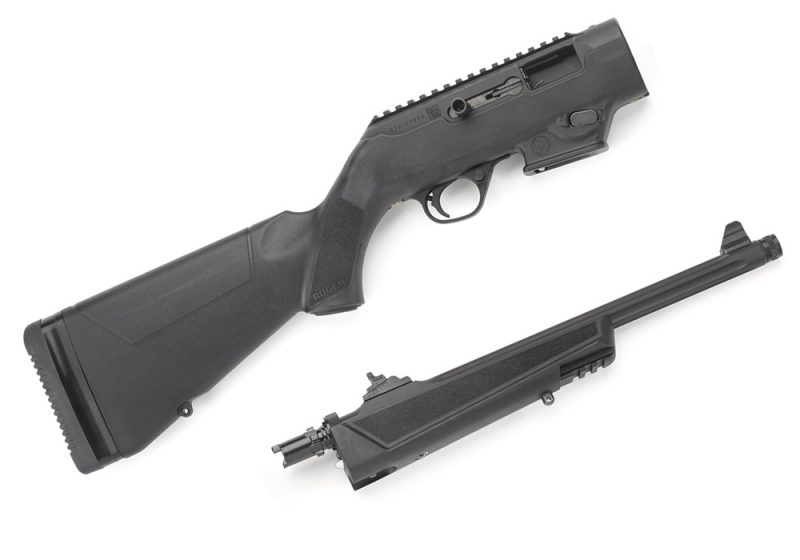 This will be a familiar system for many shooters; it operates like a Ruger 10/22 and even shares some trigger components. The magazine release is reversible and buttpad spacers allow easy adjustment of the length of pull. If you wear body armor for your day job, you can adjust the fit accordingly. The PC Carbine also features a threaded barrel so you can add a muzzle device, like, say a silencer.
MSRP: $649.00 to $729.00
How can "the gun that won the west" not be considered a great addition to your next range outing? Whether or not the 1873 lever-action rifle really did win the west is irrelevant for our purposes. What is relevant is that this is one beautiful rifle that is an absolute ball to shoot.

Uberti makes about ten different variants of the 1873 lever-action. My favorite is the Sporting Rifle. It features case hardening on the receiver, lever, and hammer. The sights are classic western rifle with a ramp in the rear and a brass bead up front. Loading is through the gate on the right side of the receiver, and you can stuff 13 rounds of .45 Colt, .44-40, or .357 Magnum in the tubular magazine.
The best part? The Sporting Rifle has an octagonal barrel. That's just cool. The other best part? It shoots as good as it looks.
MSRP: $1,339 to $1,349 depending on caliber
If you're going to have the rifle that won the west in your recreational shooter collection, you might as well go big and add the complementary six gun to go with. The Uberti 1873 Cattleman El Patron is just right for the part. Of course, you'll choose the same caliber as your 1873 Rifle, so it'll have to be .45 Colt or .357 Magnum as this particular revolver model is only available in those two. While other models are available in .44-40, I went with .45 Colt for the rifle and revolver.

The receiver and hammer are case hardened and the trigger, strap, and barrel are beautifully blued. You'd expect nothing less than the checkered Walnut stocks, right?
MSRP: $649
It's hard to argue with the sheer fun factor of a good .22 pistol, but the Smith & Wesson Victory takes that to a whole new level. The company offers about eight different configurations, but that's just the beginning. The Victory, kind of like a standard Modern Sporting Rifle, is more like a platform. One of its standout features is the ease of field stripping and removing the barrel. That means it's also easy to change things – like the barrel. The one shown here is mine with a Volquartsen fluted and threaded barrel installed. I also have a Volquartsen carbon fiber threaded barrel for it. And, of course, the standard factory barrel.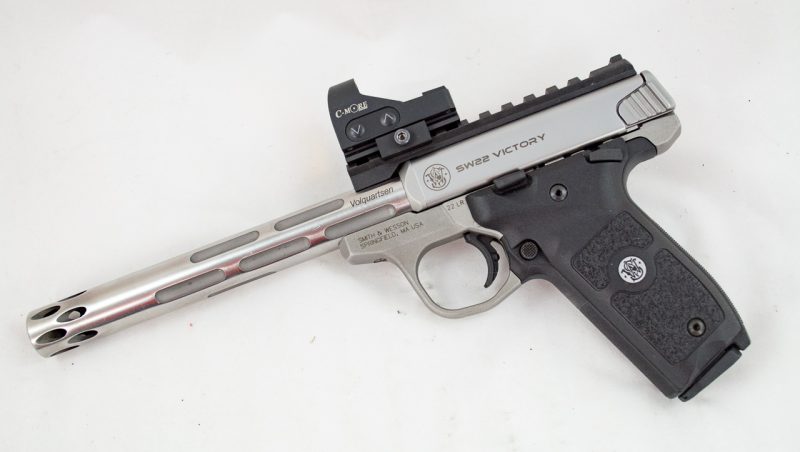 Don't think you need to upgrade this pistol to get performance, however. It's a tack driver out of the box. If you spend a little time finding the ammo yours likes, you'll be shooting five-shot groups at 25 yards all day long.
The Victory comes with a ten round magazine and you can order yours with or without upgrade gear like a threaded barrel or muzzle brake. One more thing. The rear sight mount is also an easily swappable part. The basic pistol comes with both a rail with rear sight notch and dedicated adjustable rear sight.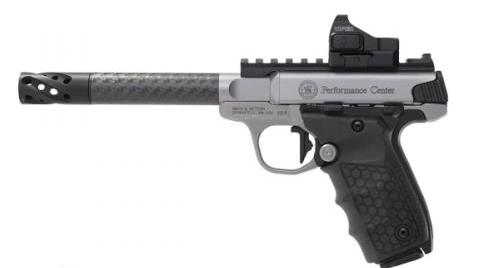 You can order two basic styles of the PC Carbine – a standard model and one with a free-floated barrel and M-LOK handguard for accessory mounting.
MSRP: Starting at $409
So, we have a pistol carbine on the list, but we don't yet have an AR-type pistol-caliber carbine. The pick here would be the relatively new CMMG Banshee. I got my hands on a first-run .45 ACP model. Originally available in 9mm, .45 ACP, .22LR, and 300 Blackout, the family has grown to include .40 S&W, 5.7x28mm, 5.56x45mm, 6.5 Grendel, 7.62x39mm, .308 Winchester, and .458 SOCOM.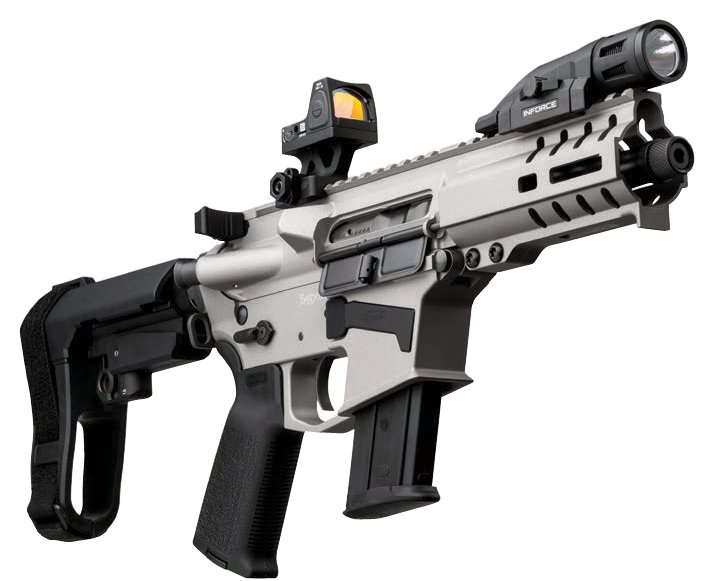 Classified as a pistol the Banshee doesn't have restrictions on barrel length, so they're short. Really short. Depending on caliber and series, the barrel length ranges from 4.5 to 12.5 inches. CMMG offers three different "groups" or series of Banshee pistols that include different feature sets. The Cadillacs and shortest barrels live in the 300 Series group. As a side note you can order a Banshee in a short barrel rifle configuration. Of course, that requires a separate application to Uncle Spendy and a $200 tax stamp.
There's a nifty design feature hidden away in the Banshee. All of them "look like" they use a standard AR-type gas recoil system. However, since some of them are pistol-caliber offerings, they wouldn't work so hot. For those models, the action is a delayed blowback. You can also adjust weight on the bolt carrier to adjust for specific loads and shooting characteristics. That feature is also super handy for adding a suppressor.
MSRP: $849.00 to $1,949.95
Who wouldn't want an MP5 Subgun? The bad news is, that unless you kick in doors for a living, you can't really get one. However, you can get a PTR 9CT. It's a semi-automatic version of the famous MP5, so it's legal for you and I to own, unless you live in an oppressed state. In that case, you can probably buy a stick instead.

I fired one of these at an event a year or so back and it was… sweet. Classified as a pistol, as there is no buttstock, it can legally have a 8.86-inch barrel. Speaking of the barrel, it comes if two delicious flavors: a tri-lug and a standard 1/2×38 threaded. So knock yourself out and suppress like all the most respectable MP5's do.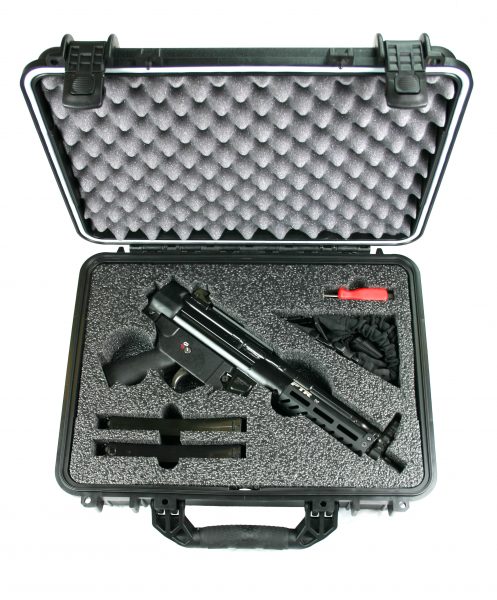 It makes the recreational fun gun list because it has all those nifty MP5 features like the charging handle you can dramatically whack with your support hand to charge the 9CT and that familiar front ring and post sight paired with the rotating drum in the back. It ships with the iconic 30-round stick magazine.
MSRP: $1,899
There's a relatively new caliber in town and this one is just plain fun. It's the 224 Valkyrie. Here's the short skinny on why the 224 Valkyrie is interesting. It's a long-range cartridge that works with standard AR-15 (not AR-10) platforms. The magazine well in the AR-15 presents on overall cartridge length limitation, so if you're going to shoot classic long-range calibers like 6.5mm Creedmoor, you'll need a larger chassis. The 224 Valkyrie is based on the .30 Remington and 6.8 Remington SPC cartridge case and designed to fit into that standard AR-15 magazine well. The magazine itself is a bit different – the same type you would use for 6.8 Remington SPC. The 224 Valkyrie uses standard .224-inch diameter bullets but because of the case geometry, it can fit longer projectiles than the .223 Remington. The barrel and bolt are different owning to the cartridge case shape but all else is standard.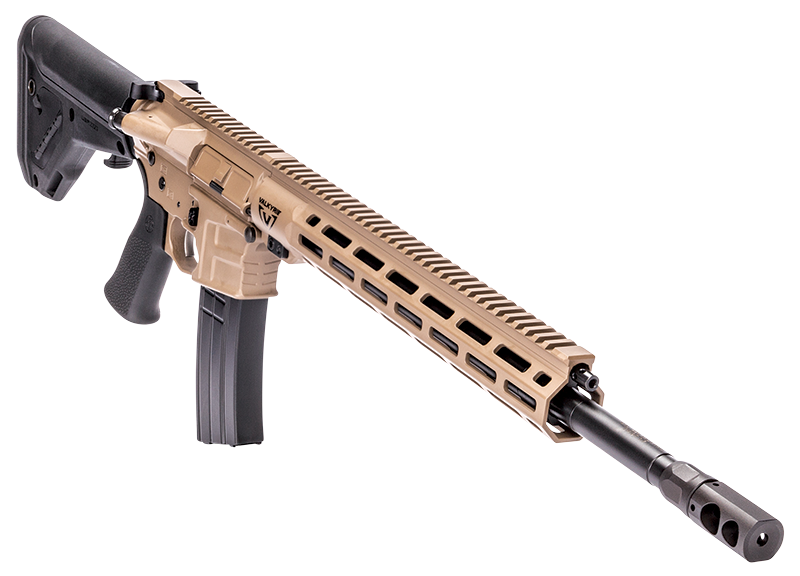 The net-net of all this is that you can fire a long and slippery bullet like a 90-grain Sierra Matchking from a standard AR-15 lower. That means supersonic shooting out to 1,300 yards depending on the atmospheric conditions where you are. As long as bullets remain supersonic, they're easy to model in flight and you can count on predictable drop performance. That means that if you do your job, you can make accurate shots well past 1,000 yards.
The Savage MSR 15 Valkyrie is a fine platform for the 224 Valkyrie. As the primary developer of the caliber, Vista Outdoor (parent company of Savage) was early on the bus to create a solid rifle for this cartridge. This rifle has all the bells and whistles including a tunable muzzle brake, adjustable gas block, and premium furniture like a Hogue pistol grip and Magpul UBR Gen 2 buttstock.
MSRP: $1,529