Want A Next-Gen Pistol? Meet the Canik TP9 Elite Combat
Eve Flanigan 05.21.19

Recently, I was introduced to a relatively new pistol from a well-known Turkish gun maker; the Canik TP9 Elite Combat. This gun is the product of the company's first partnership with Salient Arms International (SAI), a high-performance customization company in Las Vegas. Glock and Smith & Wesson pistols are SAI's bread and butter, but the company stepped out of the box to create this new gun. It sports a combination of qualities and parts that make it, in this writer's opinion, the poster pistol for avant garde handguns.
The 9mm pistol is compact at 15 rounds capacity with a 4.19-inch barrel. But its other features make it handle as easily as its full-size stablemates. Starting with the grip, it has a removable magazine well extension, which provides both guidance for fast reloads and, for this writer, support for the grip, as my pinky finger can couch itself against the extension's bell bottom curve. The grip has sculpted grooves at the top of the frame for the thumb and forefinger.  Along with its low bore axis design, this helps put all controls within reach without unseating the firing grip. It's also a great design for recoil management.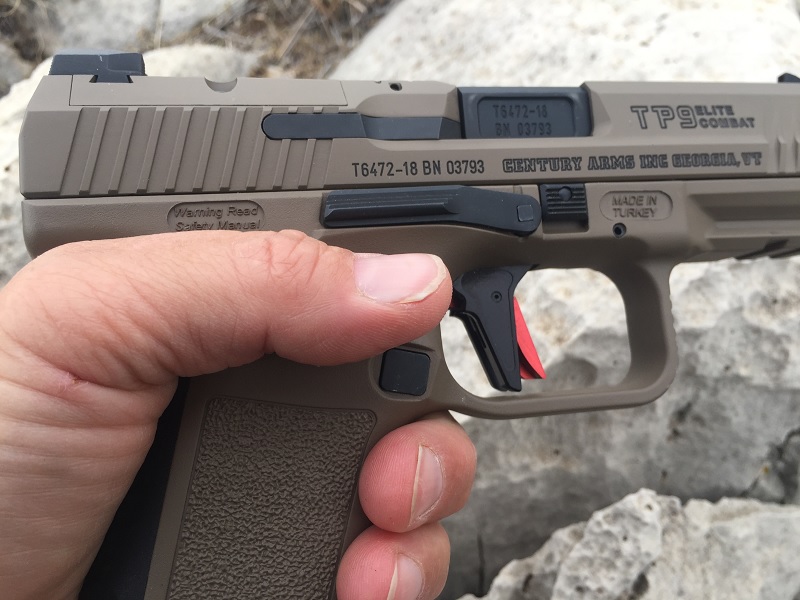 Other shooter-centric features of the controls include a long slide lock that's easily reached by all but the shortest of thumbs. Like four other models in Canik's striker-fired TP9 series of 11 guns, the slide stop is also ambi without any adjustments needed to make it so.
Thoughtful ergonomics, and capability of speed handling, continue with the magazine release. The Canik TP9 Elite Combat is one of three Canik TP9s with a mag release that's not only movable for right- or left-handed operation, its prominence is also customizable. The release button has a prominent profile, one of the race-gun inspired features of this little shooter. The gun comes with three sizes of button to make the release even more reachable. These screw on or off in seconds with the supplied Allen wrench.
I chose the small button.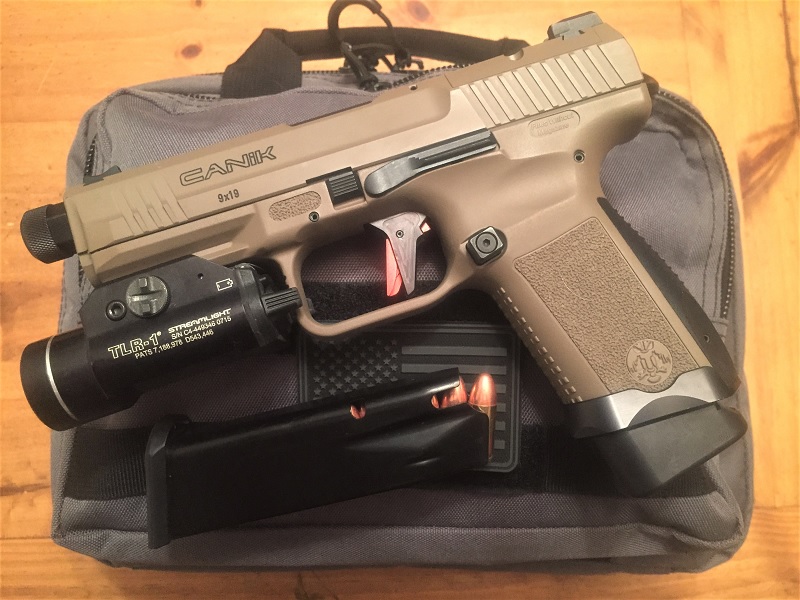 The basis of the gun is Canik's TP9 platform, with two choices of backstrap. SAI contributed a dovetailed, adjustable fiber optic front sight, a flat-face aluminum trigger with safety block, and their match grade threaded barrel and thread protector.
Two 15-round magazines, one with a flat floorplate and one with a no-added-rounds extension, are included. The rear sight is a plain, adjustable target sight. The sights are fairly prominent in profile, and quick to acquire a sight picture.
It seems Canik thought of everything, including the burgeoning popularity of red dot sights both on and off the match scene. Not only is the slide pre-milled and fitted with a matching cover, the gun comes with four mounting plates so the owner can choose his or her favorite optic. This represents massive convenience as well as savings and stress from having to ship off a slide for milling.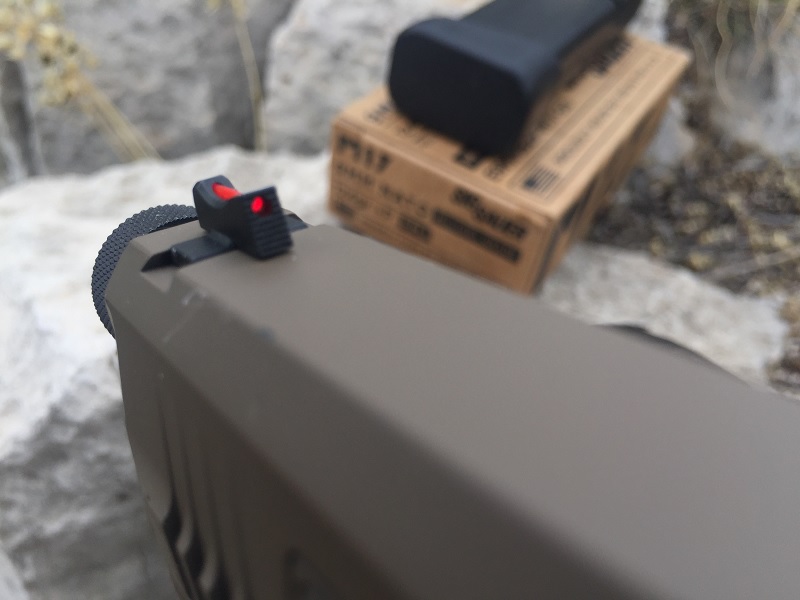 For the break-in period, Canik recommends firing at least the first 200 rounds as 124 grain. Numerous brands including Federal American Eagle Syntech 124 grain FSJ, Federal 147 grain HST JHP, Sig Sauer Elite Performance 124 grain FMJ, Sig's M17 124 grain +P FMJ,  and Precision Delta PDP Pro 124 grain JHP were fired during break-in.  Since then, the gun has run mostly Federal American Eagle 115 grain FMJ and Sig Sauer Elite Performance 115 grain FMJ, for approximately 150 additional rounds.  The gun has never malfunctioned.
So far, this is one sweet shooter. The Combat Elite's first test was when I took it for a qualification shoot on my state's 50-round law enforcement day course, with shots as far as 25 yards. Score-wise, my norm is a frustrating 98 percent, with the faulty shot usually originating from the 15- or 0-yard line. The Canik TP9 Elite Combat seemed to make the entire test easier, and it was very pleasing to end the exercise with a 100 on the target. Rounds fired from 15 yards landed higher on center mass than I'm accustomed to, a sign of lessons to come regarding the sights.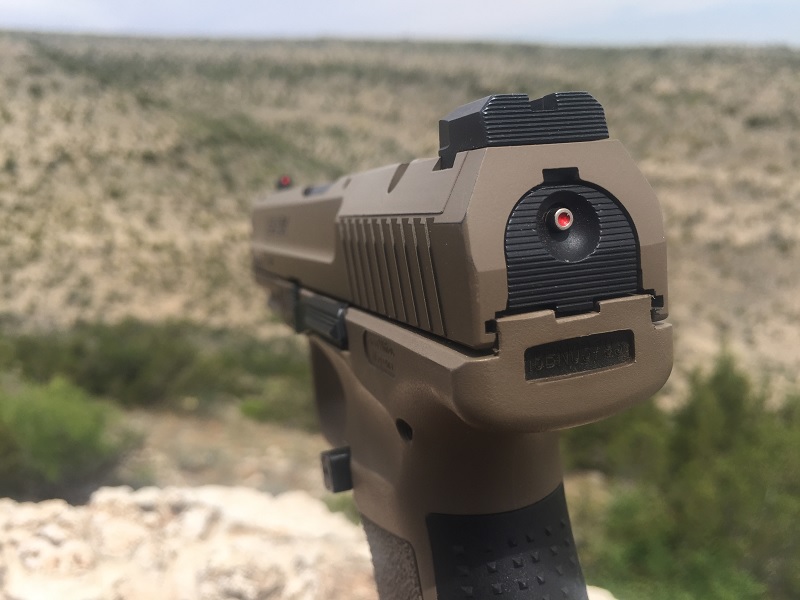 The Canik TP9 Elite Combat accompanied me as an instructor's sidearm during a recent five-day exercise, setting up, testing, and then running a weekend course for civilian shooters. The course includes navigation of canyons with steel pistol targets set at up to 85 yards. Most targets are approximately the size of the IPSC "A" zone; closer ones are as small as six inches. This little gun did an extraordinary job making long-distance hits. This was fun but not a surprise as my first-gen TP9 SA and partner's TP9 SF are also standouts at distance shooting. The premium SAI barrel can only help.
It was at moderate distances of 12-25 yards that making precision hits on six- and eight-inch plates proved a challenge at first. The suppressor-ready sights create a sight/bore line offset that placed impact higher than intended. Once this dynamic became obvious, switching to a six-o'clock or even six-o'clock plus a sliver of daylight hold fixed the issue.  It's simply a matter of knowing when to switch to that hold for precise shots—though center mass accuracy is well in hand at any reasonable distance.
As with other guns in the TP9 series, the trigger is fantastic for anyone who appreciates a light, 3.4-pound pull that's as slick as black ice, and a very short but definite reset. The reset on the Elite Combat seems shorter than that of either the early SA or current SF, both of which already have excellent triggers. Canik opted for some design changes in the visible parts of the trigger. This one sports a flashy red aluminum safety block and flat-face, straight aluminum trigger. Internal firing components are nickel plated, surely contributing to smooth operation.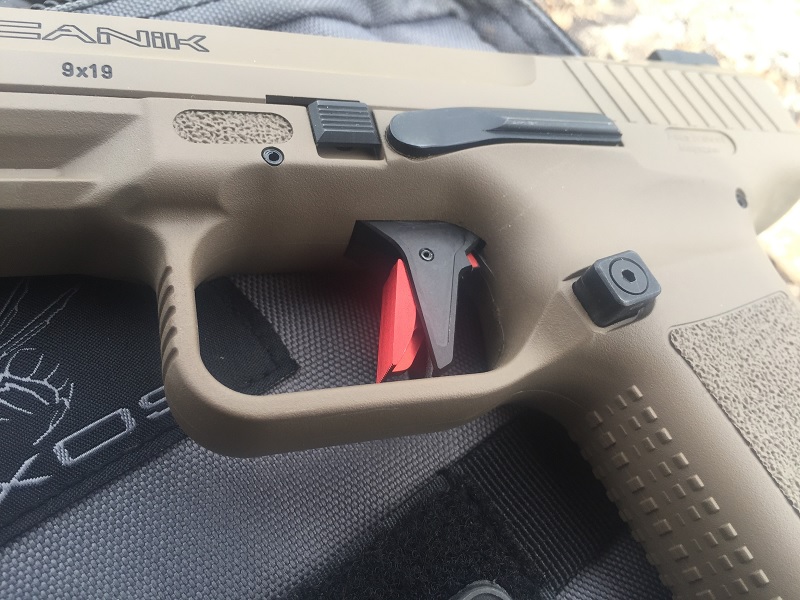 Paired with the fab trigger is intelligent grip molding. The deeply sculpted throat of the backstrap, along with indentations at the thumb and forefinger contact points on the side of the grip, allow for good access for most hand sizes. A bigger swell on the larger backstrap insert caters to those with larger paws. Overall, the design enhances recoil control as well as finger placement on the trigger. Canik doesn't get enough credit for this design, which is a natural and good for most shooters.
The finish is tan, darker than other tan guns in the TP series, and with brown instead of yellow undertones.  All guns in the series are now described as having "Tenifer or Cerakote" finish over Tenifer. Along with Melonite, Tenifer is abrand name for the case hardening process of ferritic nitrocarburizing. All reports this writer can find on the process indicate it is long-lasting and durable. The finish on the early SA models is famously susceptible to wear; hopefully Canik has stepped up to a more durable  finish choice. The friction-free Blackhawk Omnivore light-bearing holster I'm currently using with the gun presents no opportunity to evaluate wear as the result of holster friction.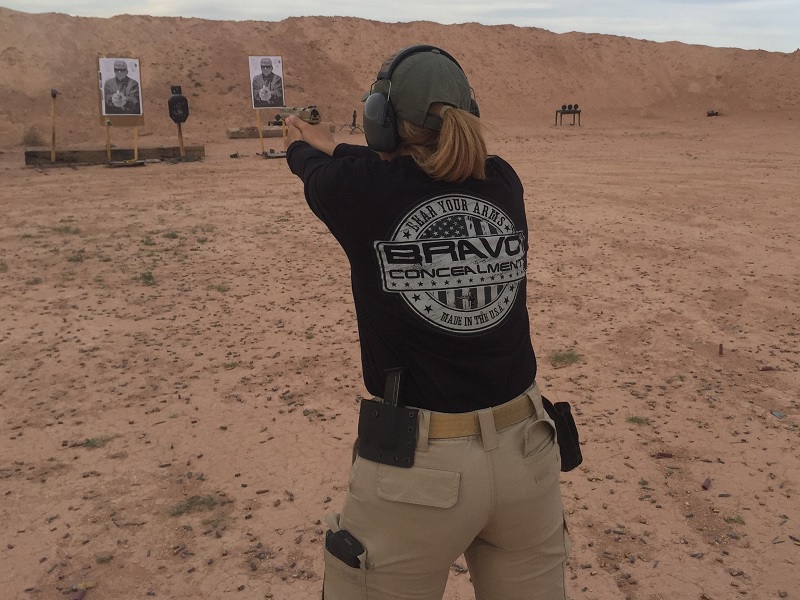 By now it should be obvious that this writer has a very high opinion of the performance and capabilities of the Canik TP9 Elite Combat. The exceptions are minor. A red safety lever on the trigger adds a garish touch to what could be a serious duty pistol—but was probably done as a nod to the match crowd, which most companies seem to be striving to serve in the current market. It could always be covered, anyway.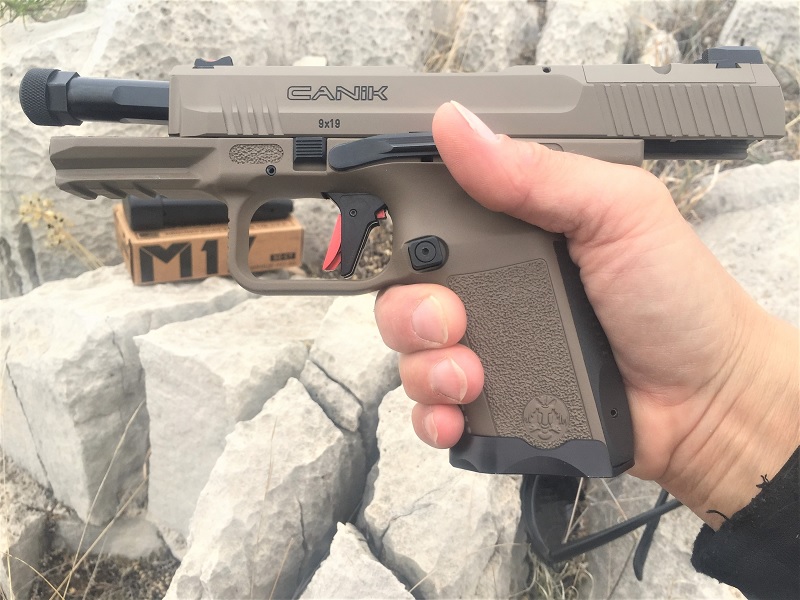 The large plastic box this gun arrives in has plenty of room for the RMR mounting plates, extra mag release buttons, tools for both, a cleaning brush, mag loader, and a holster. When I picked up the longish box at my FFL's shop, I was dismayed to see the plastic hinges had mostly been bent such that the box wasn't completely latched. Half of the holster was gone, but with the addition of a light on the rail, the Blackhawk Omnivore is an excellent substitute. Canik has made so many improvements to the already good TP9 design, and is generous in shipping guns with holsters. However, leaving the Serpa-knockoff holster that was included in the past is a step backward.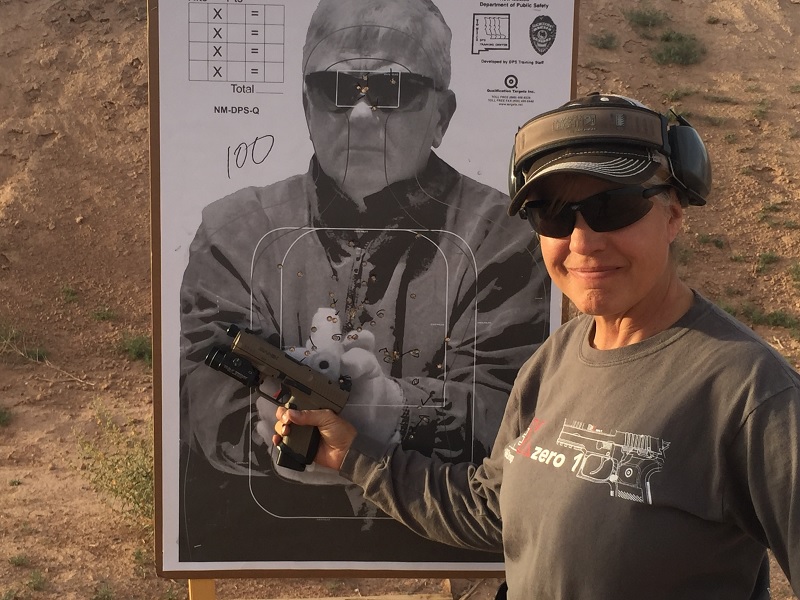 This Canik TP9 Elite Combat, chambered in 9mm, represents the future of pistols. Numerous ergonomic/modular advantages like the backstraps and optic-ready slide, the SAI threaded barrel and a trigger worth daydreaming of are all combined in one compact, extraordinarily accurate package. This is not a beginner's gun, but it is a contender for competitive shooting, duty, and recreation. Any price point of less than $1,000 would be a deal for a gun this reliable and replete with features. But $650-700 is a typical pre-shipment price.
If you're looking to upgrade for performance, consider the Canik TP9 Elite Combat, whether or not budget is of concern.