ZEV Small Frame Rifle Review: 6.5 Creedmoor
Cory Mince 06.06.19

At the beginning of my precision shooting career, large frame AR rifles were considered more of a novelty than a viable option for tactical or match use. Their appeal was obvious: a much faster cyclic rate than a bolt gun, much larger magazine capacity, familiar ergonomics, and, most importantly, they looked cool. The issues with large framed ARs, at the time I was introduced to them, was that they were often either accurate but not reliable, or they were reliable but not accurate. Either of these combinations makes for an annoying recreational gun, and a completely unacceptable gun employed by DM or sniper units. Enter small frame rifles..
My first encounter with a large frame AR was in the Marine Corps, where our platoon had a single SR25 which was issued to our platoon sergeant. It was semi-reliable and semi-accurate, but couldn't hold a candle to our M40s. After my time in the Marine Corps, I would occasionally see a large frame DPMS or Armalite rifles at a match, but never saw one place in the top 5. In fact, there is a video on YouTube posted some years ago where I'm shooting a stage with my bolt gun, and a talented shooter next to me is shooting a stage with his custom and very expensive AR10. The shooter next to me was in contention for a top 3 finish at this particular 2 day match, but his gun choked after the first round was sent down range, and he spent the rest of the stage trying to clear a stubborn malfunction, resulting in a very low score on a "gimme" stage.
Advancements/Refinement
A number of years have gone by since then, and now there are accurate and reliable (albeit with a bit of required tuning) large frame ARs commonly chambered in 308, 6.5 Creedmoor, 6mm Creedmoor, and just about any other standard short action caliber you can think of.
Recently, I received a ZEV Small Frame Rifle chambered in 6.5 Creedmoor to test and review. Having experience with a number of ZEV pistols, I was intrigued by the concept of a rifle offering.

Specs
Let's review the specs:
    

ZEV Billet Upper and Lower receivers in 7075-T651 aluminum

    

ZEV extended length M-LOK free floating handguard

    

ZEV Slide Lock charging handle permits ambidextrous manipulation

    

ZEV exclusive sniper gray flat face AR Gold trigger from ATC features a 2.5lb pull

    

Custom 20″ 6.5 Creedmoor fluted 416R stainless steel sub-MOA match grade heavy barrel manufactured for ZEV by Noveske Rifleworks

    

Custom tuned gas and buffer system for smooth cycling, consistent ejection, and low recoil

    

Muzzle brake from SureFire

    

Overall length of 38.75″ with stock collapsed

    

Unloaded weight of 8.7 lbs

Size and Weight
I'm not entirely sure why ZEV refers to their 6.5 Creedmoor as a "Small Frame AR" since it obviously isn't a traditional small frame AR, as it has a standard bolt face. Their product description states that their idea is to have a rifle that handles like an AR15 but fires 6.5 Creedmoor ammunition.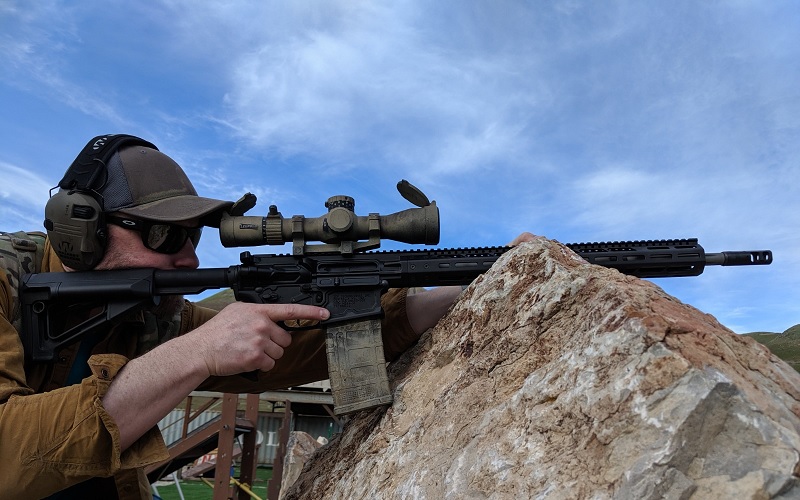 Although it is clearly larger than a standard small frame AR, it is nearly the same weight as my 18" 5.56 rifle, and significantly lighter than either of my large frame ARs. I found the ZEV to be quite handy due to its lightweight, and I ran some drills that I would normally leave to rifles in the 5.56 and 300 BLK category. The ZEV's length obviously makes it a less than ideal entry gun, but it is a much more reasonable option than the vast majority of 308/6.5 Creedmoor ARs.
The weight of the ZEV makes it a viable option for hunting as well. I've toyed with the idea of bringing my 6.5 Creed gasser on a hunt, but have never done so because of the issue of weight. The ZEV makes an AR supported hunt much more likely in my future.
Accuracy
With a gun this light, I didn't expect great things with regard to accuracy. Traditional wisdom is that in order to have an accurate gun, it must first be heavy. There is some truth to that, certainly, and I'll admit I am biassed toward heavy guns when accuracy is the goal, but much prefer to handle light ones.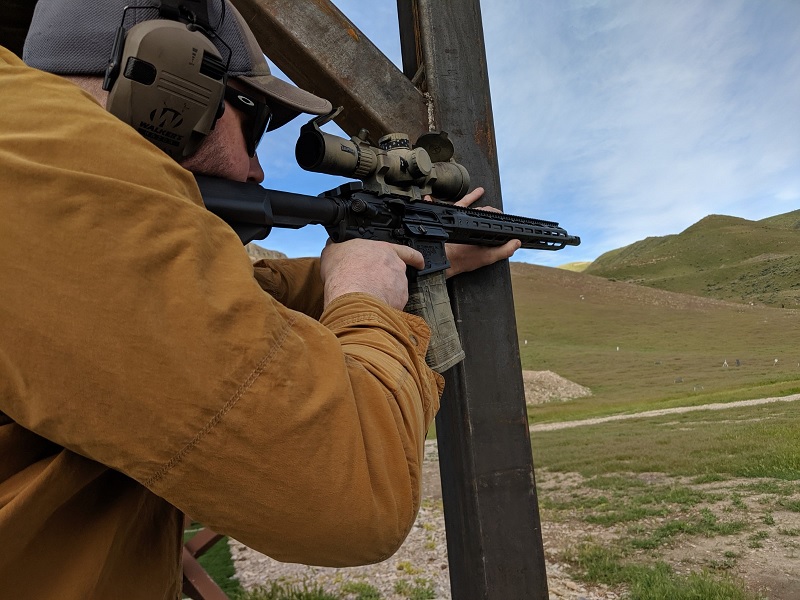 To begin the accuracy test, I started out somewhat easy with a standing unsupported shot on a 12" diamond at 200 yards. No problem. Next, I moved to a 10" hex at 300 yards, again, standing unsupported. Another hit. Then to 400 yards, same position, with another 10" hex. Hit. Needless to say, I was impressed. I know these aren't super small targets, but it was incredibly easy to drive the gun to them, hold steady, and break the shot exactly when I wanted to. All shots fired out to 500 were first round hits.
Since the idea behind the gun was to make it super light and wieldable, I didn't want to burden it with a bipod, and instead opted to engage the long range targets using my pack as the front support. I went 7 for 9 at 1,000 yards on a 20" gong, and 4 for 5 at 1,200 yards on a 22" gong. For a light weight gasser, I would consider that more than acceptable accuracy, and it far exceeded my expectations.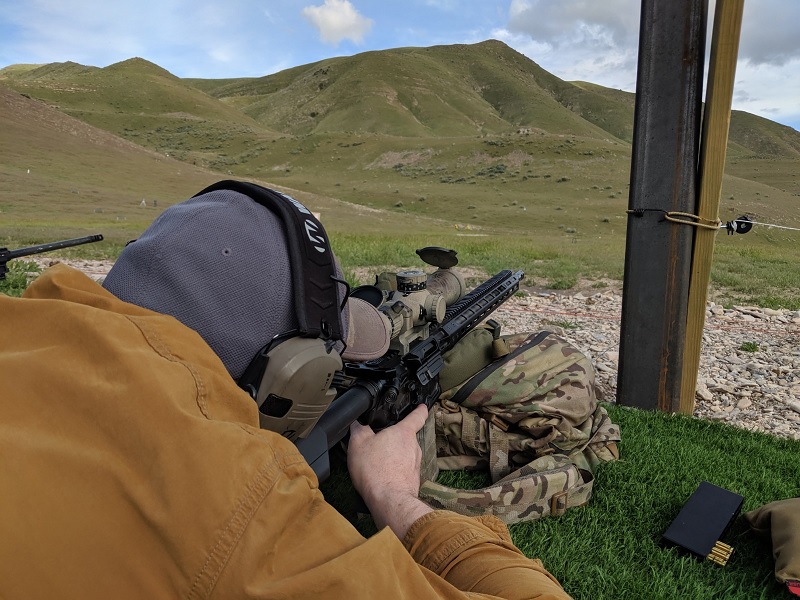 Although the ZEV performed much better than expected at distance, and it is far easier to move around with than most other 6.5 Creedmoor gassers I've used, it did have some shortcomings, fIrst of which was recoil. It has smooth overall recoil impulse, as the gas was well tuned, but it was a big impulse. A portion of the added recoil can obviously be credited to the rifle's lack of mass, but also to a moderate muzzle brake. The SureFire ProComp is a fine muzzle brake generally speaking, but I would think with such a light rifle ZEV would have equipped it with a three port brake as opposed to the Surefire's two ports. The second shortcoming is the buttstock. The ZEV comes with a Magpul STR stock, which is fine for a carbine, but not so great for a precision gun. The 1k and 1,200 yard targets were situated uphill from my shooting position, and after 4 or so rounds I was pretty uncomfortable. I couldn't imagine being on this gun for a half hour let alone a rotation on a mission. Yes, it is an easy fix (replace the STR with any adjustable buttstock of your liking) but I would have been nice to know that if I'm paying nearly $3,000 for a rifle, I'm not going to have to spend $150 – $300 to upgrade the stock.
Reliability
I typically only shoot 130 class bullets through my 6.5 gasser, and I think most people do the same. OAL constraints and pressure issues make the 140 class bullets more difficult to get accurate and reliable function. So, to directly contradict my own preferences, I decided to see how the ZEV would do when faced with running one the most common 6.5 Creedmoor loads out there: Hornady 140 ELD-M. As noted at length in the previous section, the accuracy was definitely there, and I'm happy to report that so was the reliability. There wasn't a single malfunction of any kind the entire range session, in the dry, dusty, Utah desert with a load typically reserved for bolt guns.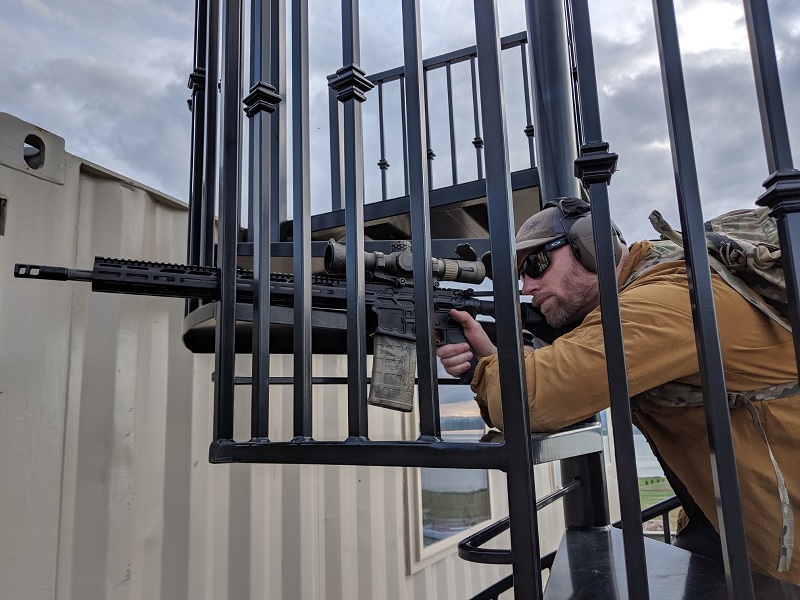 Round after round was chambered and ejected with the consistency typically associated with a mid-90s Toyota.
Strong work, ZEV.  
Conclusion
I really liked shooting the ZEV Small Frame Rifle. So much so that I have begun to reevaluate my current gasser collection in order to find room for one more. My likes are many and my dislikes are few (and easily remedied). I would feel comfortable suggesting the ZEV Small Frame Rifle to any of my friends who are looking for a 6.5 Gasser, and, I suppose you too.