[Optics]: Leupold Mk5 3.6-18 x 44 Review
Cory Mince 06.07.19

When I started shooting matches about a decade ago, the Leupold Mark 4 was the gold standard in long-range precision rifle scopes. This was before the majority of optics companies bought into the idea that reticles should speak the same language as turrets and the reticle should also reside within the first focal plane. The most common configuration was a second focal plane Mil/MOA scope in the 4-16x power range. There was the occasional Schmidt & Bender or USO FFP scope, but the majority of optics on the gun line were either Leupold Mark 4s or Nightforce NSXs.
At that time, I wanted a Leupold Mark 4 more than just about anything, but I was a poor college student fresh out of the Marine Corps, and could only afford a Mil/MOA SWFA Super Sniper to put on top of my Remington 700 PSS. That setup worked well enough until I had the means to upgrade, and by that time I was able to pick up a used Premier Heritage 3-15, which was an FFP Mil/Mil scope. From that point forward I couldn't see myself using any scope that wasn't FFP and didn't at least have a reticle that spoke the same language as the turrets, which eliminated the Mark 4 from the list of desired optics. In fact, it wasn't until Leupold released the Mark 5 series that I was interested in any of their long-range offerings.
Specs: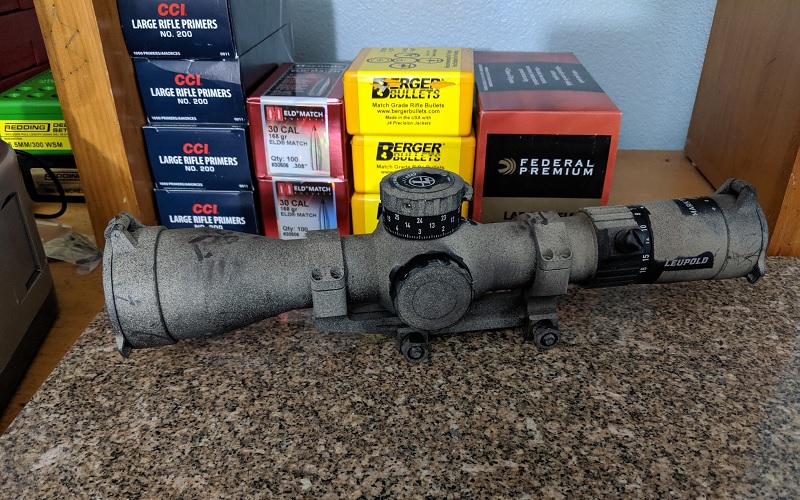 Magnification:                                    3.6 – 18
Illumination:                                       Optional
Length:                                              12.06"
FOV at 3.6x:                                      9.45m @ 100m
FOV at 18x:                                       1.92m @ 100m
Eye Relief at 3.6x:                             3.54"
Eye Relief at 18x:                              3.82"
Weight:                                              737g
Total Elevation Adjustment:              100 MOA / 29.1 MRAD
Total Windage Adjustment:               80 MOA / 23.3 MRAD
Exit Pupil:                                          2.4mm
Scope Body:                                      35mm
MSRP (depending on options) $2,339 – $3,379
Suitable Applications
A scope with the above specs has, in my opinion, the greatest variety of suitable applications. It's not so big and bulky that it would look obtuse on a hunting rifle, and has enough magnification range, as well as internal elevation adjustment, where it would work very well on numerous long-range rifles. But if I were forced to choose a single platform upon which to permanently mount this scope, I would suggest a 6.5 Creedmoor gasser, which is what I used for the review.
Magnification Range
The Mk5 3.6-18 has plenty of low end magnification to make relatively close-range engagements (20-50 yards) and enough high end to effectively get out to distance. With the popularity of high magnification scopes, there is a common misconception; the further you want to shoot, the more magnification you need. If you talk to any competitive precision match shooter, you'll find that the majority of the time their magnification is in the low to mid-teens. I'll typically set my scope from 12x-15x during most stages, and only go into the 20x range on closer rather than further engagements, specifically paper stages. The reasons are, first, when you increase magnification, you decrease field of view, making multiple target engagements more difficult. And second, too much magnification will increase the negative optical effect of mirage, making it more difficult to see the target.
With few exceptions, most practical applications for a 6.5 Creedmoor gasser, or 6.5 Creedmoor bolt gun for that matter, would require more or less magnification than that offered on the 3.6-18.  
Range Use
For obvious reasons, zeroing the 3.6-18 was exactly the same process as the 5-25. The turret system is very logical and easy to work with. If you are familiar with zeroing another type of tactical scope, then you'll have no problem with the Mk5. The clicks are reasonably audible and tactile, but I think there is some room for improvement in this department.
The Mk5 also features locking elevation and windage turrets. I'm not typically a fan of locking turrets, but I don't mind the locking system of on the Mk5, which only remains locked at zero, and minimizes accidental locking during operation.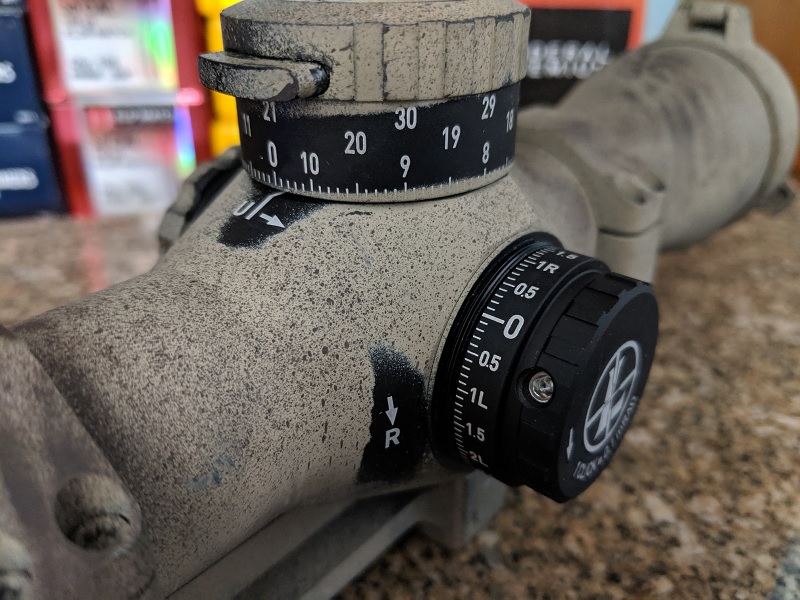 The parallax knob has yardage markers, which is nice to get you in the ballpark, and the operation is super smooth. If the knob were any larger I would think adjustment is actually too smooth, but since it is so low profile, it works well.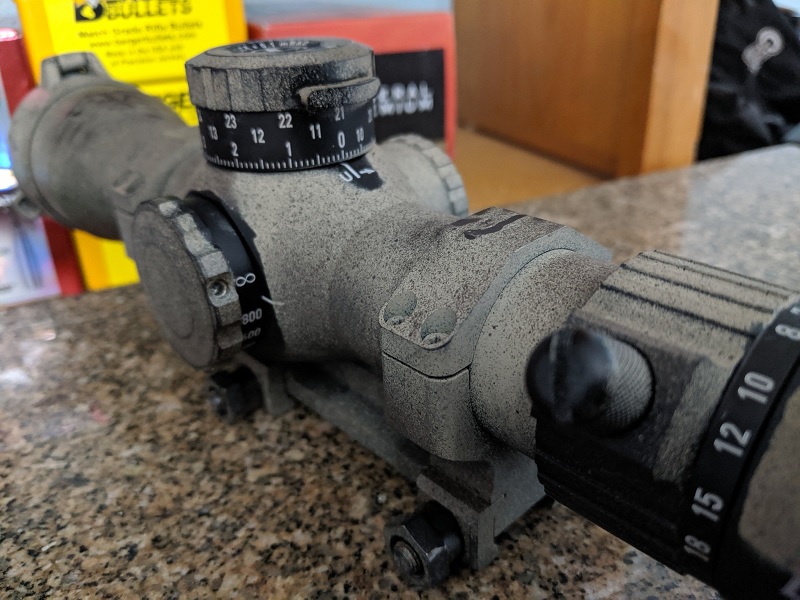 The magnification ring also operates quite smoothly. A nice feature of the magnification ring on the Mk5 is an optional throw knob which can easily be added or removed. The placement of this knob is well thought out and, unlike some others on the market, will not interfere with bolt operation at any magnification.  
I engaged targets from a variety of positions at close range, and precision targets from the prone out to 1,200 yards. The close range targets were standard C-zone targets, hexes, and plate racks. All the precision targets were less than 2 MOA. The 1,200 yard target was 1.75 MOA, and to be honest, I think I was at 12x when I took the shots. My first shot was a miss which was easy to spot, and I ended up going 4 for 5. At no time did I feel like I was limited by the optic, and in fact, I wasn't really conscious of the optic the entire time I was engaging the precision targets, which speaks to how intuitive this scope is.  
Conclusion
As stated in the previous Mk5 review, I really like these scopes. I think they offer just about every feature I would want in a precision rifle scope, and all those features are executed well. It is easy to use, nice to look at as well as through, and I enjoy having a Mk5 on my gun. My only gripe would be the scope body diameter. It is 35mm, which is just about as convenient as having a hand full of toes. Yeah, you can find a mounting solution for the Mk5, and maybe even a bubble level, but they likely won't  fit any of your other scopes now, or in the future. In a day and age where just about every mid to high-end scope features a 34mm body, I can't understand why Leupold thought a 35mm body would be a good solution.
That being said, with all the significant positives this scope offers, I would suggest those with the means would do well to consider the Mk5 3.6-18×44 a possible compliment to any practical use rifle.