These Are The Best Summer Fishing Hats to Protect Yourself from The Sun
OutdoorHub Reporters 07.15.19

Fishing is a great activity for bonding with family or friends, exploring new places, or just soaking in some sunshine and fresh air. In the summer, the best times of day to go fishing are early morning and late evening; in the spring and fall, the best time is around dusk. Each time of day may require a bit of battling the elements. Fishing hats are great for protecting your eyes, face, and neck from getting sunburned, shielding you from rain or wind, and protecting your head and neck from pesky bug bites. Here are our top five suggestions for the best summer fishing hats: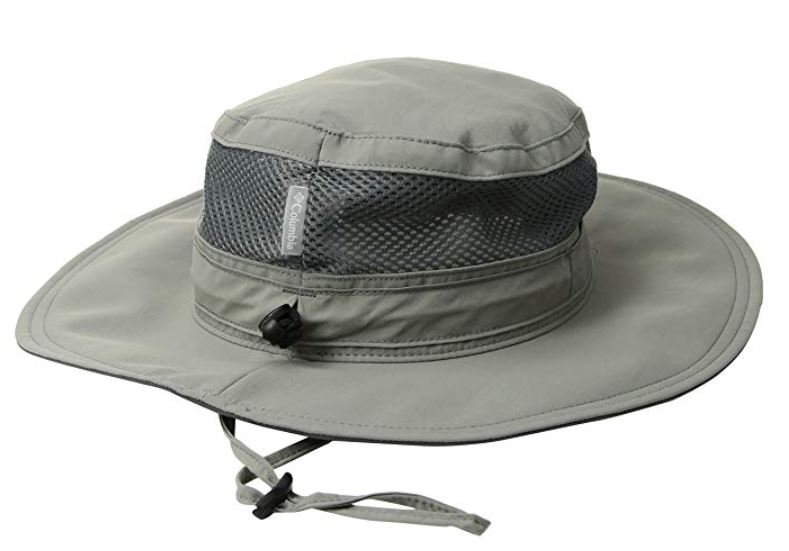 Our top pick for a few reasons. It's made with 100% nylon, so it's designed to be comfortable and fit well. The wide brim offers extra coverage for your face and neck. As someone who burns easily, this is a necessity. There's also one impressive feature that puts it ahead of many others: this hat offers UPF50 sun protection and blocks out 98% of harmful UVA and UVB rays! It comes with a built-in sweatband and a sweat-wicking mesh vent panel so you stay dry and comfortable while you fish, and an adjustable chinstrap so you can tighten it and keep the same level of protection in the wind and rain.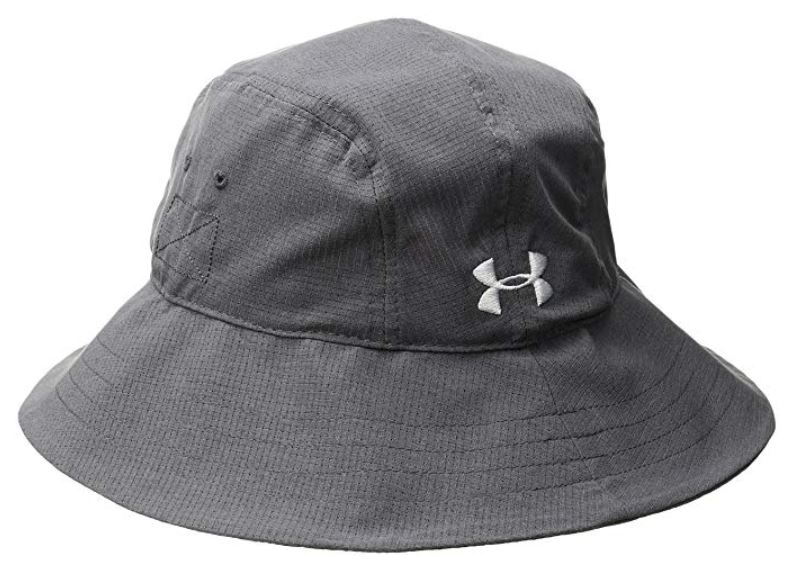 This hat is a little stiffer than many other fishing hat options, which tend to be floppy, so it'll fit more securely on your head. It's made of durable and lightweight polyester, which is important for staying cool out in the sun. This one also comes with a sweatband to keep moisture out of your eyes and off of your face and neck, a draw-cord so you can tighten it up for a better fit, and the seam is designed to be smooth so it doesn't chafe your skin. If you're someone who loves other outdoor activities in addition to fishing, this hat is also great for kayaking and climbing.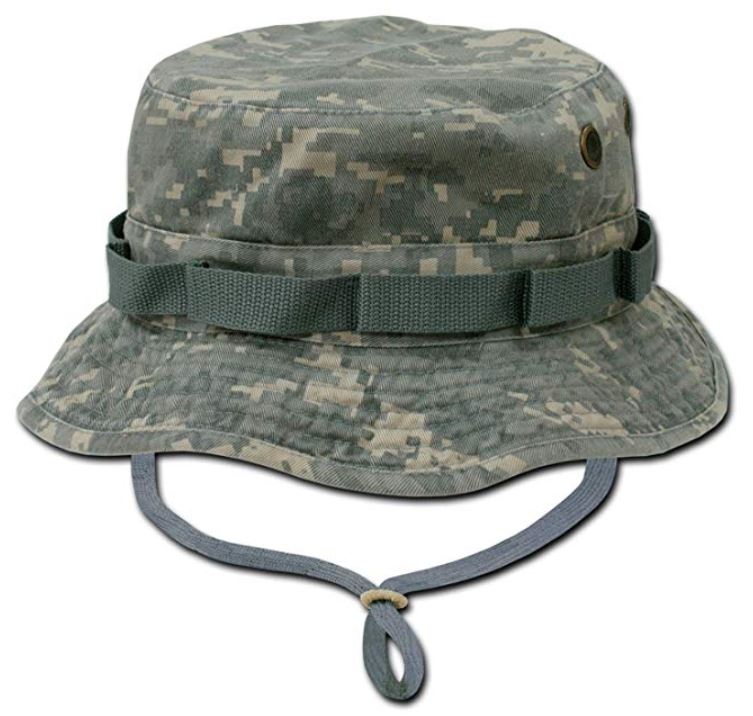 Arguably the most visually appealing on the list and has the highest number of color options to choose from, so if that's important to you, check this one out. The blend of 45% polyester and 55% cotton makes it very comfortable and functional. It comes with metal side mesh vents that wick away moisture and keep you cool, a chin strap with a cord lock so it doesn't shift around, and the floppy brim and flat top make it ideal for folding up and sticking in a pocket when you're done.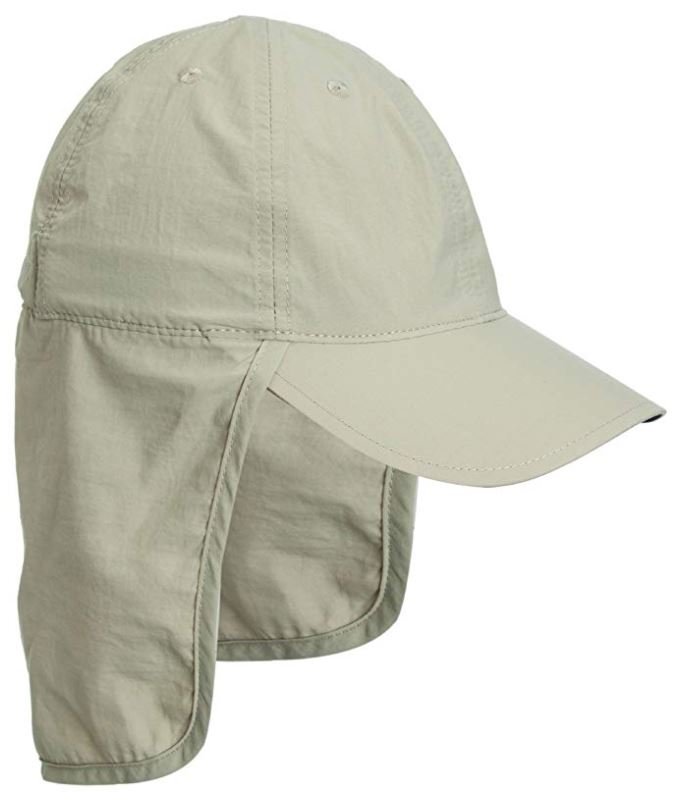 Designed differently than the others, but it's unique and useful enough to make it to the top five. This hat essentially looks like a baseball cap with a square shade hanging down from the back. It's made of nylon and provides excellent sun protection with its Omni-shade UPF50 design. It has an adjustable cord for a better fit, and built-in sweatband and mesh vents wick moisture and keep you cool. The extension that covers your neck is great for extra sun, sand, wind, and bug protection. You can switch to another style hat with the snap of two buttons, so you're pretty much getting two hats for the price of one.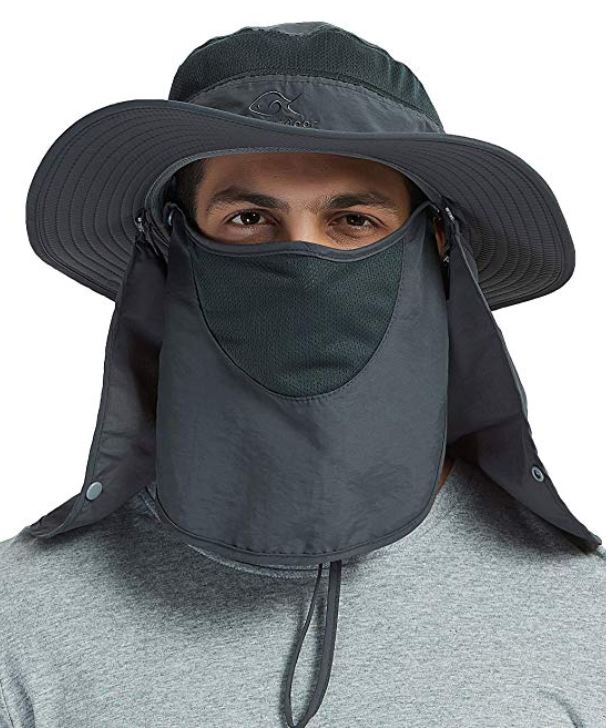 Designed similarly to Columbia's Schooner, but offers the highest level of protection of any on the list. It uses the same UPF50 protection to filter out 98% of UVA/UVB rays, and also has a wider brim, and removable neck flaps and face mask so it provides excellent 360° protection. It's made of nylon, so it's lightweight, dries quickly, and is collapsible. There are mesh panels that allow cool air in to keep you dry, and the drawstring and chinstraps allow you to adjust to the perfect fit. This hat is ideal if you're in need of heavy-duty protection for any outdoor activity.
Now that we've gone through some of the best options available, it's time to choose one and hit the water! They're all great in their own ways, so you just need to decide which one best suits your needs. Whichever you decide on, it will still be one of the best on the market, and will offer high-level protection so you can enjoy a care-free day of fishing and not worrying about sun damage, bugs, rain, or wind.