My story may not be all that unique. As a teenager, I spent as many hours fishing as I could get away with. I would often borrow a 12 ft flat-bottom boat I could carry in the bed of my truck so I could fish a series of local lakes. I inherited a 14 ft V-hull boat that was older than I am and has more leaks than a colander, but I used it regardless until it became just too dangerous.
I needed a new boat. Period.
After years of watching friends go out and buy boats of their own, my constant begging and pleading finally paid off and my wife caved. Her only requirements were that I find something extremely well-built, and it MUST be affordable. After extensive research, I found the boat that checked all prerequisites on my list – the Alumacraft Escape 165CS.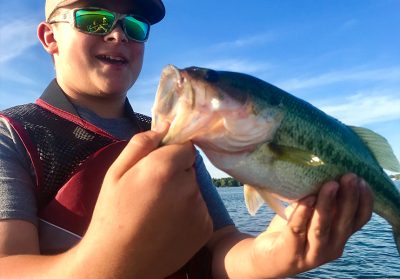 The Alumacraft Escape 165CS was everything I was looking for, and more! It measures 16.5 feet long with a side console, rod locker, live well and lots of storage. There are plenty of factory options available, including motors, electronics and accessories. I wanted to keep my options simple, and luckily my local dealer had the boat I wanted in stock. It cost just under $17,000 with the boat, motor and trailer, including taxes and licensing. Compared to other boats from other brands, the Alumacraft Escape 165CS is a great buy!
Why Alumacraft?
One of the main factors for choosing an Alumacraft was quality. The brand has an outstanding reputation, and when I started looking at what goes into the boat building process, I understood why. For starters, Alumacraft only builds aluminum fishing boats. Being based in Minnesota, they know what it takes to build a boat that can handle rough conditions, and it shows.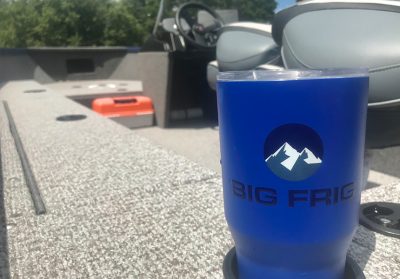 Stability was also an important factor. We have two kids and often take them fishing with us, so the boat needs to be very stable on the water.
The only thing I wish I had bought with the Escape 165CS is a third boat seat. I can always add one, as there are some smoking deals online, but it won't exactly match the ones on the boat now.
Added bonus: There are plenty of cupholders located nearly everywhere you look that perfect for a Big Frig 30oz Tumbler.
What motor do I run?
Glad you asked. See, Alumacraft offers a couple of brand options, but the most economical move would be to use the parent company-owned Evinrude.
Evinrude is part of BRP, the Canadian company that owns, among other things, Can-Am, Sea-Doo and Ski-Doo. The company bought Alumacraft last year and has largely allowed Alumacraft to just remain Alumacraft – Good thinking!
With a big push regarding emissions control, many outboard companies are moving to a four-stroke motor. Evinrude, in the meantime, developed a cleaner-burning two-stroke E-TEC motor that is more efficient than many four strokes, and superbly quiet. I wanted an E-TEC 40 horsepower motor for my Escape 165CS, and have been very happy with it. Unlike many two-strokes, there was no break-in time, and being a simpler two-stroke, there is less worry about valves and the many moving parts of a four-stroke. It pushes my Escape up on plane quickly, even when the boat is fully loaded down, it scoots us across the water just fine. The E-TEC motor runs well on regular pump gas and is oil injected with Evinrude XD50 synthetic-blend oil.
The Escape 165CS is pre-wired for a mounted trolling motor, and you can order several options of Minn Kota motors right from the factory. My boat did not come with one installed, but that was not a huge concern. I wanted to get used to the boat before I added a motor up front anyways, and I'll most likely add a Minn Kota PowerDrive unit down the road. For now, I'm running an Endura 55lb thrust transom mount I stole off my old duck hunting boat.
What Electronics Work Well with the Escape 165CS?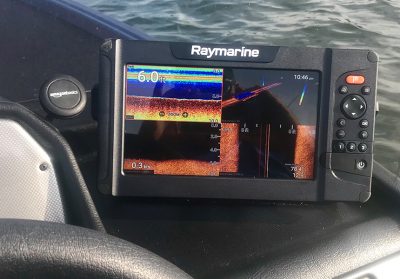 I veered from the Alumacraft options of Hummingbird and Lowrance fish finders for the Escape 165CS. Nothing wrong with them, but I wanted to mount something specific to my boat. I use a Raymarine Element 9HV with their HV-100 transducer. This unit has downvision and sidevision sonar along with Raymarine RealVision 3-D sonar, all with amazing clarity that gives me a great view of what's under my Alumacraft Escape 165CS. There are several viewing options that make this unit extremely user friendly and helps you pinpoint the fish.
The Raymarine Element 9HV also has full GPS, and I got both Raymarine's Lighthouse NC2 charts and Navonics + U.S. and Canada charts. These charts give you detailed maps of most major bodies of water and coastline in North America, along with hot spots and tips on where to fish for specific species. It has a big screen and it takes up a sizeable chunk of the dash, but it really is amazing. I could not be happier, or recommend it more.
How Do I Buy a New Boat?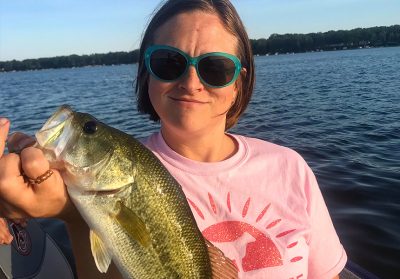 There are two ways to buy a boat; One is to go through the manufacturer's website and select the boat and options you want. You can often have this sent to a local dealer and they will walk you through the final steps to place the order. Your boat is then built at the factory and shipped to the dealer, who will do the final prep work so you can pick it up. If you're looking to get exactly what you want, this is the way to go. Just know it will take a few months to actually get your boat.
The second way to get a new boat is to go to your local dealer – or boat show – and buy one right off the lot. There are two major advantages to doing this. One, you don't have to wait for it to be built, so there is immediate satisfaction. And two, you can often score a little better deal than if you order one, especially if it's new old stock. The dealer I went to, Lakeside Marine, had some smoking deals on boats, especially some new pontoon boats from a few years back.
If you're ready to buy, and like to hunt down the best deals, buying off the lot is the way to go in my opinion.
Happy boating and good fishing!