The Honor Guard is the flagship product of Georgia-based firearm company, Honor Defense. At this point in time, three interpretations of the Honor Guard model are offered, all in 9mm. Lately I've been testing out their standard model, a subcompact that's jazzed up with ready-to-order custom features and colors.
Since the company's debut just a few years ago, it's risen from a newcomer among what founder/CEO Gary Ramey says are 597 semiauto pistol makers in the United States to a spot in the top 50 in 2018—a substantial accomplishment for a startup producer considering the competition, ranging from a couple publicly-traded companies to boutique producers such as Wilson Combat and Cabot Guns.
Lately, I've had my hands on an Honor Guard pistol built around the company's standard 3.2-inch barrel. A 3.8-inch "long slide" is available too. The test firearm sports Honor Defense's signature Old Glory Cerakote finish, a battleship gray frame, and standard grip. A no-rear-bulge grip which the company calls 1911 style is optional. This is not to imply there are panels on the polymer grip, just a straight profile on the backstrap. There is no manual safety on the test gun, though an ambi safety is optional. The test gun has concealment-friendly shaped polymer front and rear sights, the rear sight being a driftable dot design and the front being fiber optic. Tritium sights are optional, as is a laser attachment.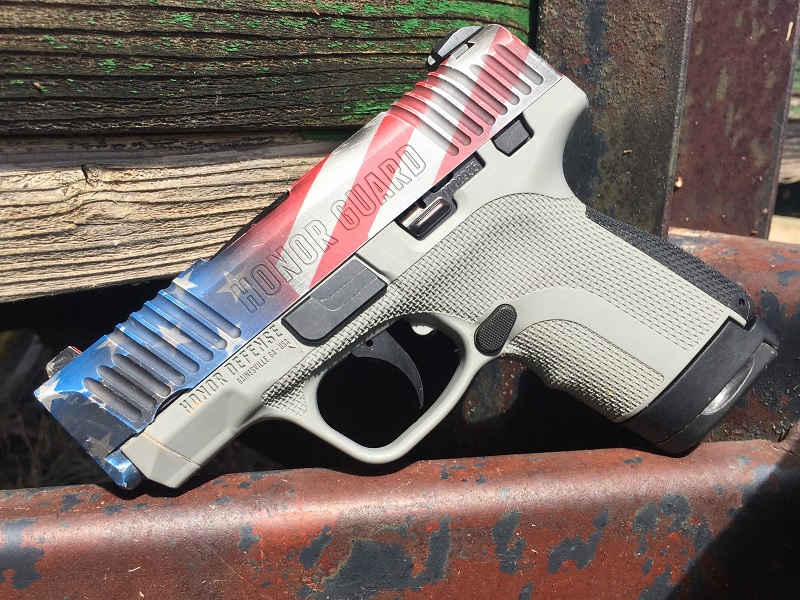 The Honor Guard's slide is unique not only for its bold lettering, which declares the model name, but also for distinctive wraparound cocking serrations fore and aft of the ejection port. Regardless of the chosen slide finish, the distinctive molding of the slide goes far to make the Honor Guard distinctly different from another subcompact that shares a similar profile, the M&P Shield.
Like the Shield and most other polymer-lower handguns, the Honor Guard is striker-fired. This carry-size gun is shipped with both a seven- and eight-round magazine. Extra magazines are available to order.
The magazine release and optional manual safety can be converted for left-hand operation. The slide stop is small, low-profile, and all-ambi, all the time.
Internally, the Honor Guard makes much use of stainless steel. Field stripping, cleaning, and reassembly share the straightforward design most people expect of the striker-fired genre, with the small exception that the recoil spring guide rod must be set with the flat side just so in order to reattach the slide. Once this is known, the process is easy and fast.
Anyone who's ever used a spoon to pry too-cold ice cream from the container knows that it's all too easy to unintentionally bend stainless steel. This test began with such an experience, when I managed to allow the Honor Guard to fall through a gap in the shelf of my gun safe. It landed on the raised steel rail around the door. While the Old Glory finish held up great to this unintended abuse, the impact bent a tab on the internal aspect of the slide lock slightly, but sufficiently to make the slide lock tend to stay in place. Releasing it required not only rearward pressure on the slide, but some downward pressure on the slide lock.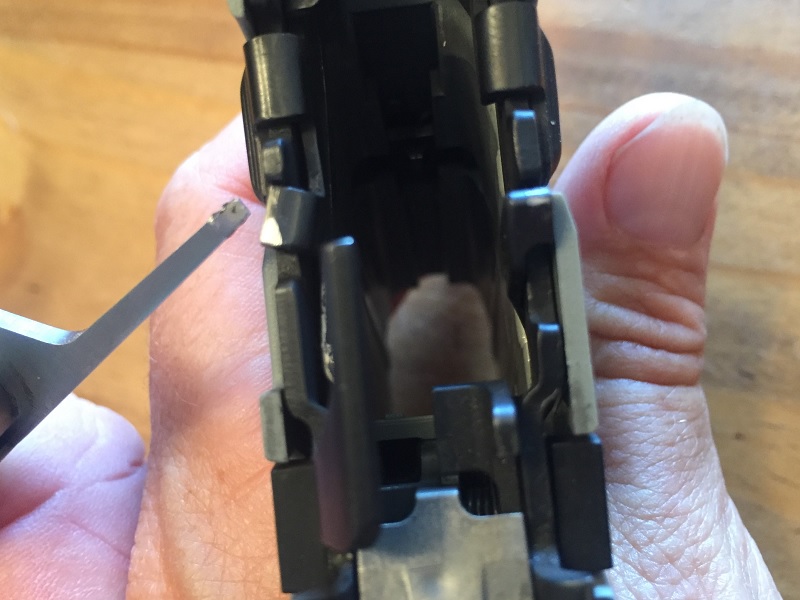 To my amazement, the Honor Guard still cycled ammunition just fine with this injury, though manual operation of the slide had become a chore. I made a call to the company, and was soon in direct contact with Mr. Ramey himself. Believe me when I say, gun writers get no standard special privileges when contacting management about product problems! In fact, we get ignored perhaps more often than regular customers, presumably in an attempt to avoid delving into negative product press.
But Gary Ramey is no average gun company CEO. He was quick to explain how every Honor Guard pistol comes with a lifetime parts guarantee, and stood behind this policy by shipping a replacement part to me in just a couple days. "We replace any part that breaks," he explained while adding that this was only the fourth slide lock to require replacement in 14,000 of his pistols currently in consumer hands. There's nothing quite like the personal touch.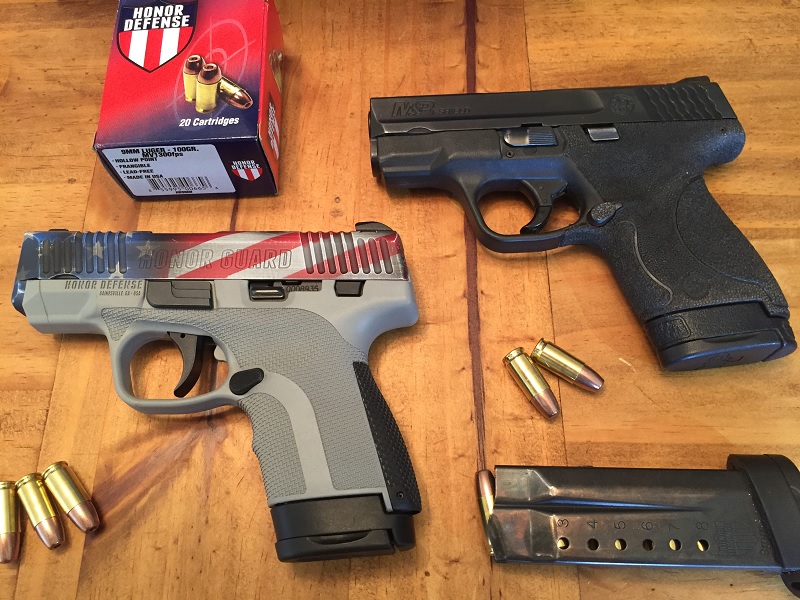 Ramey also shared a video link showing how to remove the chassis, which includes the slide lock. A single pin, located just above and forward of the trigger, easily released the entire assembly. Replacing the part was easy; re-inserting the pin took about 15 minutes of trial and error. All in all, it was a lot easier than sending the gun back or to a local armorer.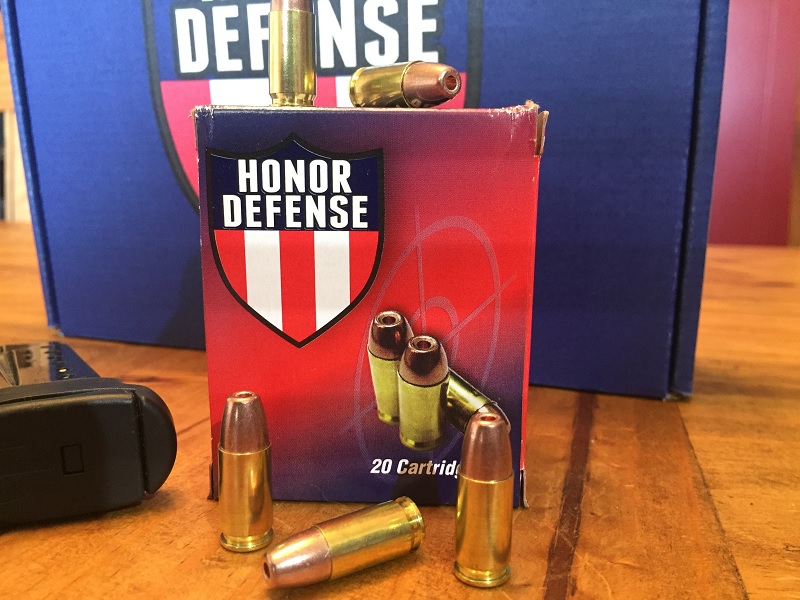 On the second test day, a variety of ammunition was run through the gun, including Honor Defense's house-brand frangible, manufactured by Sinterfire. A bit of sleuthing based on prior knowledge of this unique hollow point – formed of tin and copper – revealed it's the same load that had been branded with Team Never Quit, headlined by Marcus Luttrell of "Lone Survivor" fame. I believe this to be a great load for civilian self-defense.
But enough about this writer's favorite carry load. The gun ran everything else, from Federal Hydra-Shok Deep 135 grain, to Speer Gold Dot +P 124 grain (yes, the barrel is +P rated), to Sig Sauer Elite Performance 115 grain FMJ, to Sig's M17 124 grain +P FMJ, to Hornady 115 Grain FTX Critical Defense. Not one malfunction was experienced in approximately 170 rounds fired.
Honor Defense rates the trigger weight of this pistol as 7.0 pounds. On a 10-pull sample using a Lyman trigger gauge, the average weight for the test gun is 6.3 pounds, with only two pulls coming in at 7.0 or more pounds. The trigger feels much better in live fire than dry for some reason. There is travel typical of the platform, which is to say about 0.5 inches. There is a grainy feeling to the roll once the wall is reached, and reset is on the subtle side, but consistent and easy to become used to with practice. I am sure the folks at Honor Defense tire of the comparisons between their pistol and the Shield, but the trigger to me is reminiscent of the first generation of Shield pistols—which is to say, an appropriate trigger for concealed carry and not too fancy for a beginner shooter. The owner's manual makes a point of instructing the user not to employ trigger reset. This, in my opinion as an instructor, is not for the owner's manual to decide. Disengaging from the trigger during multiple-shot sequences, as implied in the manual, is usually appropriate for new shooters or people who lack master of the motor skills necessary to run a trigger with precision. This is not to say anyone is excused from basic finger discipline when handling a firearm.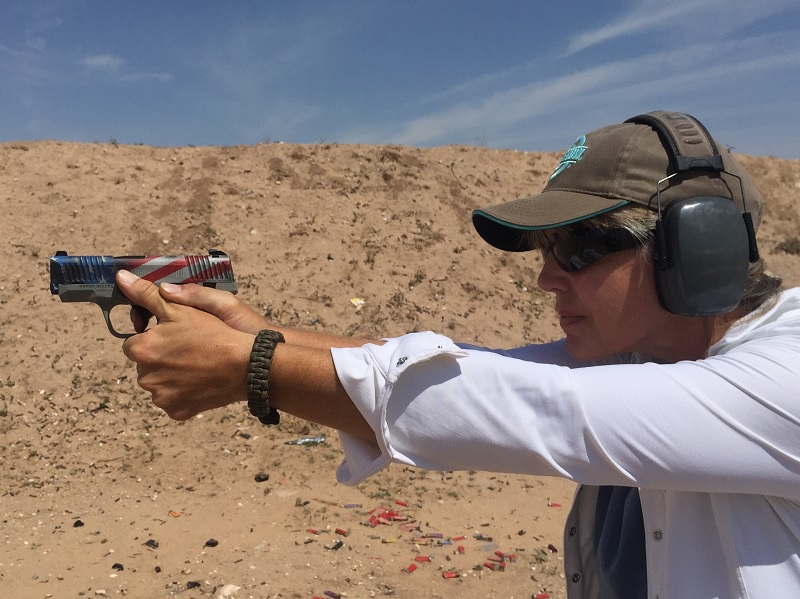 The slab-sided profile of the Honor Guard makes it concealment-friendly, at least in this shorter-barrel configuration. Its grip angle borders on 90 degrees in relation to the slide, offering excellent recoil resistance when handled correctly. I have found many who prefer this angle and feel the gun handles more naturally with it. I did find the relatively short grip a bit of an obstacle to dropping the magazine, as the meat of my hand tends to block it from falling—but that is true of any subcompact. The eight-round version of the magazine is an improvement upon the design of that employed by the Shield in that it doesn't have an annoying collar between the baseplate and grip base that slides up where it shouldn't go. It does have a collar, just no sliding. This to me is a significant improvement in comparison to the Shield's mags.
Ramey made a point of saying the slide lock is not made for releasing the slide; the slide is designed to be run with the operator's non-firing hand. While I could send the slide home with some practice on the somewhat tucked-in slide lock, the slide does not consistently go into battery with this method. Better to take the extra fraction of a second and truly rack the side with the recoil spring at full compression than to risk potential for a malfunction.
Since Honor Defense has detailed ammunition accuracy data on its website, including comparisons to other popular carry guns, I did not dedicate ammo to an accuracy test this time around, but instead enjoyed seeing if I could make the gun malfunction by loading different brands and types of ammo in the same mag. As a personal protection gun should, it didn't seem to care what ammo is in it. Incidentally, the Honor Guard logged better accuracy than other pistols in the factory test.
This gun has been around a few years, and Honor Defense has shown integrity in admitting and eliminating an important bug. When drop testing, beyond the bounds of US Army standards, became all the rage among gun reviewers, the Honor Guard was found to be lacking. Honor Defense did the right but financially risky thing in performing free upgrades as well as making all newly produced guns truly drop safe from even the worst abuses.
If you like the M&P Shield but find it boring, or just want to know the company you purchase from really does stand behind its warranty, the Honor Guard may be the semi-custom 9mm EDC gun of your dreams. If supporting an all-American business is your interest, Honor Defense guns and now, ammunition, are a great option. The reliability box is checked with this gun, making it a valid choice for concealed carry. Knowing that customer service from Honor Defense exceeds the industry standard easily makes the Honor Defense a recommended pick.
Ordering direct, the base price of an Honor Guard is $299.  As pictured, (including an extra eight-round mag) the price is $464. These figures do not include shipping or transfer fees.
Specifications: Honor Guard 9mm pistol (provided by Honor Defense)