Outfitting a Canik TP9 Elite Combat: My Frankenholster Warrior Series
Eve Flanigan 09.09.19

A while back, I reviewed the new Canik-branded, Salient Arms hybrid 9mm pistol, the TP9 Elite Combat. That pistol came into my life when my first-gen TP9 SA became very worn out. Though it still works and rides with me as a backup, the Elite Combat has been my go-to ever since.
Not only does a great pistol deserve a great holster, a hard-to-fit range rat who consumes around 400 rounds of 9mm monthly needs one too. I have two drop, offset-attachment holsters by Blade-Tech that work well for other handguns, but Blade-Tech, along with most other major holster companies, hasn't caught up yet with the rising popularity of Canik pistols. The Dara brand holster that works quite well for the TP9 SA, though I find the drop slightly longer than optimal, isn't a fit for the Elite Combat. I was in a holster quandary.
For a time, I attached a Streamlight TLR-100 to the pistol and carried it in a Blackhawk Omnivore, an innovative Level 2 holster that's been a lifesaver on the range when students show up with a mid- or full-size semiauto and a holster that's not up to par for tactical training. The catch is, my copy of that holster is a light-bearing one, and the Streamlight rotates among other guns for other jobs. The Elite Combat really needed a holster of its very own.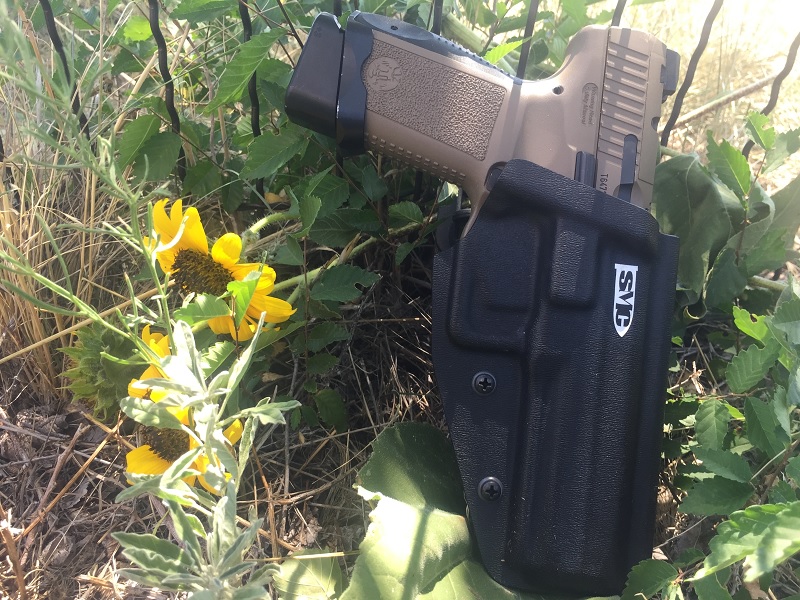 I only had to go as far as the Canik Fanatik Facebook page to find a remedy. A wealth of holster information for Caniks is easily found or volunteered there, often by the company reps themselves. Although a couple other companies are making Canik holsters, Red X Gear and Smoky Mountain Concealment are quite active on this forum and, when I reached out to the latter in a private message asking for information, the response came in minutes, and not just a generic reply, but an exchange of product photos, questions, and answers. Thus begins the saga of what I call the Frankenholster (after the impressive monster, not the disgraced former US Senator).
The Smoky Mountain Concealment rep has stated in group discussions that bending Kydex for Caniks is the backbone of their business. So I was confident the holster would be a great fit. But belt attachments are a bit of a nemesis for me, and adding them to a custom order raises the base price of $64.95 significantly. I ordered Smoky Mountain's basic black "Warrior" holster with MOLLE attachments, suppressing the desire to spring for one of the more eye-catching colors or patterns at a higher price.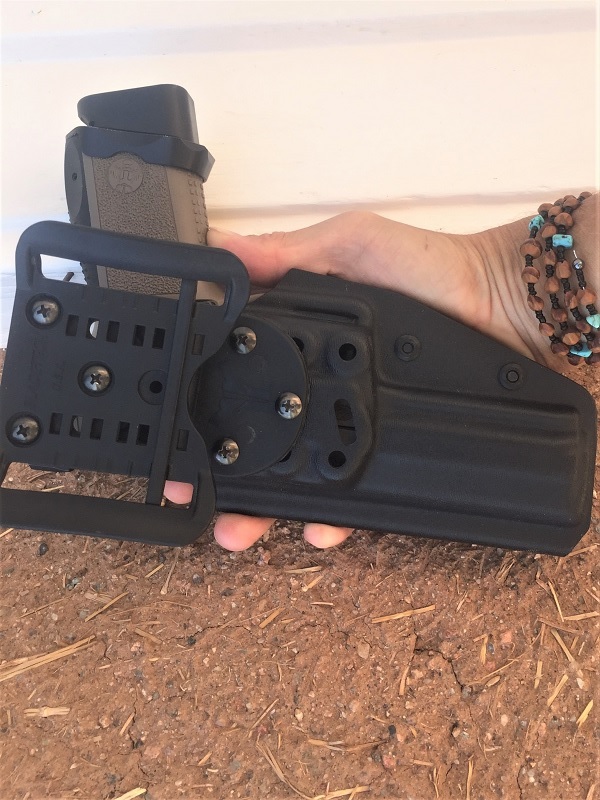 The holster is everything promised. It has a generous sight channel to accommodate whatever sights you might want. I've used it with a red dot sight and the holster doesn't interfere. It's not any bulkier than other holsters, in fact the muzzle end is tapered. Right height and retention are adjustable, though I've not touched either as I found them to my liking from day one.
Lacing the MOLLE straps into my belt and securing them on the holster back was surprisingly easy, and once set up it's fast to thread a belt through the straps. I've not tested the holster on my plate carrier as I so often demo skills from the hip holster and my gun retention defensive training centers around a strong-side holster, so that's where it's comfortable. But for those who like wearing a pistol on their chest, it could go there with this holster.
Based on my conversation with the rep (and since then I see their website has added clarifying information), I knew the belt loop/drop/offset, three-screw attachment from the Blade-Tech that once carried a 45 ACP 1911 would fit this new holster. Fifteen minutes of careful screw loosening, storing, and Loc-Titing later, I finally had what I thought would be the perfect rig for my Elite Combat.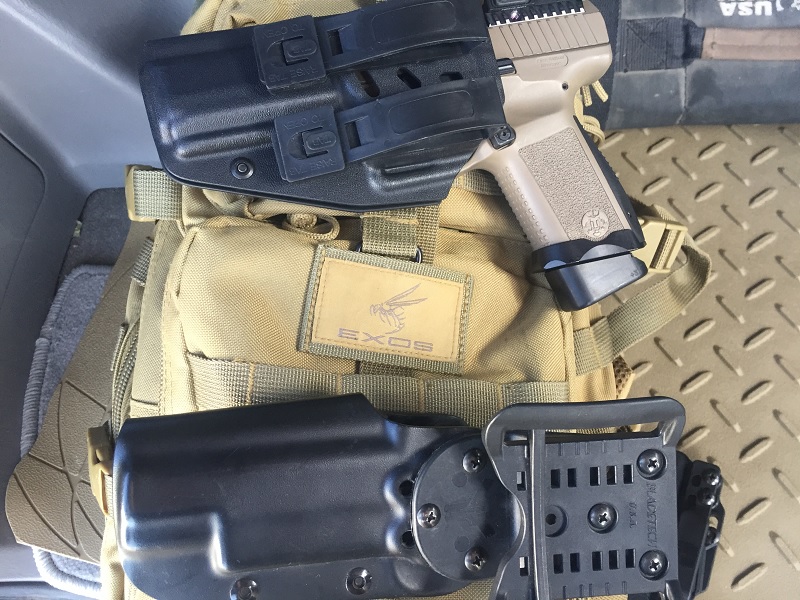 I put it on and inserted the gun. As I gripped, I felt my thumb fold up around some Kydex structure on the body-facing side. Not a good feeling. But to my surprise, drawing wasn't bad at all—in fact, it's really smooth. The Warrior holster is exactly the sturdy, non-bulky holster I wanted for the Elite Combat. With the drop and offset attachment, it rides at just the right place to make for fast draws while staying clear of clothing.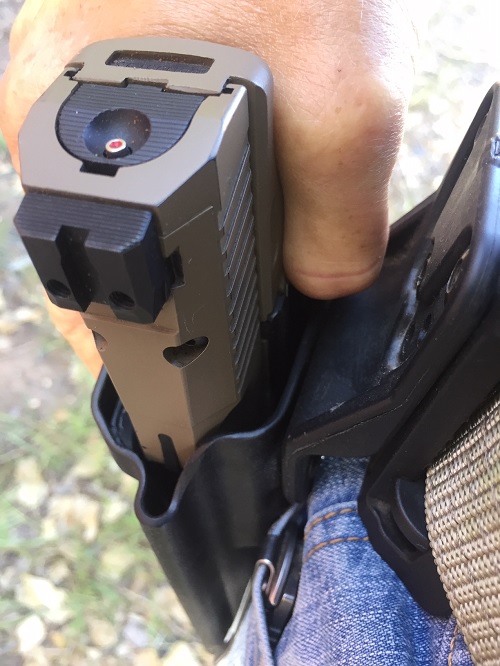 With a base price of $64.95, and with numerous custom options available, Smoky Mountain Concealment hits the mark with the Warrior Series holster. They're definitely meeting a need in the market for Canik pistol holsters. Especially for people on the short end of the height spectrum, using a modest (1.5 to 2.0 inches) drop attachment makes drawing and re-holstering a more natural act compared to having to establish grip just south of the armpit. And for shooters with a waist, an offset puts the gun in even easier reach, making it safer to manage especially when wearing outer garments.