Walker's Xcel 100 Digital Electronic Earpro: All-Around Hearing Solution
Eve Flanigan 09.16.19

It was time to replace my old, cracked, head-abrading protective ear protection. The search for a replacement set had three criteria: above-normal decibel protection compared to other muffs, electronic enhancement of conversation, and relative comfort for all-day wear. After an extensive web search and an encounter with a pair of "ears" that was so uncomfortable I returned them, the search finally ended with Walker's Xcel 100 digital electronic earpro.
Walker's is emerging as one of the household names in hearing protection for shooting. These muffs are a among the best-featured I found in the under-$300 category.
For starters, they're not in the way. I can still get a cheek weld or rest my cheek on my bicep in rollover prone, thanks to the slim, straight-sided outer case. And hey, can we all just admit here that everyone prefers not casting a shadow that looks like there are two tennis balls glued to their ears?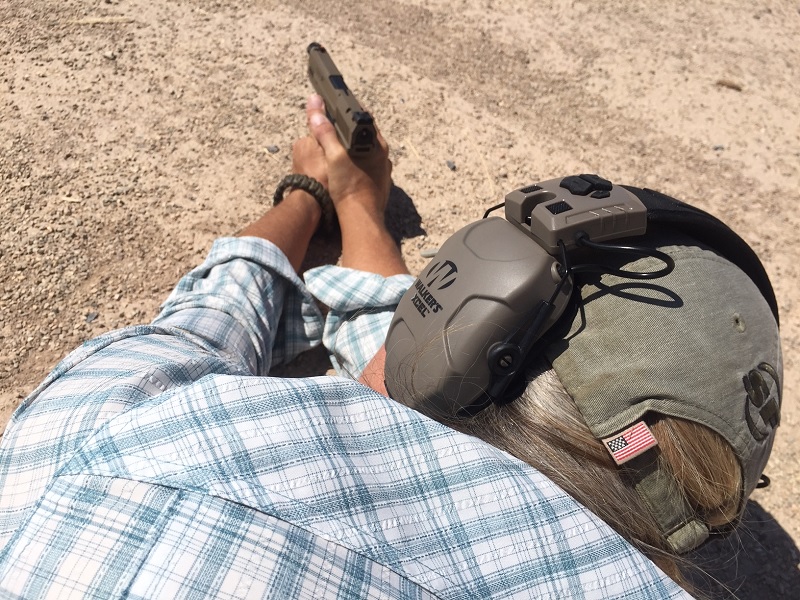 The electronics on this product are full-featured, and shooting-specific. Multi-directional microphones pick up sound with great accuracy—so much, in fact, that normal conversation is amplified. But this powerful feature would be fatiguing without some adjustability. The Xcel 100 delivers. Not only is the volume of what the wearer hears adjustable; there are also settings to focus on a choice of:
1) Universal – to make everything that's not a blast sound louder
2) Voice clarity
3) High frequency—to amplify the ring of steel on those long-range hits
4) Power boost mode, for general increased volume of non-damaging sounds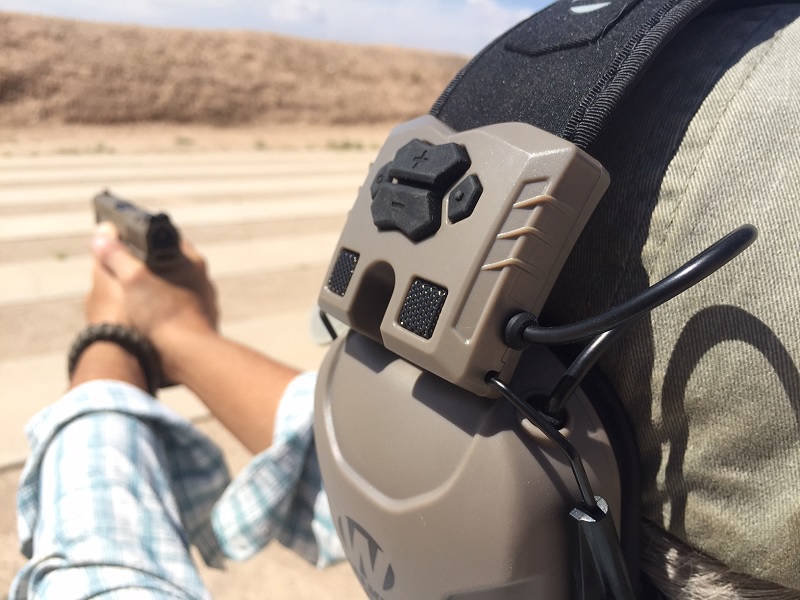 As a frequent headache sufferer, I didn't take well to another brand's electronic muffs that painfully squeezed my temporomandibular joint. By moving much of the electronics to the headband, instead of the ear cups, Walker's innovated the way electronic muffs fit and feel. Having most of that weight a little higher delays the onset of earpro fatigue.
The muffs are shipped with two AA batteries, and these occupy one of the ear cups. Unlike other e-muffs, the controls for the Xcel 100 are on the headband. There are four:  on/off, hearing mode, volume up; volume down. Some have complained that the controls are hard to operate during wear; I haven't found this to be true with a little thought dedicated to which is which. The controls are easy to tell apart by tactile contact. A female voice informs the wearer when modes are being changed, saving the wearer from having to guess or test these muffs while working on more important things.
I have found voice clarity mode, with the hearing volume at the lower end of the range, is quite effective for amplifying conversations during class while minimizing wind noise.  Wind roar is never pleasant, and these muffs do amplify it slightly, but it's still less fatiguing than having no earpro on during a very windy day. There is no annoying crackle at the beginning or end of conversations as with some electronic muffs.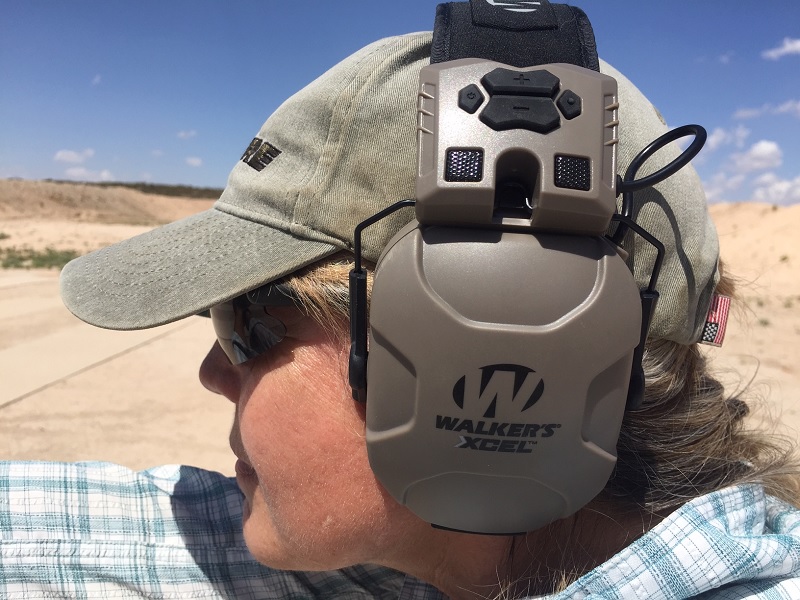 Of the many features this set offers, the one I like best is the automatic shutoff and warning thereof. Shutoff can be set to happen after two, four, or six hours of powering the unit on. When the time for shutoff is near, one minute to be exact, the subtle voice issues a notification. A simple push of any butt on the unit resets it for a new time cycle. This is a great battery saver! Turning the unit off manually requires holding down the power button for about three seconds. As with other mode changes, a small tone notifies the user that it's powering off.
To make a good thing better, these muffs are superior to many others of their kind where sound protection is concerned. With a noise reduction rating of 26 decibels, they offer better protection for the precious sense of hearing than many. Did I mention the matte, desert tan color goes with everything?
If you need Bluetooth, there's a Bluetooth version of these muffs too, the Xcel 500BT.
These muffs have been a boon to my work on the range as a student and teacher, and I hope they continue to be offered by Walker's, a Texas company that guarantees these muffs with a mail-in warranty. If I have any complaint, it's that the warranty process is needs an online option.
Most outlets have Walker's Xcel 100 Digital Electronic ear muffs for just over $100. I found a great deal at earplugstore.com; with shipping the muffs were $91.00. Definitely an item to put on any shooter's gift list!