New TBAC Bipod from Thunder Beast Arms Corp.
Cory Mince 09.27.19

Bipods are now considered an essential piece of kit in precision rifle shooting, but were once considered an instrument of Voodoo that would inexplicably "throw off your shot". There were also claims that bipods would contribute to the erosion of the shooters foundation of marksmanship. Such an effective piece of gear was seen as a crutch for those who either weren't smart enough to form a saddle out of their buttpack, or were not skilled enough to shoot from the prone unsupported position.
The importance of bipods is now viewed in appropriate context which is reflected in current innovation. There are numerous new manufacturers of bipods who offer products with unprecedented stability, durability, and range of adjustment. 
Thunder Beast Arms is anything but new to the precision rifle world where they have a solid track record of innovative suppressor designs and have now introduced a new bipod. 
First, I'd like to review the specs, so we're all on the same page: (per Thunder Beast Arms)
TBAC Bipod Specs:
Materials:                                Stainless, aluminum, titanium
Finishes:                                 ISONITE QPQ Nitride; Type III hardcoat; PVD (respectively)
Height:                                     6.5" – 9" at 90 degrees; 5.1" – 6.9" at 45 degrees
Height (with extensions):        9.5" – 12" at 90 degrees; 7.25" – 9" at 45 degrees
Weight:                                    14.5 oz
Best Use:                                Field shooting up to 50 BMG
Price:                                       $395
Extras:                                    Leg extensions, Carbide spike feet
Warranty:                                TBAC Limited Lifetime Warranty
Support and Stability:
The TBAC bipod has a wider stance than most bipods, which increases control of the roll axis of the rifle. We all know the importance of a level rifle while shooting at distance and the TBAC offers the shooter the ability to quickly and decisively level their rifle with tension lever on the back of the bipod. Simply loosen the lever, adjust rifle to level, tighten lever, and you'll be solid from shot to shot.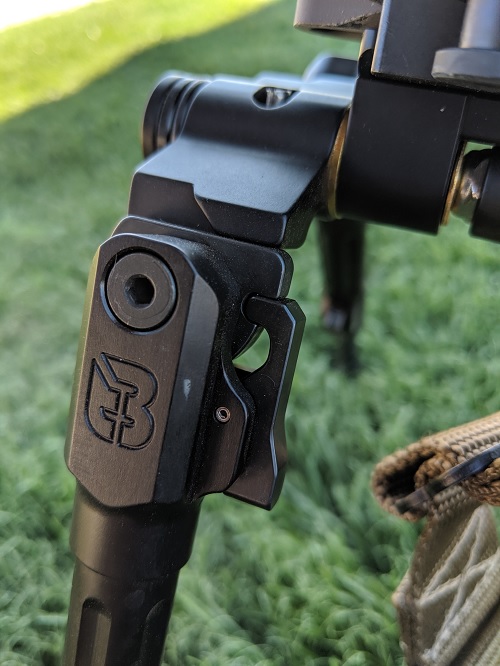 Generally speaking, the more moving pieces a system has, the more play it has and the less stable it is. With all the features of the TBAC bipod (removable feet, spring-loaded leg extensions, QD attachment, two different leg pitch adjustments), one might think that it may be a bit sloppy, especially at full extension, but it certainly is not. 
Attachment Method:
It used to be the default attachment method for bipods was by way of a sling swivel. As technology has progressed and bipod use has become much more common, a significant number of bipods now use a picatinny attachment. The TBAC bipod has opted to use the American Defense Manufacturing quick release picatinny system which is tried and true for not only accessories like bipods, but optics as well, which should give the shooter a great deal of confidence in the stability of the attachment.   
Range of Adjustment:
The TBAC bipod has a usable range of adjustment, and the specifics are stated in the specs above. Like pretty much every other field shooting specific bipods, the legs can be articulated from 0 degrees (parallel to the rifle barrel) to 90 degrees (perpendicular to the barrel). The TBAC also features a 45 degree position that allows the shooter to bring their platform a bit lower to the deck.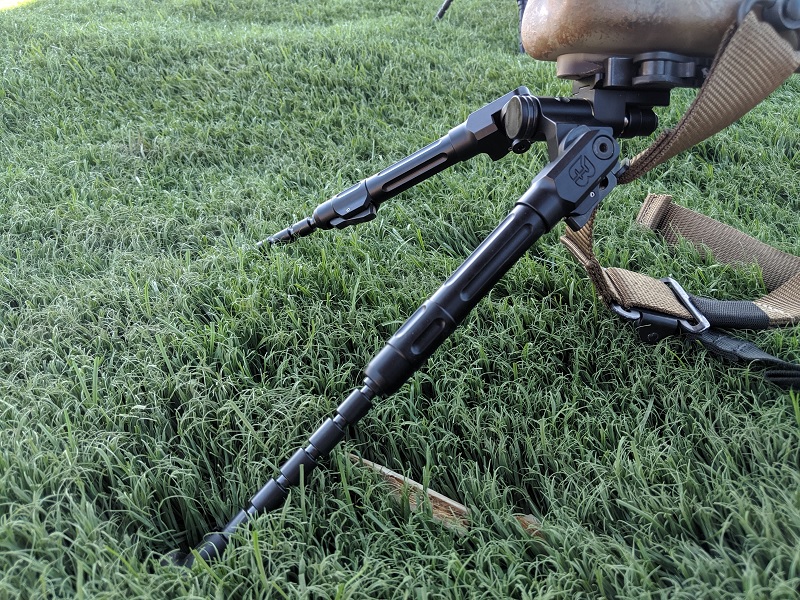 This is a nice feature, but there is a bit of an issue…
Deployment:
Ease and speed of deployment and adjustment of bipods is critical for success in precision rifle match shooting, and any kind of shooting where speed is of the essence. It is for this reason that most of my rifles are outfitted with Harris bipods. Though they lack the range of adjustability of some more modern bipod options they are quick and easy to deploy, retract, and adjust.
With the exception of extending the legs on the TBAC bipod, all of the leg adjustments were really quite stiff. When making my first attempt to depress the button for the 45 degree adjustment, I thought I was doing something wrong. I was pushing the button pretty hard, and it wouldn't depress. Finally, after using two hands, I was able to get the button to depress and the leg to move. Though this didn't happen every time I tried adjusting the leg, it did happen quite often, and it was constantly on my mind when using these bipods.  
Robustness:
One look at the TBAC bipods and its obvious how stout these things are. They appear to be designed to shrug off every beating a shooter could dish out and then ask for more. Although the bipods are linebacker-esque in appearance, they are actually quite light weighing in at less than a pound, which I was surprised by. I have every confidence that the TBAC bipods will serve you faithfully beyond the life of the rifle(s) you put them on.
Accessories:
So far the accessories are limited to leg extensions and spiked feet, both of which are a nice addition. Changing out the feet is incredibly quick and easy, and the leg extensions add a good amount of height. One accessory I would like to see added is an ARCA conversion for the mount. Along with numerous other precision shooters, I'm moving over most of my rifles to a full length ARCA base, and it would be nice to see Thunder Beast on top of that trend.
Summary and Conclusion:
I think the TBAC bipod has a lot to offer most shooters: it's super tough, has a good range of adjustability, it's lightweight and super stable. If you primarily shoot from the prone, or off a bench, I think this could be a good option for you.