Cadex Defence Precision Rifle – CDX-30 Guardian Lite
Eve Flanigan 10.31.19

Cadex Defence, based in Quebec, Canada, has been on the move to reach the civilian market with its chassis-based precision rifles. Additionally, the company now has a Phoenix location. Recently I had the opportunity to take one of its competition/sniper rifles for a spin over the course of a couple weeks. This rifle, called the CDX-30 Guardian Lite, is newsworthy to say the least.
Both hunters and long-range shooting enthusiasts—including extreme long-range shooters–can find a rifle from Cadex that will meet their need for absolute precision. The Guardian Lite is oriented toward competition and law enforcement shooters, with the "Lite" part of the name being indicative of its skeletonized structure if not weight. While this platform is perfectly capable of taking medium and large game, its 13.7 pounds, sans optic and Cadex's tailor-made muzzle brake.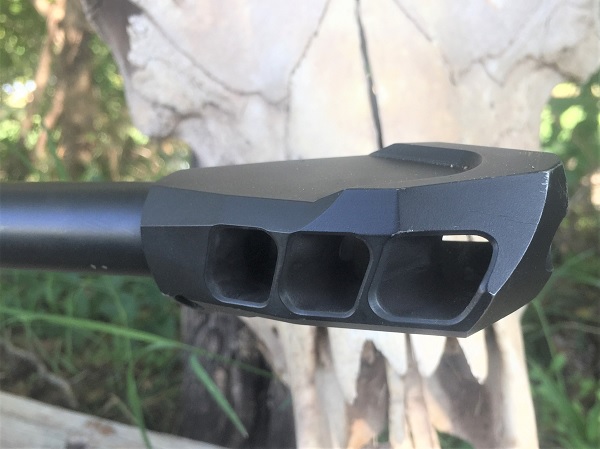 Looking at the Guardian from back to front, first up is an almost endlessly adjustable stock. Adjustments don't require tools. Not only can the expected length of pull and cheek rest height be changed; the recoil pad is easily moved up or down as well. With the push of a button, the stock folds back on itself to the right, shortening the package by more than eight inches.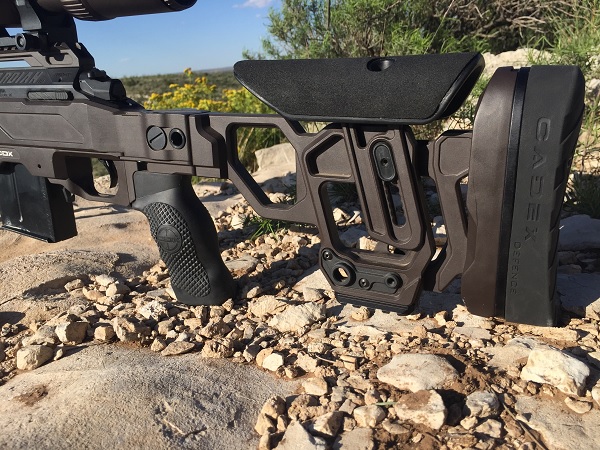 The chassis is made from 6061-T6 aircraft=grade aluminum billet. Nine anodized, military grade, non-reflective finish colors are available.
High-quality 416 stainless steel is used for the action components. The monolithic, stainless steel bolt is fluted, has three lugs, and is designed with a 60-degree throw. It has what Cadex calls a "robust" M16-style extractor. There is little about this rifle that would not be described as robust—even tank-like!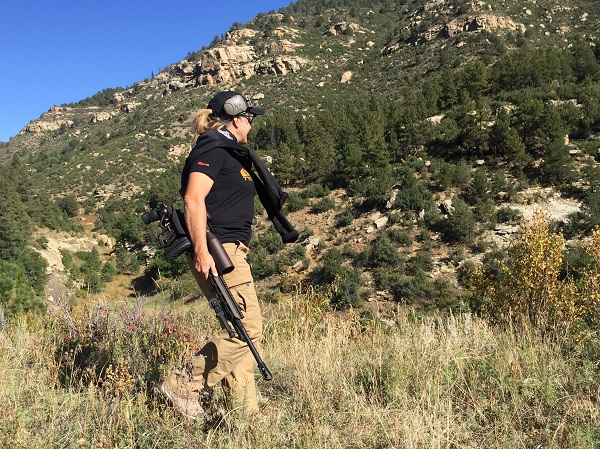 Every discriminating shooter demands a high-quality trigger, and Cadex delivers in a big way. Their DX2 Evo convertible trigger ships with two-stage function, but can be user-converted to single stage. Pull weight is adjustable from 1.5 to 2.5 pounds. Not only did this reviewer find the trigger to be elegantly functional, it received high praise from other experienced riflemen who fired it during the test period.
The Guardian Lite shown in this article, and previous renditions of it, has a pistol grip by Ergo. New models currently in production have a rubberized grip designed and manufactured in-house, just like the 10-round detachable, metal magazine.
There's a full-length Picatinny rail atop the M-LOK forend, which has built-in recoil lugs to help with scope stability. Buyers can choose a 20, 30, or 40 MOA angle built into the rail, a boon for long-range engagements and potentially saving the need to have an offset scope mount, again making the rifle/scope combo more solid.
A short length of rail is included on the six-o'clock side of the forend as well, facilitating bipod attachment out of the box. It should come as no surprise that Cadex Defense makes its own, called the Falcon Bipod. It's lighter in weight than many others, with legs that can be quickly positioned at forward or rear-swept angles. There are interchangeable "feet" options, making it customizable for different theaters.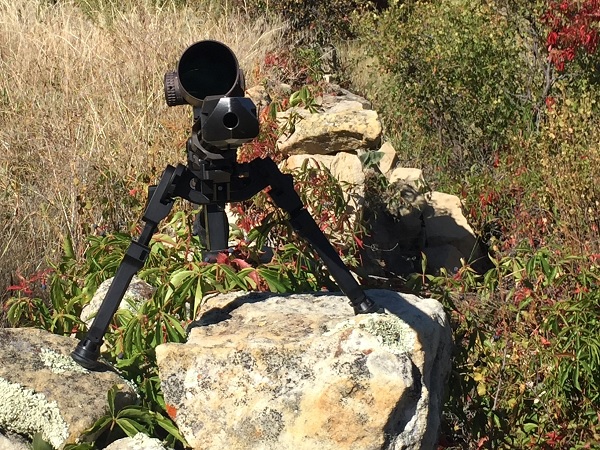 Cadex Defence purchases barrel blanks from exclusive precision barrel maker Bartlein, an American company. Cadex's CNC shop performs cutting, threading, and fluting, and mounting is done in-house.
It wasn't immediately obvious what is meant by a feature described as "barrel mirage mitigation technology," so I asked a company rep. His response:
"Cadex designed slots in the forend tube at 3 6 and 9 o'clock for weight relief and to provide locations mounting picatinny rails and accessories.  These slots allow the lugs on our picatinny rails to seat and line up properly with the screw hole locations giving the operator multiple position locations. 

The 'Barrel mirage mitigation technology' refers to the slots that are not fully cut out like the others on the forend tube.  Where the slots are left closed you will notice there is a slight relief for aesthetics/looks so it looks good.  All this helps to direct the heat from the barrel down and away from the optic.  Those four words make it sound fancy but it is pretty simple and straight forward."
A company that also makes machine gun mounts probably knows a thing or two about barrels heating up.
Purchasers can choose their own barrel length of 24 or 26 inches. In .300 Winchester Magnum chambering, 20 and 27 inches are also offered. The twist rate on the 6.5 Creedmoor test gun is 1:7. Despite the name, this is a heavy rifle, just over 14 pounds before accessories are added. The fluted barrel adds as little weight as possible while enhancing the custom look of the rifle.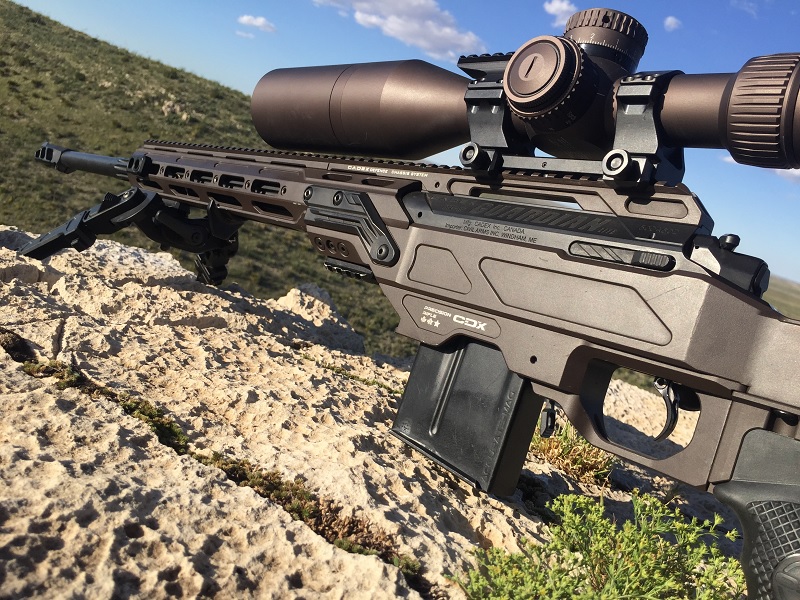 All barrels in this series have a thread pitch of 5/8-24. Available as an option, and shown on the test gun, is Cadex's elegantly designed muzzle brake. The flattop brake has rearward-swept ports. Its design is a testament to the depth of experience within the company regarding desert warfare. The brake is extremely effective in dampening recoil. What it won't do is kick dust up and back to the user's face. It delivers an impressive "boom" to anyone else on the firing line.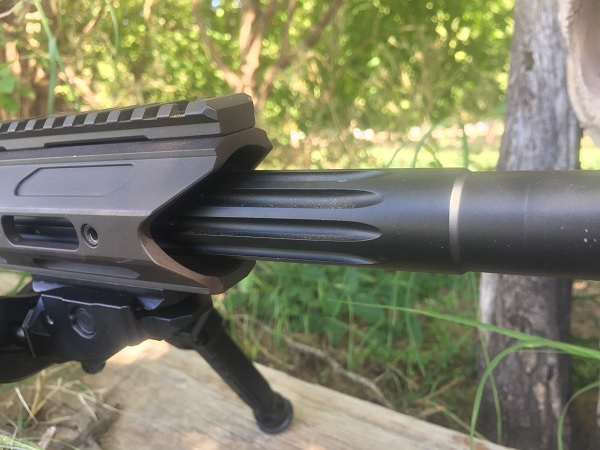 Holding up the whole works is yet another Cadex Defence design, the Falcon bipod. This lightweight but tough bit of kit is among the most customizable this writer has seen. The legs are adjustable to any angle forward or rearward. Even the "feet" can be changed out to suit the terrain.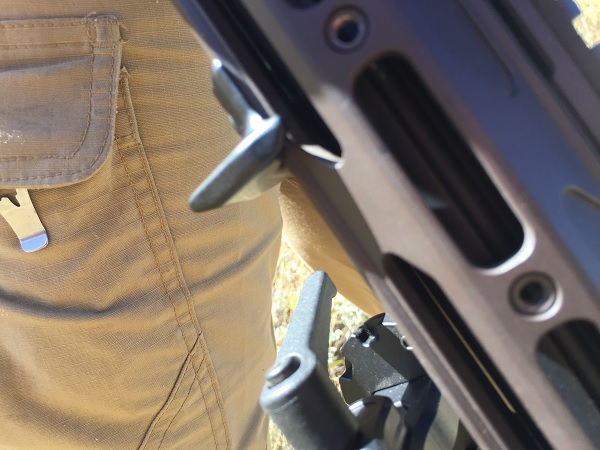 An additional small, but useful accessory on the test rifle is a finger grip mounted under the forend. With the stock folded, this makes the rifle much easier to port around. It's not made for long walks or wicked footing, but this little device facilitates ease of handling more than its diminutive size would indicate. Of course, it's also a Cadex-made product.
Firing this rifle is pure joy. The bolt is smooth and feed/ejection are consistently flawless. Adjusting the stock for a perfect fit made it comfortable and easy to shoot all afternoon—though five foot, five inch me required the smallest length of pull adjustment available.
Cadex promises their rifles will shoot ½ MOA or less with good-quality match ammunition. Though their guarantee is not set in so many words, a rep related sufficient anecdotal information to convince me the company stands behind their products and will remedy any manufacturing-related defect for free.  Just don't expect to make a claim after running improperly hand-loaded or bottom-of-the-barrel factory ammo.
At the Lucid Optics Ballistic Summit in New Mexico, this rifle was topped with Lucid's MLX scope. It pinged the shoulder of the Whittington Center's famous white buffalo target with ease all day, with a range of shooters on the trigger in the prone position, from a 13-year old boy to old hands, to some easterners who'd never experienced shooting long distance before.
Back home, the rifle was set on a benchrest and an accuracy test was performed at 100 yards with a Vortex Razor scope, painted to match the rifle. Five-shot groups were fired using  Jeff Rann signature 140 grain, synthetic-tipped load by Ammo, Inc. Half-MOA groups came fairly easily, which is to say the only deviations were shooter-induced.
The Cadex Defence Guardian Lite is true in-house product, as much as a rifle can be in modern times. While Cadex is still new to the civilian market, their track record of manufacturing and testing is two decades old, with international reach. The Guardian makes an outstanding upgrade choice for the serious long range shooter.
This rifle even represents an entry level choice for the well-heeled new enthusiast who avails him/herself of competent instruction in the craft. Cadex Defence makes rifles available ready to go out of the box, or heavy-duty drag bag, which they also sell. Simply add your optic of choice.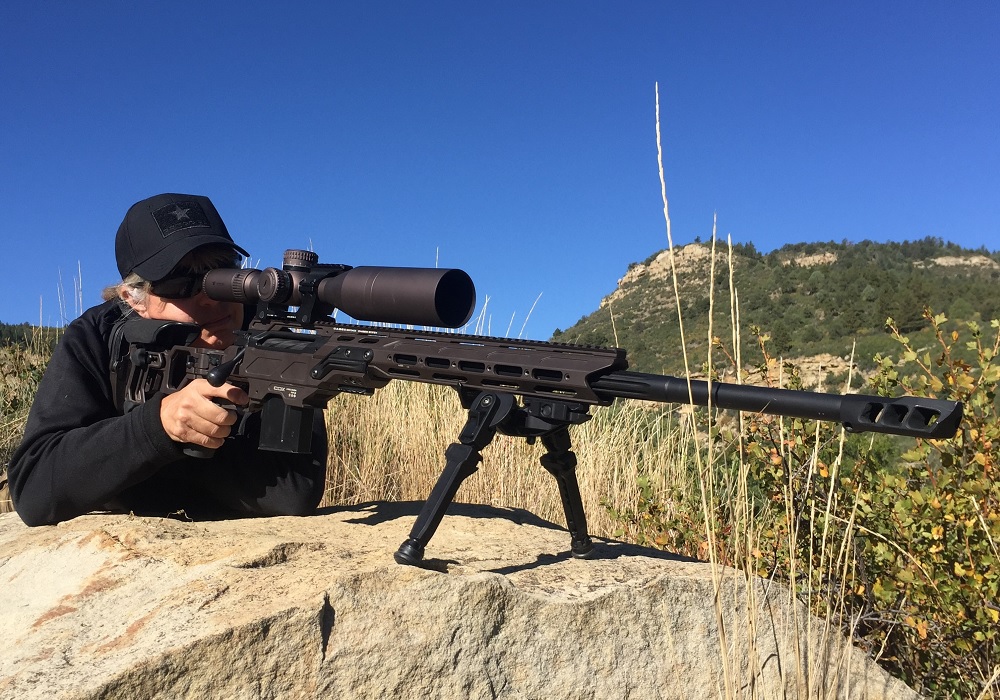 The CDX-30 Guardian Lite is, by the manufacturer's own description, overbuilt for the task. Its sleek but tank-like construction should last a lifetime and many more. At $5,999.95 base (more for certain chamberings and added accessories), this rifle is an investment capable of delivering great satisfaction.