Four Ways to Rock a P365, On & Off the Range
Eve Flanigan 11.12.19

Nobody's keeping statistics, but it's probably safe to say the Sig Sauer P365 is the most popular carry gun in modern history. It seems like everyone has one. And it seems like every company is making a holster for this widely used compact gun. Here, we've corralled four holsters that keep all of those P365 secure and ready for EDC or range action.
For the sake of organization, the holsters here are categorized as being for inside waistband (IWB) or outside waistband (OWB) carry. Let's start with OWB.
1. Blackhawk T-Series L2C Compact
Blackhawk's brilliant, intuitive Level 2 design is now available for the P365. I reviewed this holster back when it was only available for Glocks and Sig P320s. But now it's available for the ubiquitous P365.
This is an ideal range holster for the P365, with a straight drop and slight offset from the body, especially when worn with the belt clamp mount rather than loops (both options are included with the holster). It's best worn at 3-o'clock for right-handed shooters, or 9-o'clock for southpaws. When the P365 is wearing one of its optional 12- or 15-round magazines, it's also a perfect duty setup. Releasing the gun is accomplished during the draw, as the thumb closing around the gun also releases retention. It's faster than any other Level 2 that's ever been on the market. Retention is rock-solid.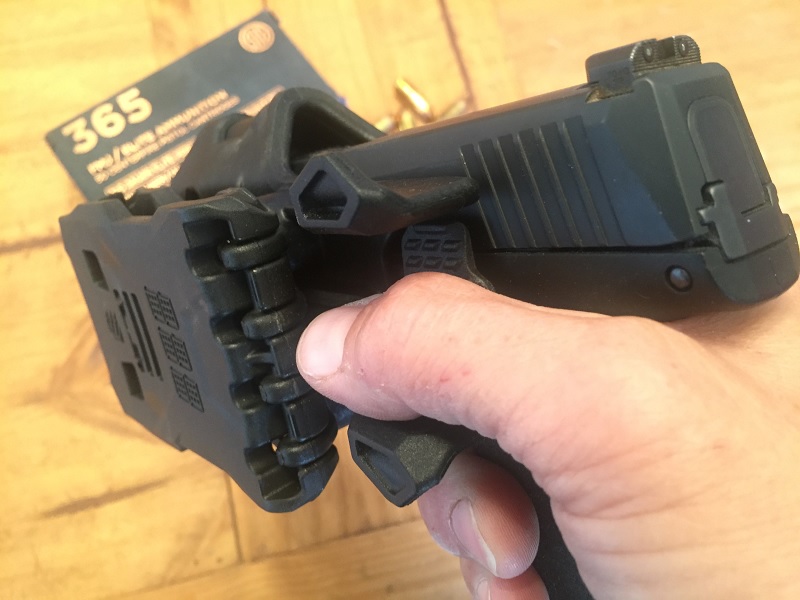 The T-Series holsters for Sig Sauer pistols with manual safeties did run into a design glitch. There is no such risk that I can detect for P365s without a safety lever. I've not had the opportunity to test one with that feature. Likewise, there is no issue with stock Glock pistols and safety where the T-Series holsters are concerned.
This is a brand-new release, but if the existing T-Series choices for Glocks are any indication, look for left-handed, light bearing, and Level 3 light bearing options too. The base price direct from Blackhawk is $64.95; with Level 3 and light bearing models a bit more.
2. 1791 Gunleather
Got a taste for classic leather? Want a holster that can go concealed or open when carrying OWB? 1791 Gunleather's Project Stealth offers a lot in one holster. The double-ply, slotted belt attachments keep the holster firmly in place. A handsome carbon fiber panel on the outermost surface provides scratch resistance to keep the holster looking new. An FBI cant raises the muzzle height to keep it concealment friendly, and the fit is tight to the body and contoured—in fact, this holster will break in over time to make a custom fit for your gun and body.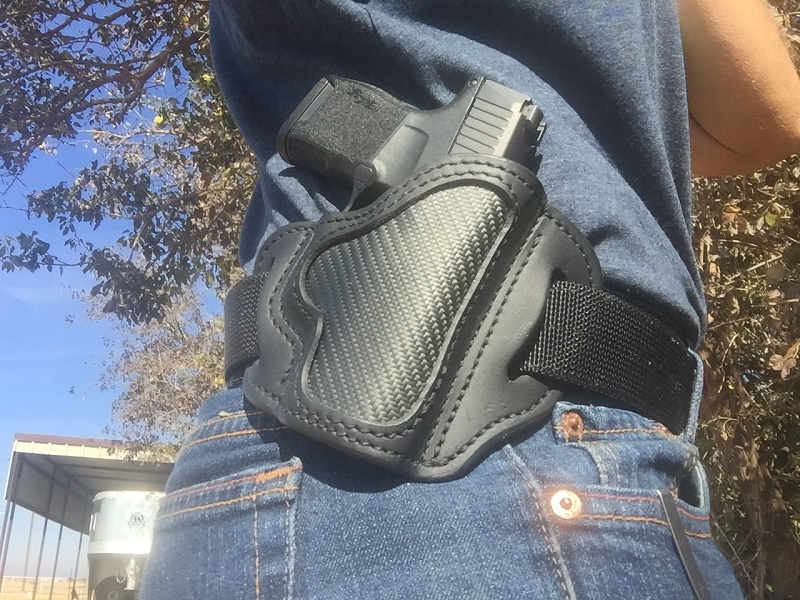 This is a stiff, quality holster that's easy to carry open or concealed. Paired with a sturdy black belt, like the Cinturon by Bravo Concealment, it's rather discreet even when uncovered. Although sizing is generic, it's capable of a custom-like fit if worn by the same person with the same handgun. I'll admit I nearly swoon at the luxurious aroma that emanates from its two layers of thick split cowhide. $99.95 nets this good-looking choice from 1791.
And now the IWB choices:
3. JM4 Tactical Quick Click & Carry, High Ride version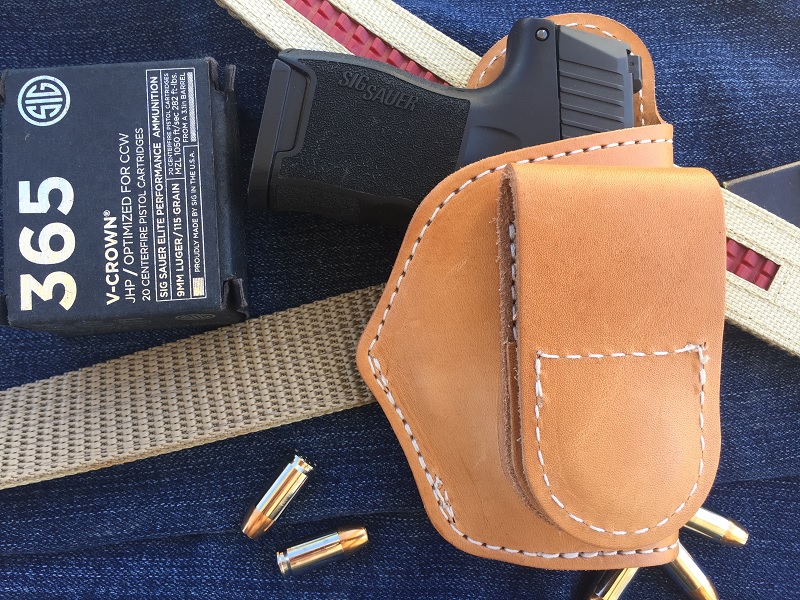 A longtime favorite of the author's that pre-dates her P365, it continues to be in the regular rotation for the Sig P365 in EDC mode. As mentioned in a previous review, this holster offers both retention and rapid access in an unusual package of magnets and leather. The author's copy has taken on quite a patina compared to its original milky tan color. The only drawback to this holster, in the writer's opinion, is that when the gun is set well into the holster, it must be budged upward at first to obtain a firig grip. It's not a big problem. With snug pants, this is a that can sometimes be worn belt-less, though I prefer to pair it with either an Exos Gear Gun Belt—it's nice to match, even if I'm the only one who sees it.
Where IWB comfort is concerned, this one is a winner. Wear it anywhere around the belt IWB-style, or even in a stiff boot top. Order direct from JM4 Tactical in Abilene, Texas.
Base is $84.95.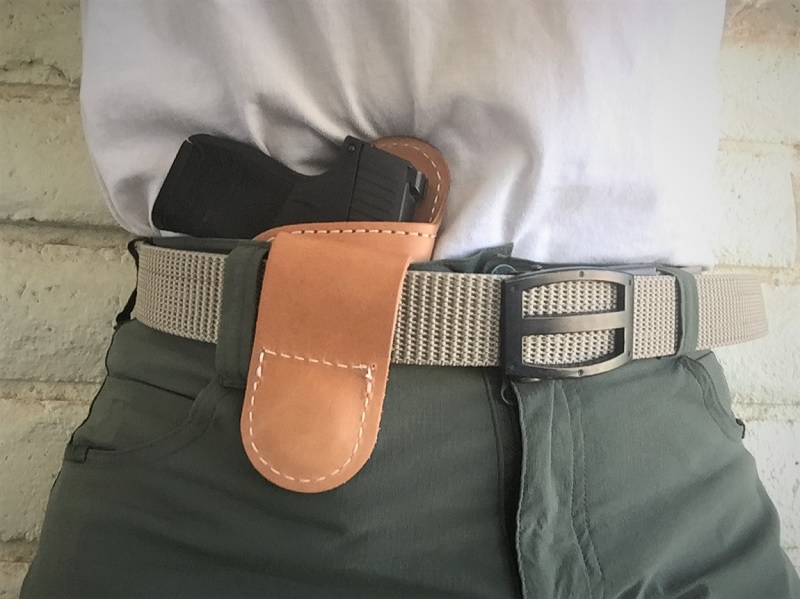 4. Bravo Concealment Torsion
This holster is a real jack of all trades. It can go anywhere IWB and Bravo has really drilled down their concealment skills, making this their most concealable holster yet. Its shape presses the gun – comfortably – into the wearer for optimum concealment and optimum drawstroke. There's no fiddling to get a firing grip while the gun is still holstered as the middle finger position is skillfully left clear, making for clean and fast draws even from under a shirt. There is full protection of the slide, though on sweaty days any IWB carry will necessitate a little extra gun maintenance.
Other than ease of draw, my favorite feature of the Torsion holster is the option to remove the rear belt clip. It's still secure but must have a belt. Wearing the gun IWB at the one- or two-o'clock position with just one clip, I'm able to do discreet adjustments in angle to make the gun more discreet while walking and comfortable when seated. This is also great for preventing physical fatigue relative to concealment. For maximum concealment under a snug shirt, the Torsion is my first choice, paired with the flat and almost endlessly adjustable Nexbelt EDC belt. Like the Blackhawk holster, Bravo Concealment makes only a few popular brands and provides a custom, click-into-place fit. The Torsion starts at $44.99, and sales are frequent.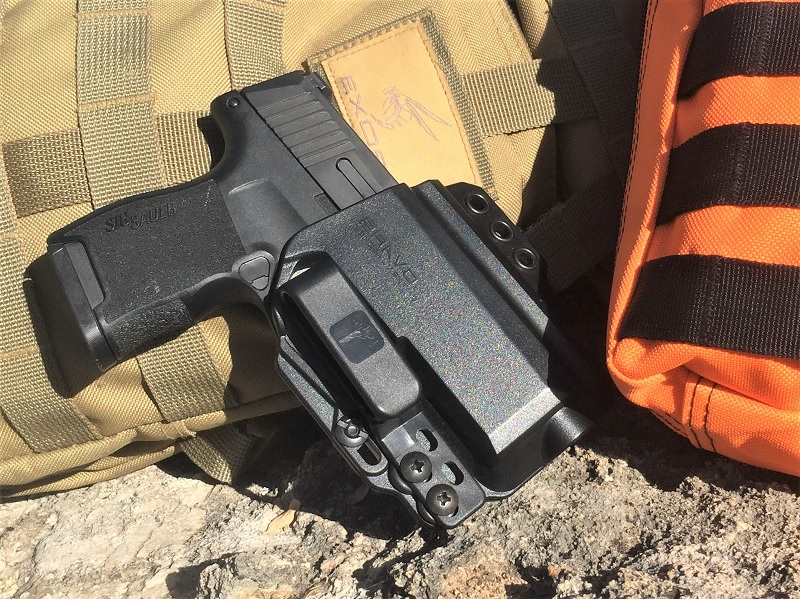 The P365 is a phenomenon of sorts, undoubtedly the most popular EDC gun of the last two years. Sig Sauer was the first to put high-demand features like robust capacity, night sights, and a quality trigger all in one gun. It's little wonder holster manufacturers have expanded their product lines to include this popular gun.